Builder Shares Why He Relies on Huber's Zip System
Originally published by: Huber Engineered Woods — March 22, 2019

The following article was produced and published by the source linked to above, who is solely responsible for its content. SBC Magazine is publishing this story to raise awareness of information publicly available online and does not verify the accuracy of the author's claims. As a consequence, SBC cannot vouch for the validity of any facts, claims or opinions made in the article.
Will King, a custom home builder and owner of Alabama-based High Cotton Homes, has always been a hands-on kind of student. In many ways, it's just how he was raised. Brought up on a farm in rural Alabama, he had to make stuff work, regardless of whether it was his job or not. This attitude translated to a valuable skillset when he and his wife decided to remodel their first home.
"From our first basic kitchen remodel to tearing out walls, to eventually redoing the whole house - I did all the work," Will said. "Remodeling our own home was a success, and that turned into buying and flipping rental properties for the next seven years."
Will didn't always know he would be a remodeler or builder. He went to college and became a fireman and paramedic. When he started to remodel their first home, his "can do" attitude convinced him he knew he could do it himself. What he didn't know was how much he would enjoy at the craft.  With an ignited passion for remodeling through seven years of flipping properties in Birmingham, he and his wife moved to Florence, Alabama to start a family. However, the smaller city real estate market proved challenging to their continued house-flipping vision.
"There isn't a market for flipping homes in Florence, but there are people looking for custom builds," King said. "We started building here and it took off faster than I expected."
Will says he enjoys custom builds because of the relationship he develops with customers and their families. Devoted to bringing clients' dreams to reality, his work focuses on customizing projects to accommodate special requests like pool houses and high-end barns. He relentlessly pursues new information about building science and materials for better building. Through his research, he discovered a community of builders online who saw the value of sharing knowledge and seeking better results, rather than staying complacent in tradition.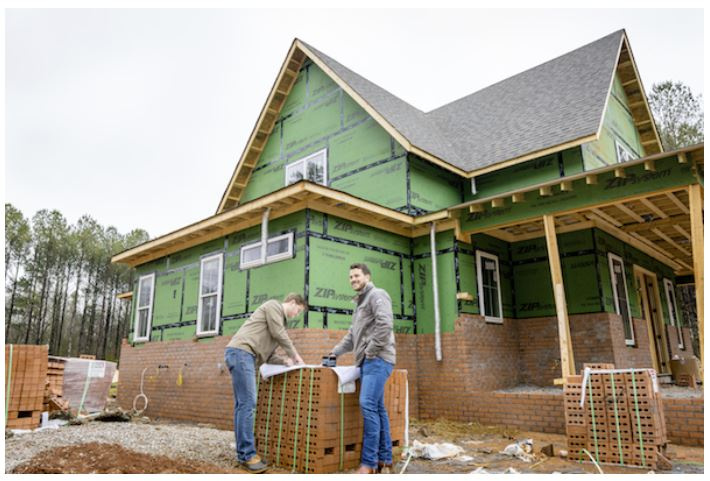 "A lot of people will do things because it's how they've always done it," Will said. "Maybe because I'm self-taught, I have this mindset of constantly improving my building practice. It gives High Cotton Homes a different edge."
Will takes full advantage of the online builder community on Instagram and YouTube. Following manufacturers and builders with a similar pursuit for better building has shaped his business and approach to building. For example, he explained his switch from traditional sheathing and housewrap to ZIP System sheathing and tape for easier and more effective enclosure protection.
"Getting proper air sealing is difficult with traditional methods," Will said. "All other variables the same, our blower door tests got much, much better using ZIP System sheathing and tape as our air and water barrier."
Will uses ZIP System® sheathing, tape and liquid flash products for an integrated approach to his air and weather barriers in both roof and wall assemblies.
"The ease of installation has made ZIP System a hit with my subs, who were tired of being 'hounded' about repairing flashing and housewrap details."
Will leverages his switch to a more dependable, integrated enclosure system as a selling point to his homeowners. He advocates that achieving a tight envelope promotes lower heating and cooling bills.
"No other builder in our community pushes air sealing homes," Will said, adding that many support the myth that a home needs to "breathe." "High Cotton Homes strives to stand out as an advanced builder in our market, so we continue to learn best practices through online resources -- sending messages to ask questions on Instagram and contacting other professionals on this better building mission."
While he uses resources to learn about products and practices, Will said he also uses his platform on Facebook and Instagram to educate others about newer building practices and why they're important.
"At first, I was concerned about cost and budget," Will said about ZIP System products. "But that concern proved to be groundless. We save labor and it balances out. The air seal I'm looking for requires more time and training without ZIP System products."
Using evidence like blower door tests at the rough stage and reports of energy bills from completed work, he helps customers and other builders in his community understand the benefits of a tight seal. While he may be introducing new concepts and unusual "green-looking" ZIP System builds to the neighborhood, Will is confident about moving forward.
"I think, if you've been doing the same thing for 20 years, you're doing it wrong," Will said. "We're a growing company, and the resources from Instagram and Facebook have provided what we've been looking for to push the envelope and build a superior home. Evolving our building practices helped us gain the momentum we have now."