Foam Insulation Continues to Grow SF Market Share
The 2019 Annual Builder Practices Survey, which had more than 1,600 homebuilder participants this year, provides some powerful insight into the thermal products market in the U.S.
According to the survey, adoption of more stringent energy codes, homebuyer demographics driving the demand for lower energy bills, labor, and building material costs are prompting homebuilders to seek higher performing insulation that is also budget-friendly. Not surprisingly, these two factors seem to be tugging the market in different directions.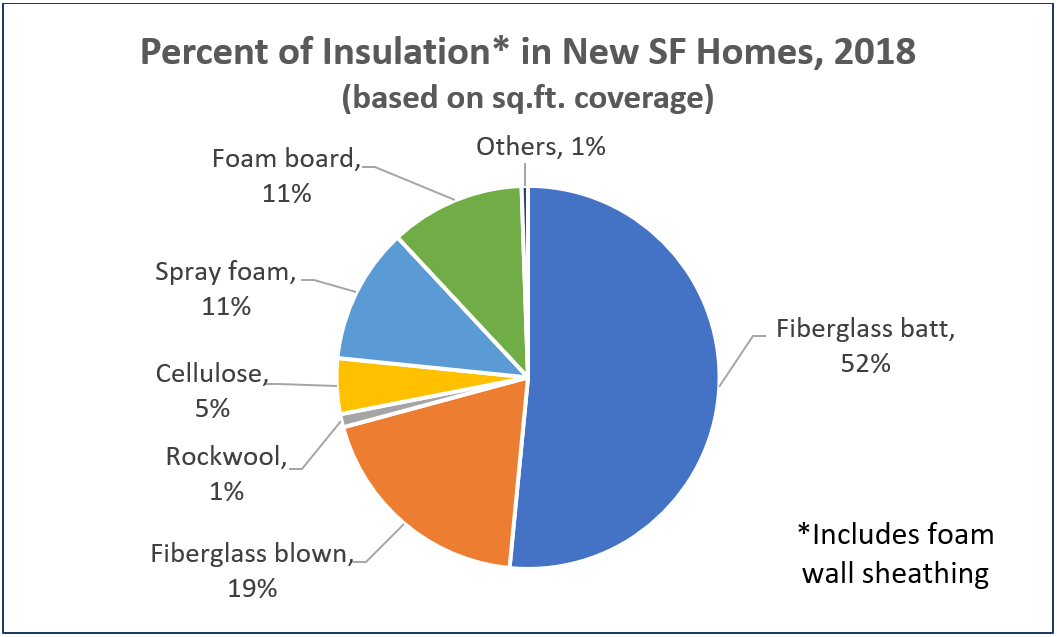 Source: 2019 Annual Builder Practices Survey, Home Innovation Research Labs
The good news is that foam board (i.e. foam sheathing) and spray foam usage has increased in recent years and now represent a quarter of the insulation usage in new single-family homes. Foam board share grew slightly, while spray foam share grew two percent. It looks like this shift occurred away from cellulose, which has seen a substantial decline in market share in new homes over the past few years.
Looking more closely at specific applications, spray foam's biggest increase in share has occurred in attics with cathedral ceilings (now at almost 22 percent).
Fiberglass batts is actually experiencing market share growth as a wall cavity insulation at the expense of blown fiber systems, but batts have lost market share in ceilings. The opposite is true for blown fiberglass – down in walls but up in ceilings.
Foam board is still not a common wall, floor and roof cavity insulation. Rather, it's growth has been through providing a continuous insulation solution as an exterior wall sheathing material.
To learn more about how foam board provides a pathway to designing the 'perfect' wall system, read the following articles.