Texas Approves First 3D Printed Concrete Home
Originally published by: 3D Printing Industry — January 8, 2019
by Tia Vialva
The following article was produced and published by the source linked to above, who is solely responsible for its content. SBC Magazine is publishing this story to raise awareness of information publicly available online and does not verify the accuracy of the author's claims. As a consequence, SBC cannot vouch for the validity of any facts, claims or opinions made in the article.
Sunconomy, a U.S. construction company, has received permits to build its first 3D printed geopolymer additively manufactured house in Lago Vista, Texas.
Larry Haines, the founder of Sunconomy, stated, "We will be able to build the structure for a single family house in a day with virtually no waste, and built super strong and providing very low utility costs. Now that's Sustainable!"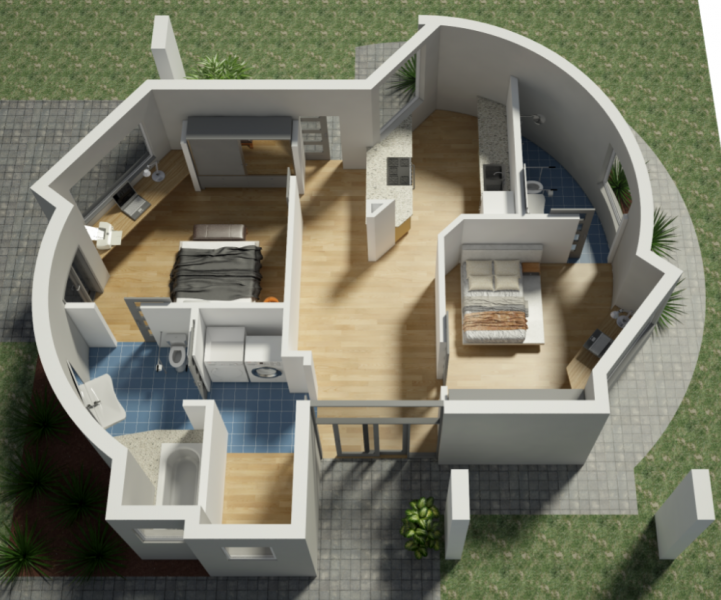 Sustainable, 3D printed homes
Sunconomy plans to manufacture 3D printed concrete homes under the name the "Genesis model" using its own additive manufacturing system. These homes will include three bedrooms, and two bathrooms with a detached garage, solar, wind, battery backup, and a rainwater catchment system, at an estimated cost of $289,000.
According to Sunconomy, the Genesis model homes will, "last for centuries, not decades, [and] include IoT and technology features integrated for practical application of devices and services." In addition, the homes will be able to withstand up to 220 MPH winds from an EF 5 tornado, as well as 8.0+ earthquakes.
These homes will also offer renewable energy options for Net Zero reducing or eliminating energy bills. Such sustainability will also be integrated by ICON, a Texas-based construction technologies company, who recently raised $9 million to reinvent the construction of affordable homes with the use of "3D printers, robotics, and advanced materials."
The Apis Cor construction 3D printer
In 2016, Sunconomy signed an agreement with Russian 3D printer manufacturer, Apis Cor, to bring the "first true 3D printer for affordable housing" to the USA. With an aim to create fully autonomous equipment capable of printing buildings "on Earth and beyond," Apis Cor has developed its large-scale robotic 3D printer to construct large concrete structures.
The following year, the Apis Cor successfully 3D printed a full-scale house in just 24 hours in the Russian town of Stupino. To adapt to the country's weather conditions, the team used loose dry insulating material on one part of the house, and polyurethane filler composition on the other," as a result of their 3D printing technology.