Simpson Develops New Truss Fastening System
Originally published by: Simpson Strong-Tie — January 10, 2019

The following article was produced and published by the source linked to above, who is solely responsible for its content. SBC Magazine is publishing this story to raise awareness of information publicly available online and does not verify the accuracy of the author's claims. As a consequence, SBC cannot vouch for the validity of any facts, claims or opinions made in the article.
Simpson Strong-Tie, the leader in engineered structural connectors and building solutions, has introduced the Quik Stik rafter and truss fastening system, a new solution for overhead fastening designed to reduce the risk of construction work-related injuries while boosting jobsite efficiencies, with speedier and more accurate fastening of rafter and truss assemblies.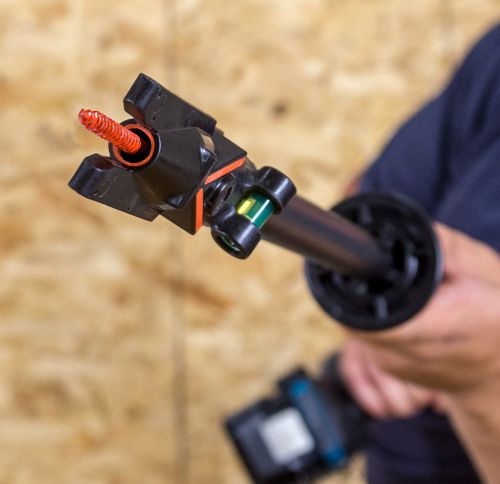 According to the National Institute of Health, construction workers have the highest incidence of annual work-related musculoskeletal disorders as a result of overexertion, with back injuries accounting for more than 40 percent, resulting in an estimated annual wage loss of more than $46 million.
With a reach exceeding 43", the Quik Stik installation tool can eliminate the need for ladders and replace heavy pneumatic power nailers and compressor lines and the jobsite hazards and injuries they pose. Simply attach the Quik Stik to any corded or cordless drill or impact driver, load a Strong-Drive® SDWC Truss screw into the Quik Stik head, and drive the screw quickly, accurately, and easily.  
Designed specifically for use with the Strong-Drive SDWC Truss screw in rafter and truss connections, the Quik Stik efficiently fastens a variety of these installations via the narrow face of stud through the top plate; via the wide face of the stud through the top plate; and into trusses or rafters offset from the stud.
"The Simpson Strong-Tie Quik Stik fastening tool solves a major jobsite challenge by providing contractors with a versatile solution for fast, safe, and easy fastening of rafter and truss connections," says Simpson Strong-Tie Fastening Systems Product Manager Joseph Schaeper. "With a comfortable grip and a rugged extension arm, Quik Stik provides workers with an easy-to-learn and even easier-to-use overhead-fastening solution that is safe and reliable."
To provide maximum stability and ensure fast, efficient drives, the Quik Stik has a nylon overmolded head with positioning prongs and angle guidelines for a secure grip on the top plate and accurate orientation of the screw.
Features and benefits of the Quik Stik fastening system include the following:
Fast installation with the ability to drive screws overhead from a standing position without the need for ladders
Enhanced job safety via rafter or truss fastening from inside the structure
Operational simplicity to enable less experienced users to work more quickly and efficiently
Built-in angle guidelines and a detachable bubble level to help ensure proper screw installation angles
Designed for use with any drill motor or impact driver