Roll with TYPAR Contest: Win Free Trip to 2019 IBS
Originally published by: Typar — December 27, 2018

The following article was produced and published by the source linked to above, who is solely responsible for its content. SBC Magazine is publishing this story to raise awareness of information publicly available online and does not verify the accuracy of the author's claims. As a consequence, SBC cannot vouch for the validity of any facts, claims or opinions made in the article.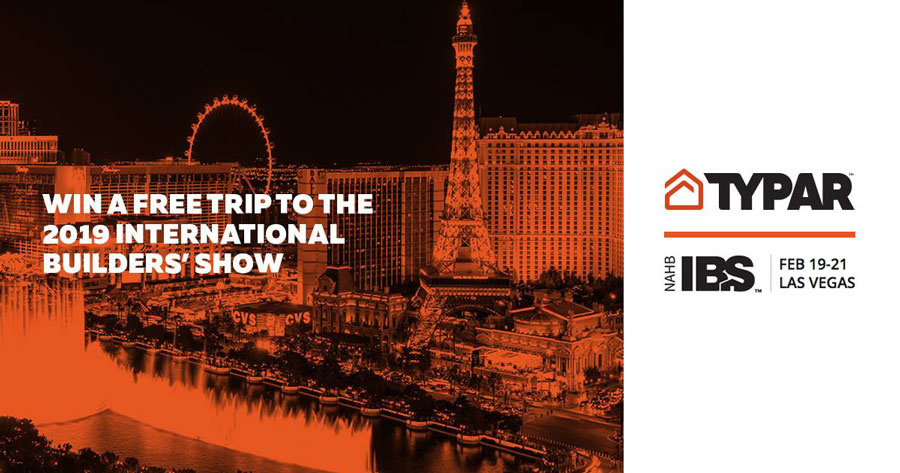 TYPAR is giving one lucky person a chance to win a free trip to the 2019 NAHB International Builders' Show® with their "Roll with TYPAR" social media contest. Whether you're a builder, contractor or architect, anyone 18 years or older in the U.S. or Canada can enter to win. 
Contestants simply have to visit the TYPAR Facebook or Twitter profile page and share why they should be selected to "Roll with TYPAR" to the 2019 International Builders' Show. The best, most well-rounded entry will be selected to win a free a trip to Las Vegas for the world's largest annual light construction tradeshow - a $3,000 prize! 
The winner will receive a free 3 day/2-night round trip to Las Vegas (up to $2,500) that includes air fare and hotel accommodations. In addition, TYPAR will provide a $500 gift card for food and entertainment.  
The contest began on December 27 and will run through 12 a.m. EST on February 4, 2019. The winner will be announced and posted to the TYPAR Facebook page by February 8, 2019.  Official contest rules can be found here. 
About TYPAR Construction Products®
The TYPAR® brand of construction products, including the well-known TYPAR Weather Protection System is manufactured by Berry Plastics Group, Inc., a leading provider of value-added plastic consumer packaging, nonwoven specialty materials, and engineered materials delivering high-quality customized solutions to our customers, with net sales of $6.5 billion in fiscal 2016. The Company's common stock is listed on the New York Stock Exchange under the ticker symbol BERY and its world headquarters is located in Evansville, Indiana. For additional information, visit the Company's website at www.berryplastics.com.