Housing & Trade Contribute to Lumber Market Collapse
Originally published by: Wall Street Journal — January 2, 2019

The following article was produced and published by the source linked to above, who is solely responsible for its content. SBC Magazine is publishing this story to raise awareness of information publicly available online and does not verify the accuracy of the author's claims. As a consequence, SBC cannot vouch for the validity of any facts, claims or opinions made in the article.
Lumber futures reached a record in May that was 30% above the old all-time high set in the early 1990s. Still, lumber ended the year as one of the worst-performing commodities.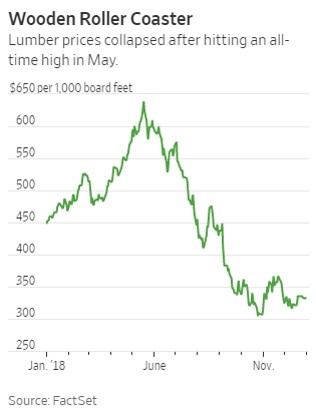 It isn't like other commodities had a great year. The Bloomberg Commodity Index, a basket of 22 raw materials, declined 13%.
But lumber suffered an epic collapse. Since hitting $639 per 1,000 board feet on May 17, futures lost nearly half their value. Lumber ended 2018 down 26% and prices slipped further in the first trading session of 2019, settling 1.05% lower at $329 on the Chicago Mercantile Exchange on Wednesday.
A variety of factors had sent prices soaring in the first half of the year. Tariffs were placed on imports from Canada in late 2017, raising the price of much of the softwood that is used to build U.S. homes. Wildfires and wood-boring beetles in British Columbia crimped wood supplies, while deliveries were delayed by rail bottlenecks and shortages of truck drivers just as U.S. home construction seemed to be taking off.
At the time, home builders said the unprecedented rise in lumber prices was adding thousands of dollars to the cost of new homes. Shares of big timber concerns WeyerhaeuserCo. and PotlatchDeltic Corp. hit all-time highs.
Then the wheels began to fall off the rally. Wood ordered in a panic early in the year began arriving by summer, filling lumber yards just as the housing market started to cool. A pair of devastating hurricanes slowed construction activity in swaths of the Southeast while the wettest autumn on record in Texas stymied builders there.
Meanwhile, rising interest rates and surging home prices in many of the hottest job markets strained affordability. Housing starts, which had reached a post-recession high in May, slid lower.
The trade dispute with China sharply reduced U.S. exports, eliminating a big outlet for oversupply. U.S. mills revved up to take advantage of a historic glut of pine trees in the South.
Lumber dealers now find themselves trying to sell wood that they piled up at high prices earlier in the year, which is preventing many from stocking for the spring building season with lower-cost wood, said Stinson Dean, managing partner of Kansas City lumber broker Deacon Lumber Co.
"We've got a lot of lumber we have to chew through before we can think about higher prices," Mr. Dean said. "Sawmills have to cut production."
That has already started to happen. In recent weeks, two of North America's largest lumber producers, West Fraser Timber Co. and Canfor Corp. , announced they are reducing production at sawmills in British Columbia in response to low lumber prices.
Curtailments at Canadian mills along with a strong home-renovation and remodeling market has some optimistic that lumber's slide will be short-lived.
"At some point, people will start to build up a position for next year's building season," Jim Major, finance chief for building-supply firm BMC Stock Holdings Inc., told investors recently. "And when you see that, hopefully there is some rebound in the lumber market."