What Is an "ICC Report"? Is an "ANSI Report" Equal or Better?
Originally published by the following source: SBC Magazine — February 18, 2019. Updated March 27, 2019.
by SBCA Staff with contributions by SBCA/SBCRI Professional Engineers
The American National Standards Institute (ANSI) is referenced by the building construction industry often, but those references don't typically give context to the value ANSI provides to the market. 
The term "ICC Report" is a generic term used in the market when what is actually meant is code compliance research report, where research report is a defined term in the building code. A primary reason ANSI accredited product evaluation companies exist is to protect the intellectual property of companies that desire to have their innovative products reviewed as equivalent alternatives to products prescribed in the code. The function of the building code is not to constrain innovation, rather, ANSI 17065 companies and code defined approved sources (i.e. professional engineers) are the vehicle that the building code uses to implement innovative product design and engineering via the creation of a building's construction documents.
Put briefly, ANSI provides accreditation in accordance with ISO/IEC 17065 procedures so that accredited companies are seen to reliably provide "ICC Reports" or code compliance research reports based upon a company's accredited scope of expertise. To see each company's expertise click on the company name in Table 1.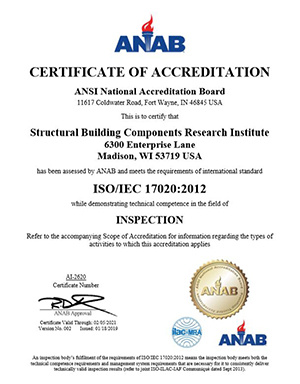 In addition, ANSI, through its wholly owned subsidiary, provides accreditation services for testing companies via ISO 17025 and third party quality assurance companies via ISO 17020.
ANSI and ANAB provide the market with confidence in the certification companies that conduct activities to assure new, alternative or innovative products, materials and designs comply with the requirements of the code. Many familiar names are among the more than 80 ANSI accredited organizations listed in the ANSI directory.
ANSI's Accreditation Services
Conformity assessment is defined as a, "demonstration that specified requirements relating to a product, process, system, person or body are fulfilled."
As it pertains to the building code, conformity is established through assessing whether a product, process, method or design meets or exceeds the requirements of the code.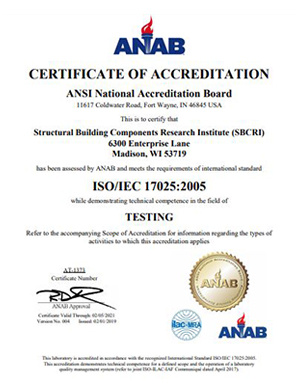 For most product developers, the primary benefit of accredited third-party certification is to meet a purchaser's or regulator's requirement for independent evaluation of compliance. For example, a building department can and should rely upon and approve products evaluated by any company listed in the ANSI directory. 
Why ANSI Accreditation?
ANSI provides accreditation services in the areas of product and personnel certification and validation. This means ANSI assesses, evaluates and confirms the competence, credibility and capability of bodies to carry out these activities in accordance with requirements defined in international standards. ANSI's accreditation programs themselves operate in accordance with international guidelines and have been verified by government and peer review assessments.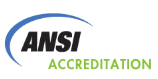 ANSI's accreditation directory lists the evaluated conformity assessment bodies (CABs) where ANSI assures:
their expertise and reliability;
confidence via regular, impartial, independent audits by an internationally respected body;
reduced liability insurance and legal costs given the accountability and transparent aspects of the risk management process.;
sustained continual improvement through assessment of system effectiveness, efficiency and competence;
consistency and demonstrates equivalence of assessments via mutual recognition based on peer review; and,
That multiple audits and barriers to trade can be removed because when ANSI accredits, the ANSI goal is: "certified once – accepted everywhere."
In summary, it is likely that an important best practice consideration is to find ANSI accredited "ICC Report" writers, third party testing and inspection agencies that take responsibility for their specific scopes of work. A simple selection approach is to evaluate these providers by their ANSI accreditation and their engineer's willingness to stand behind their work by "signing and sealing" it.
For additional information and commentary on the building code, please read the following articles: