Weathering Plan Keeps All CMs in Mind
Originally published by the following source: SBC Magazine — February 25, 2019
by Evan Protexter, EIT
Editor's Note: We want to offer a big thank you to the Mid-Atlantic Structural Building Components Association Chapter for donating $2500 toward the weather testing being conducted at SBCRI.
As mentioned in the previous article "Why Scientific Truss Weather Testing Has Value for CMs", existing research performed regarding weathering does not provide definitive answers to questions about weather's impact on trusses. Whether it's trusses left in the yard for too long, or trusses left on the jobsite, weathering is a topic that all component manufacturers encounter in their line of work. In order to better understand weather's effect on trusses, SBCRI needed to first come up with a test plan.
Due to weathering being an industry-wide question, the weathering test plan needed to be robust and cover all situations a truss may encounter. The most crucial part of a weather testing plan is obviously the weather. SBCRI worked with three CMs from around the country to get weather conditions that would expose trusses to the greatest wet/dry cycles a truss might experience. This method ensures that testing results can be relevant all over the country given local weather conditions. These three locations were Wisconsin, Maryland, and Mississippi.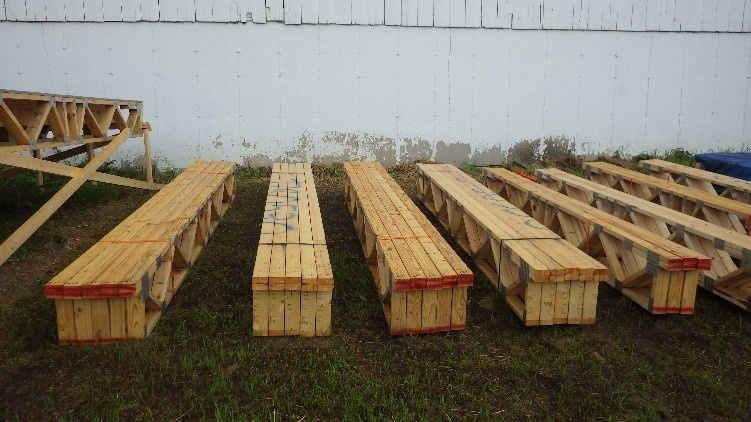 Wisconsin Trusses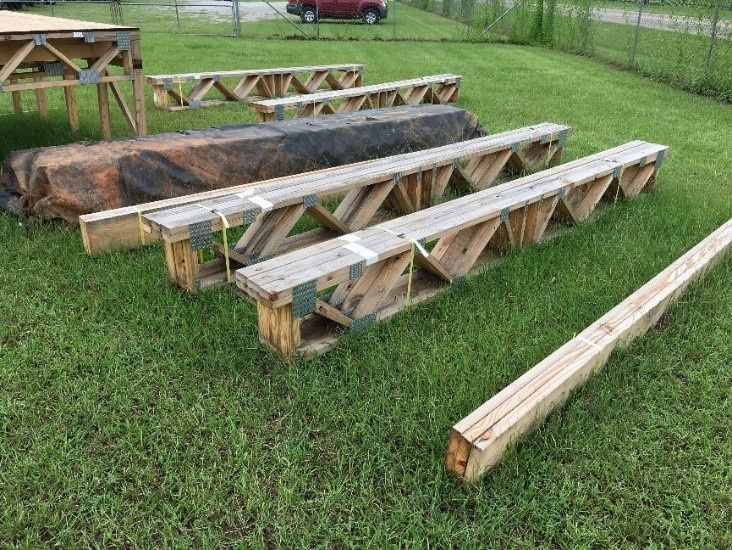 Mississippi Trusses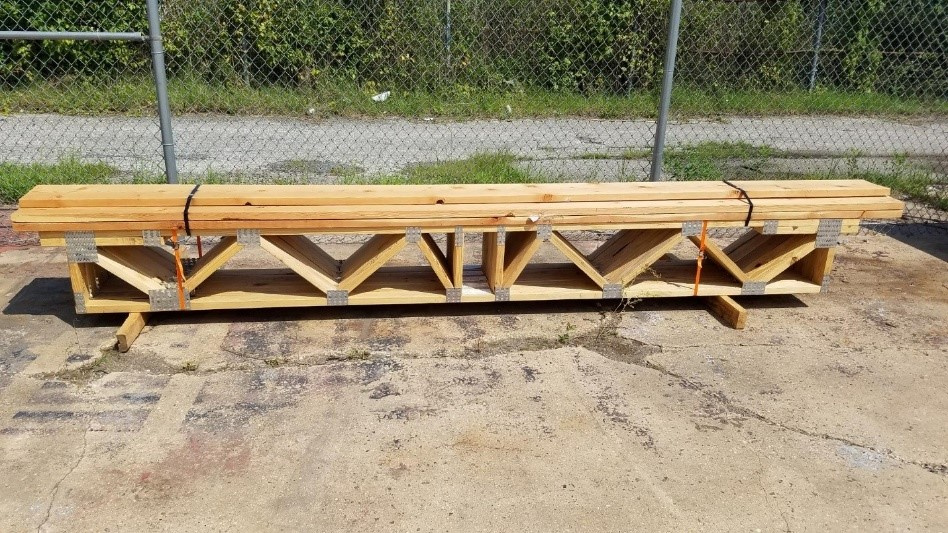 Maryland Ideal Plant Storage
In addition to covering locations with the most extreme moisture cycles, the test plan also needed to include all potential storage types. Having data on various storage types can improve BCSI recommendations and give both CMs and framers a better understanding of how their trusses might change due to weather exposure. Our goal is for this testing to lead to updated best practices and improvements to BCSI language. It will likely also lead to new specification language for use by building designers, CMs, and Framers.
Storage consisted of five trusses banded together for each batch with seven storage types; control, ideal plant storage, 2x4 stickers, bare ground, sheathed, and two sets of long term storage on ground. These storage types were determined to closely relate to truss storage typically seen in the industry.
With the test plan complete and ready for implementation, the final step was to consult the industry's technical experts. On June 19, 2018 the E&T committee assembled on a conference call to review the test plan and make any changes that the group saw as necessary. This resulted in adding joists to the testing program, and with that, the test plan was finalized. Now trusses could be manufactured and the test plan put into action.
At the writing of this article, trusses have been weathered for three months and sent to SBCRI for testing. The joists and trusses are currently undergoing QC and testing to determine truss and joist performance for each of the exposure conditions.
For additional information, please read the following articles on weather testing: