Video: Trusses Can Make Your Dreams Come True
Originally published by the following source: SBC Magazine — February 25, 2019
by Laura Soderlund and Sean Shields
Ask the Builder founder Tim Carter, recently created the video below on attic trusses and shared it with his many followers on his YouTube channel and newsletter. In the video, Tim highlights the benefits of using attic trusses to create more usable space and focuses on how they can be used to construct a regular staircase to the lower level.
In this video, Tim Carter says, "Whatever you can dream for your attic, for your house or for your roof, there's a really good chance it can be done by the technical and up-to-date software that truss designers use to create these wonders."  He also states, "It's really pretty amazing. You don't find many attics in brand new homes and it's really a shame because it's really, really simple to do."
Some of his subscribers were "wowed" by the video and were unfamiliar with attic trusses. "Everything discussed was new to me," and "I'm fascinated by it all," stated a loyal subscriber. "People who want open concept, why wouldn't they want trusses. Makes sense once explained and the walk up attic staircase in place of the standard common pull down. WOW that is fresh and so clever and convenient." 
Another subscriber commented, "WOW!!! Such a brilliant build!!! Thank you for sharing!!!," in response to the video.
Tim's perspective is helping to educate the general public, home builders, general contractors and framers about the advantages of framing with components through his YouTube channel, weekly column, and newsletters.  This video alone has almost 1,000 views and has reached his over 101,570 subscribers (as of mid-February).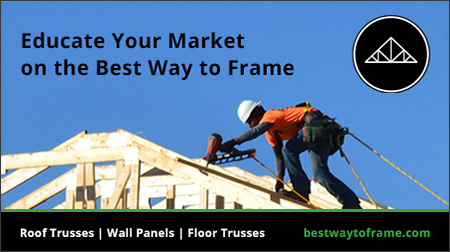 The attic Tim is showcasing belongs to his daughter's new home that is being built with component framing that SBCA supplied through Mainely Trusses and Hancock Lumber. In collaborating with Tim, SBCA has greatly expanded the public's exposure to structural components and SBCA's Best Way to Frame (bestwaytoframe.com) website. In addition, Tim has done a great job incorporating concepts and data from SBCA's Framing the American Dream project. SBCA sincerely appreciates Tim helping us educate the market on all of the benefits structural components offer.
As Tim documents the progress on his daughter's house, he continues to explore different areas where component framing is more advantageous over traditional stick-framing. In our next article, we'll share the progress on his daughter's house and the ways he's promoting bestwaytoframe.com with his readership.