Video: Thermal Bridging and Steel Studs
In our previous article, we looked at the issue of thermal bridging inherent in the use of cold-formed steel framing members.  Cavity insulation in a steel wall is less than half as effective as equivalently rated continuous insulation.  So is there any use for it at all?  Yes, but it might not be what you think.  Most cavity insulation products are very effective at minimizing sound transmission.  Therefore, use continuous insulation to keep warm and insulate the cavities to reduce noise!
Continuous insulation has many applications beyond preventing thermal bridging, however.  Get the details about using continuous insulation as a WRB, air barrier, or vapor control layer at continuousinsulation.org!
While you're here, take a few minutes to watch Joe Lstiburek, Ph.D., P.Eng, talk about insulation and steel framing:
For additional information, please review the following articles, as well as the previous videos in this series: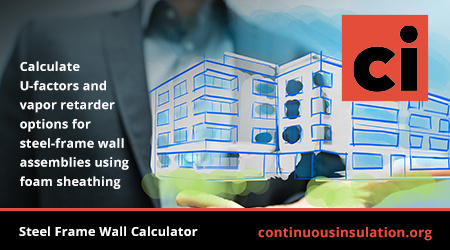 Perfect Wall Articles
Video Series