Solutions for Moisture Related Framing Problems
Originally published by: WOOD PRO Tech — February 7, 2019

The following article was produced and published by the source linked to above, who is solely responsible for its content. SBC Magazine is publishing this story to raise awareness of information publicly available online and does not verify the accuracy of the author's claims. As a consequence, SBC cannot vouch for the validity of any facts, claims or opinions made in the article.
San Diego, CA, February 7, 2019. Wood Protection Technologies, Inc. offers a suite of robust, factory applied topical wood coatings that can protect framers from moisture related framing problems.  
WPT's WOOD PRO tech 3000™ is proven to be effective in protecting whole framing packages against mold, fungal decay and termites while dramatically improving dimensional stability.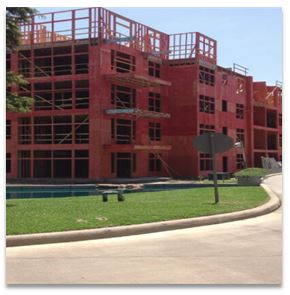 Lumber and panels get delivered rain or shine; all too often project delays result in units stored at the site and or vertical framing exposed to the elements for weeks even months at a time. Framers do all they can to follow best practices and put up an excellent product only to be called back because the walls have racked and windows and doors won't function; columns twist, lumber bows and twists. 
Testing in accordance with AWPA E4-11 for dimensional stability and moisture absorption with SYP lumber indicates WOOD PRO tech 3000™ reduces moisture absorption by roughly 50% and improves dimensional stability by 69% (as defined by ASE – anti-swelling efficiency). 
Moisture can also lead to mold outbreaks that effect indoor air quality and fungal decay, both resulting in costly remediation. Research indicates that almost 50% of U.S. homes and 85% of commercial structures have some form of water damage that can lead to mold and mildew outbreaks.  WOOD PRO tech has the solution.
The treatment offers robust protection from mold and wood rot decay as demonstrated by Industry standard 3rd party testing in accordance with ASTM D-3273, ASTM D-5590 and AWPA E10-09. 
After years of research and testing and millions of board feet in application, Wood Protection Technologies offers a mold and fungal warranty to meet real life framing expectations – 4 months of jobsite storage, 6 months of exposed vertical state and 5 years covered structure. 
Unlike traditional pressure treated products, WOOD PRO tech 3000™ offers protection that actually enhances wood performance – there is no strength reduction, and is non-corrosive requiring no special fasteners. Plus, there is negligible weight gain in processing and involves no hazardous materials.  Negligible VOC's and meets GREENGUARD Gold Standards.
Talk to your specifier and building owner about specifying WOOD PRO tech 3000™ and ask your components supplier for a quote. To find out more, see us at www.woodprotech.com or call 858.780.4747.
WOOD PRO tech is recruiting structural building component manufacturers, sawmills, lumber dealers and distributors to join our exclusive network of licensed applicators.  Low cost, small footprint equipment, turnkey operation with strict, cloud-based quality assurance, up and running in 90 days.