LP Launches Product to Compete Against Zip Sheathing
Originally published by: Builder Online — February 4, 2019

The following article was produced and published by the source linked to above, who is solely responsible for its content. SBC Magazine is publishing this story to raise awareness of information publicly available online and does not verify the accuracy of the author's claims. As a consequence, SBC cannot vouch for the validity of any facts, claims or opinions made in the article.
Among the many new LP Building Solutions products set to launch in 2019 is the LP WeatherLogic Air & Water Barrier, an integrated sheathing and structural board system.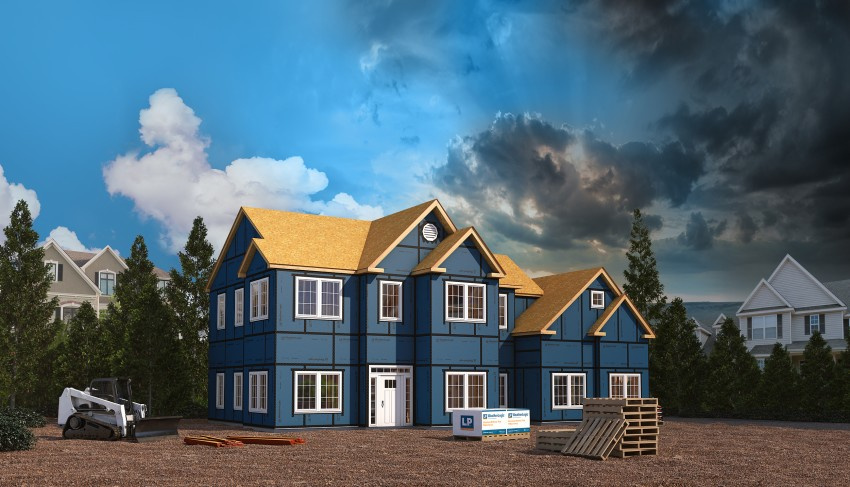 "We are proud to bolster our portfolio of high-performance products with two new solutions that will prove beneficial in multiple phases of the design and construction process," said Brad Southern, LP's CEO. "We are constantly working to deliver better products for better results, and LP SmartSide Smooth Trim & Siding and the LP WeatherLogic Air & Water Barrier system are outcomes of our commitment to this."
The WeatherLogic system incorporates two products – a 4 by 8 structural OSB with a weather-resistant overlay and LP's WeatherLogic Seam & Flashing Tape, a specially-formulated acrylic tape. Taken together, the products serve as both exterior sheathing and structural paneling, forming a tight envelope that is vapor-permeable.
According to the manufacturer, the system protects the home during construction, improves energy efficiency, and promotes a clean jobsite.
"Efficiency – in all of its forms – is a priority for us at LP," says Marcelle Lacy, LP's senior corporate brand manager for OSB and EWP. "With our WeatherLogic Air & Water Barrier system, builders install protection they can count on in less time while enhancing the home or building's energy efficiency. We are particularly proud of all this product has to offer as well as a 30-year warranty which is longer than the usual house wrap warranties."