Industry Mourns Loss of Alpine's Charlie Vaccaro
Charlie Vaccaro, one of the founding "four pillars of Alpine," passed away last Thursday. Charlie was Alpine's first salesman, and helped Bill McAlpine, Charlie Harnden and Walt Friedly build one of the strongest companies in the structural building components industry.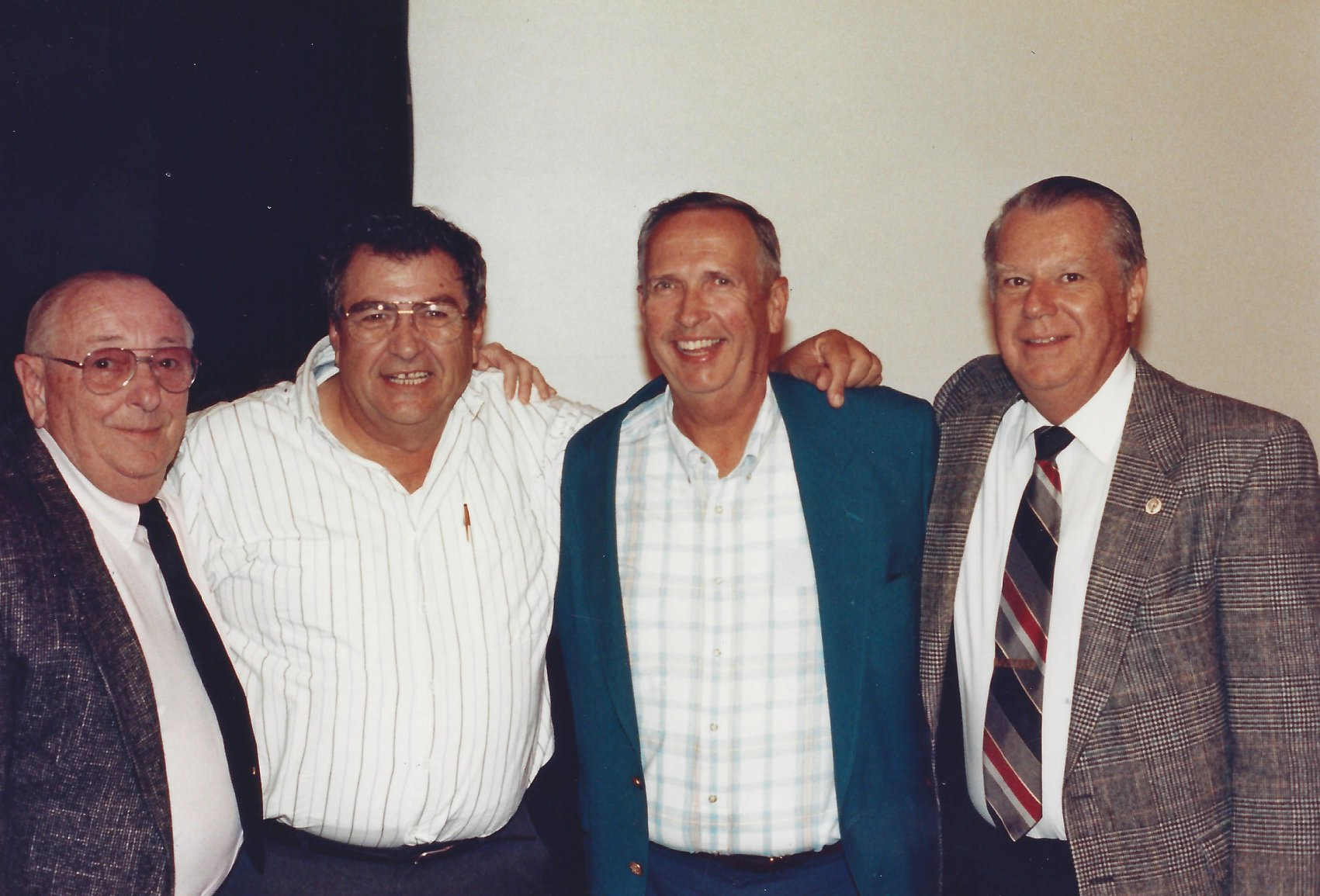 John Herring, owner of A1 Roof Trusses, says this of Charlie, "He was a highly respected member of this industry. He was my mentor from day one and he became a true lifelong friend. He was the Godfather to this industry, as he would tell you so himself! I can remember the first day I met Charlie when I was fresh and green in the industry, in 1972. He became the number one influence for myself, A1 and our success. I loved the guy and I will miss him as I know many others will as well." 
Pictured at right: Friedly, Vaccaro, Harnden & McAlpine
If you have a memory of Charlie, please share it with us! SBC Magazine will be publishing an article about Charlie in a future issue of the print magazine.
Charlie's published obituary:
Charles Vaccaro, 87, of Cooper City, FL passed away on February 14, 2019 in Hollywood, FL.
Charlie was born in Brooklyn, NY to Leonard and Rosaria Vaccaro on March 1, 1931. He married Dolores Stepanich on August 21, 1955 in Brooklyn, NY. He worked as a Sales Consultant for Alpine Engineering for many years. He was a veteran of the Korean War and served in the Army and was awarded The Korean Service Medal, United Nations Service Medal, 2 Bronze Stars, and the Combat Infantryman's Badge.
Charlie is survived by his wife, Dolores; children and their spouses, Karen Vaccaro, Lauren and Arthur Neiwirth, Charles L. and Julie Vaccaro, Valerie and David Griffiths, and Victoria Vaccaro; his brother, Gaspar; grandchildren Amanda and Michael, Olivia, Marissa, Jonathan, Gregory, David, CJ, Christopher, Jack, Michael, Caroline, Adrianna, and Ren; and great grandchildren, Lilly and Zachary.
Visitation will be 5:00 PM - 9:00 PM on Tuesday, February 19, 2019 at Fred Hunter's University Drive Home, 2401 S. University Drive, Davie FL 33324. 
A Funeral Mass will be held at 11:00 am on Wednesday, February 20, 2019 at Saint David Catholic Church, 3900 S. University Dr., Davie, FL 33328.
In lieu of flowers donations can be made in Charlie's name to the Wounded Warrior Project, support.woundedwarriorproject.org.
A Reception and Celebration of Life is to follow Mass on Wednesday: 
Capriccio Ristorante 
2424 N. University Dr.
Pembroke Pines, FL 33024