Demilec's Heatlok Spray Foam Up for 'Best Green Product'
Originally published by: Sprayfoam.com — February 14, 2019

The following article was produced and published by the source linked to above, who is solely responsible for its content. SBC Magazine is publishing this story to raise awareness of information publicly available online and does not verify the accuracy of the author's claims. As a consequence, SBC cannot vouch for the validity of any facts, claims or opinions made in the article.
Demilec® Inc. announces Heatlok HFO has been nominated for the National Association of Home Builders' 2019 Best of IBS Award in the Best Green Building Product category. It will compete against several other environmentally conscious products in the building materials industry.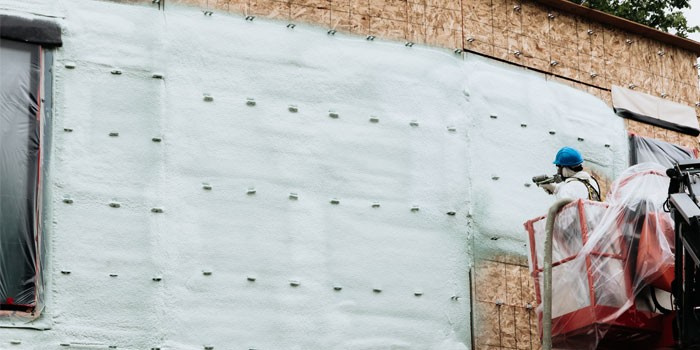 The winner will be announced on Thursday, February 21, 2019 at the International Builders' Show (IBS) in Last Vegas. Each year IBS, hosted by the National Association of Home Builders (NAHB), boasts an attendance of more than 70,000.
Demilec's Heatlok HFO family of products uses a blowing agent with ultra-low global warming potential and Zero Ozone Depleting potential. Heatlok HFO High Lift and Heatlok HFO Pro recently won the coveted 2018 CPI Innovation Award and 2018 Home Builder Executive Gold Innovation award for their high R-values of 7.5/inch and 7.4/inch, respectively. Heatlok HFO High Lift can be sprayed at 6.5" for an R-49 in a single pass. While Heatlok HFO Pro is a certified ABAA air barrier, ideal of continuous insulation sprayed on the home's exterior.   
Aside from thermal efficiency, both products feature other environmental benefits. Heatlok HFO products are composted of 12.5% post-consumer waste. To date, Demilec has been responsible for recycling more than 400 million plastic bottles for manufacturing. Heatlok HFO creates no job site waste and is sprayed from reusable bottles.
Demilec recently announced that both products are radon gas resistant and can be used in place of a conventional plastic membrane around the exposed foundation of a new or restoration building project. It is also 11 times more thermally efficient than the conventional membrane.
"Demilec is excited Heatlok HFO Insulating Spray Foam has been nominated for the Best Green Building Product by NAHB. Demilec's dedication to sustainability and utilization of recycled PET in our foam has been a core focus of our product development," according to Douglas Brady, VP of Product Management and Technology at Demilec. "Now, combined with a 4th generation HFO blowing agent, we have significantly reduced the greenhouse gas impact of spray foam while continuing to protect the ozone."