Carpenter Explores Benefits of Spray Foaming Roof Rafters
Originally published by: RealEstate — February 21, 2019

The following article was produced and published by the source linked to above, who is solely responsible for its content. SBC Magazine is publishing this story to raise awareness of information publicly available online and does not verify the accuracy of the author's claims. As a consequence, SBC cannot vouch for the validity of any facts, claims or opinions made in the article.
Q. I have an attic that was just remediated for vermiculite insulation. It is wide open. A company said I should insulate the roof rafters instead of the joists (the floor) and board up the ridge and gable vents. I have never heard of this. I have a new air-conditioning unit, so maybe it won't be as hot in the summer this way (heat rises), but heating the attic doesn't sound very economical in the long run. Please advise.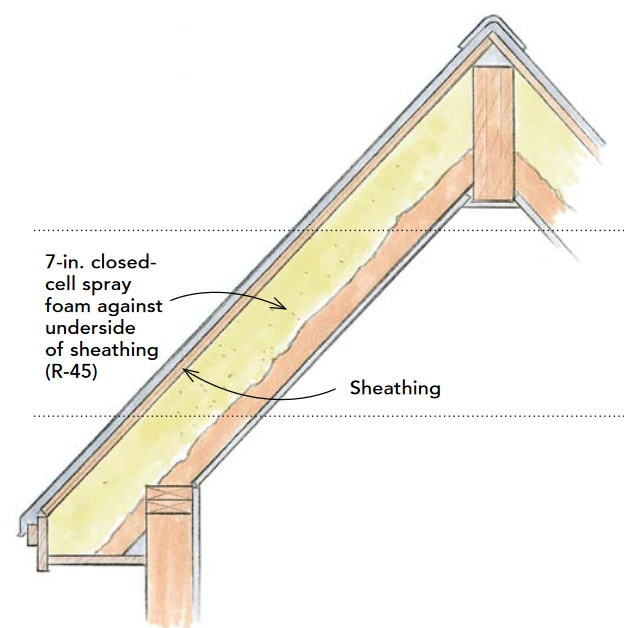 A. I just did this same thing on a project; I used spray foam insulation on the rafters and left the floor uninsulated. There are several benefits to doing this.
Adding insulation to the rafters and gable walls will hinder the transfer of heat between the living quarters of your home and the attic.
In the winter, heat rises and passes into the attic through the ceiling by conduction or radiation, or through direct air leaks. If your attic is not insulated at the rafters, that heat is lost and ice dams could form. Lost heat also causes your furnace to run longer.
In summer, a hot attic will radiate heat into the rooms below, making your air-conditioning run longer or cycle more often, causing more wear and tear on the unit.
Spray-foam insulation overhead in the rafters creates a conditioned attic space, while insulation in the floor system creates an unconditioned attic area.
If you have an HVAC unit or ductwork in the attic, then those are exposed to both temperature extremes. In the summer, hot ductwork takes away cool air inside the piping. In the winter, cold ductwork takes away from the warm air inside, and you run the risk of frozen pipes.
You won't be wasting heat by not insulating the floor. If you are still concerned, use spray-foam insulation on the rafters and Fiberglas insulation on the floor to separate your home and attic heating zones.