Ask Your Vendor About Hanger Allowable Load Reductions
Originally published by the following source: SBC Magazine — February 25, 2019
by Sean Shields, with contributions from Randy Schackelford, P.E., Jim Vogt, P.E., and Kirk Grundahl, P.E.
If you are designing to the 2015 International Building Code (IBC) or later, it's important to take a close look at the allowable load ratings you are referencing for some companies' connectors and hangers.
The reason for this is because, beginning with the 2015 IBC, the methodology for determining the allowable loads for connectors and hangers (evaluated by  ANSI 17065 accredited product evaluation agencies) has changed. The 2015 IBC Section 2303.5 states the following:

ASTM D7147 is called Standard Specification for Testing and Establishing Allowable Loads of Joist Hangers. Prior to the 2015 IBC, the code required the use of ASTM D1761, called Standard Test Method for Mechanical Fasteners in Wood.
The difference between these two ASTM standards can be found by comparing their scope statements::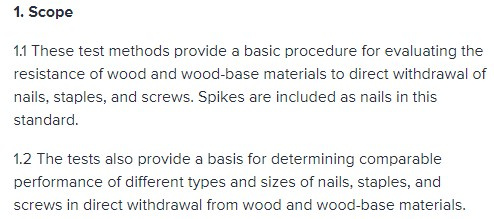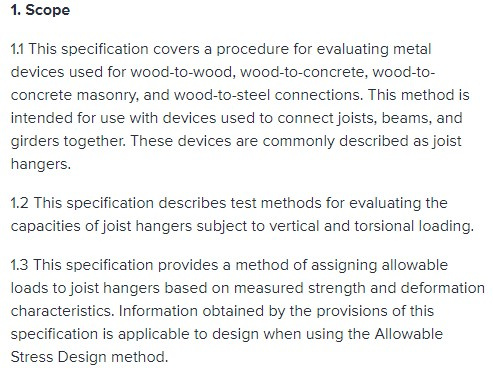 Both testing standards advise determining a hanger or connector's allowable load as the lowest value of these three:
the lowest ultimate load of three tests (or average of six) with a safety factor of three;
the average load at 1/8" deflection; or,
calculations based on the American Wood Council's National Design Specification for Wood Construction (NDS).
However, there were concerns regarding ASTM D1761. Under this testing methodology, results could not always be compared on an apples-to-apples basis. To address this, ASTM D7147 requires tested materials to be measured (e.g. specific gravity of the lumber used and steel strength). If tested materials exceed the properties specified in the standard, the tested ultimate loads must be adjusted to account for the "over-strength" or "under-strength" of the materials used in the test.
A good illustration of the impact of this change is in the adjustments recently made in the Simpson Strong-Tie catalog:

Designation of design value changes in the Simpson Catalog due to D7147
Given these adjustments, Simpson Strong-Tie recommends all users, "check with the connector manufacturer that you use to see what their policy is on the use of previously published allowable loads.  Even though they may now publish new reduced allowable loads, it is likely that various computer programs used to design wood buildings will not be updated until later in the year."
This change prompts a few observations for component manufacturers to consider:
ASTM D7147 states the following in section 3 "This specification provides a method of assigning allowable loads to joist hangers based on measured strength and deformation characteristics." As the standard language reads, this is "a method" (among several accepted engineering methods) that can be used to establish "allowable loads of joist hangers."
There is never just one approach to provide allowable design values for resistance to applied loads. Accepted engineering practice allows for the use of mechanics-based methods to arrive at a joist hanger's allowable resistance to any given set of applied loads.
A key consideration for establishing allowable loads, based on ultimate strength testing, is the failure mode that occurs for the application. If a wood failure mode is always the means of a connector failure and the steel never fails, then placing a factor of safety on the ultimate strength of steel is not really relevant to assigning an allowable design value. Making these assessments should be done by a competent professional engineer. The goal of any competent engineer is to provide the best economic solution to any resistance problem that is safe.
The key to code approval of any testing and engineering approach taken is to look for an "ICC Report" provided by an ANSI 17065 accredited third party certification body that employs one or more approved sources.
Signed and sealed professional specialty engineered design drawings or research reports are another avenue that can provide hanger tables generally, or for use in a specific building for resistance to specific loads.
The structural components industry was founded on great engineering, using professionally engineered truss design drawings created by specialty truss design engineers. Innovation occurs through proprietary connector testing and design (i.e. truss plates, hangers, etc.) and placing that intellectual proprietary into software. This process can the produce unique competitive connection designs.