'Ask the Builder' Shares the 'Magic' of Components
SBCA is working with Ask the Builder expert Tim Carter to gain the benefit of his perspective on structural framing. While all those who know SBCA and work with its members know the value of component framing, Tim provides a fresh perspective that reaches the general public and home builders through his newspaper column and weekly newsletter.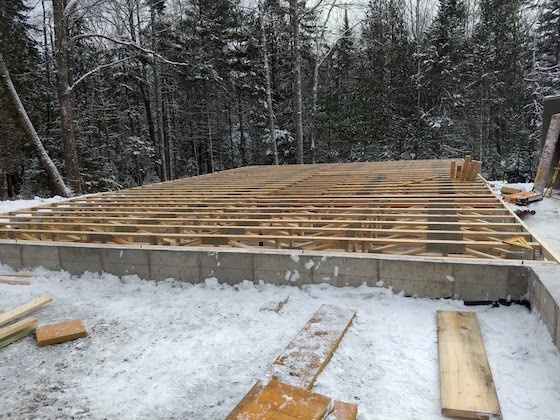 Tim is an award-winning builder and nationally syndicated columnist with over thirty years of hands-on experience building and remodeling. In 1993, he was named one of the Big 50 Remodelers by REMODELING magazine and soon after started a newspaper column that continues to appear in about sixty newspapers nationwide each week. Alongside his column, Tim explores DIY tips, tool reviews, project guides, and a wide variety of building and home improvements through his weekly newsletter.
His numerous followers and reach influences many in the building industry and to gain the benefit of his point of view on industrialized framing, SBCA worked through Mainely Trusses and Hancock Lumber to supply all of the component framing for his daughter Meghan's new house in Bar Harbor, ME. As the new house is being built, Tim is there every step of the way documenting the process and showcasing the floor trusses, wall panels and roof trusses used throughout the house and pointing out the advantages and value they provide.
Tim communicates the many benefits of using components over conventional stick-framing. He repeatedly calls the process, "basically MAGIC," and, "the advantages of floor trusses are too numerous to list," while directing his readership to SBCA's Best Way to Frame website (bestwaytoframe.com) to learn more about components.
In a December newsletter, Tim wrote, "The framing time is condensed to a few days instead of a few weeks. The accuracy of everything is within a tiny fraction of an inch.  There's virtually no waste."
In another Ask the Builder newsletter, Tim included a comment made by a builder on the project, Jody Patterson about the prefabricated wall panels and floor trusses.
"The only other time I've used them is when I was a carpenter working for another builder. With it getting harder and harder to find qualified field carpenters, all I can say is these panels are so easy to work with that from now on its ALL I'm going to use. I doubt we'll ever stick-frame a house in the field again. Can you believe how much progress we've made in just 72 hours?"
Through his daughter's housing build, Tim provides insight to his readership on the benefits of components in each step of the building process and builds awareness of components. In our next article, we'll look at one of the first videos Tim created on the jobsite showcasing the advantages of attic trusses.