Are "Superwalls" an Effective Energy Efficiency Retrofit?
Originally published by: Facility Executive — February 21, 2019

The following article was produced and published by the source linked to above, who is solely responsible for its content. SBC Magazine is publishing this story to raise awareness of information publicly available online and does not verify the accuracy of the author's claims. As a consequence, SBC cannot vouch for the validity of any facts, claims or opinions made in the article.
Discussing the city of Chicago's building benchmarking initiative in 2013 Mayor Rahm Emanuel asked, "Do you check the mileage before you purchase a car? Do you check the energy efficiency of a utility before you purchase it? Do you do comparative? What is wrong with providing people information?"
Here "benchmarking" means to track and input a building's energy consumption data and other relevant building information to quantify the building's energy use. One important data column from the benchmarking initiative is a building's Energy Use Intensity (EUI)—the amount of annual energy consumption per square foot. Since it is on a per square foot basis, the EUI allows comparisons of energy performance across many different categories and sizes of buildings. In the Chicago initiative, the data is then made transparent to the public to compare and contrast the energy performance of various buildings. As Mayor Emanuel put it, "Good data drives markets and innovation."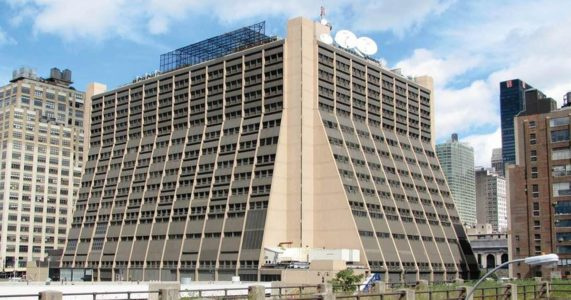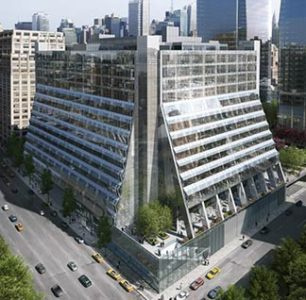 Constructed in 1969, 5 Manhattan West in New York City was repositioned with a new façade in 2017 by Brookfield Property Partners and REX Architects. Before, top; after, bottom. (Photos: Rex Architects)
Chicago is not the first city to implement benchmarking; many cities have taken on the initiative, some as early as 2008. This transparency in the market has allowed owners, facility managers, design professionals, and many others to see how their building stacks up to that of their neighbors. Likewise, for many owners, evaluating their energy use data leads to a desire for improvement.
Parallel to the energy benchmarking movement are market repositioning projects. These are renovations performed on existing buildings to bring them up to modern trends and performance levels, with the purpose of reselling at a higher market value, or to lure new prospective tenants. As building envelope components for older façades reach their expected service life and begin to require extensive maintenance to manage water intrusion and other failures, repositioning projects with full façade re-clads or over-clads may become more desirable than performing maintenance repairs.
While generally more expensive, a full reclad or over-clad allows for a new design aesthetic in a competitive marketplace. Many of these repositioning project types include mid-rise to high-rise commercial offices and hotels, particularly for mid-century modern and post-modern buildings (1950-1990 construction) due to their age.
These repositioning projects generally try to achieve the "Mercedes" aesthetic as opposed to the "Prius" performance, meaning that a high-end appearance is desired to rebrand the building and boost value. Glass curtainwall and window wall systems are frequently specified, which allow for a modern aesthetic and full floor-to-ceiling views.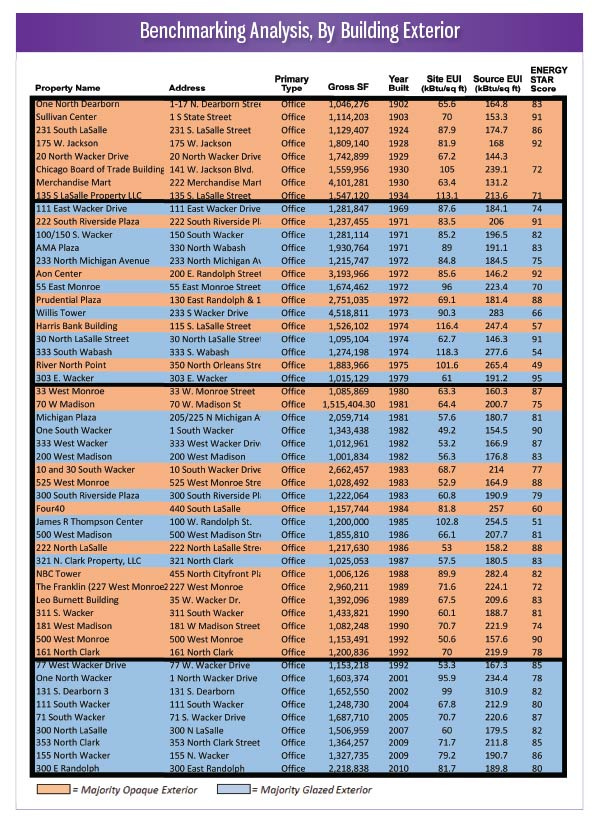 Benchmarking analysis performed by Thornton Tomasetti, filtered by high-rise office buildings > 1 million SF, and sorted by year built. Data indicates newly constructed buildings use almost as much energy as those constructed over 100-years ago. (Source: Author)
However, from an energy saving standpoint, is glass the best material for reclad projects? Although glazed systems typically allow large amounts of daylight, their insulating values are low compared to opaque wall assemblies (such as stone-clad cavity walls with insulation layers).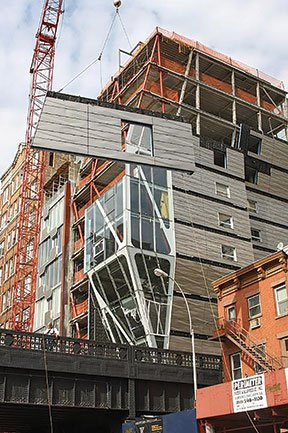 Analysis of the Chicago benchmarking data for office buildings leads to some noteworthy findings: when the data was sorted by the year built, it was determined that some modern buildings are using just as much energy as those constructed 100 years ago (see chart). This analysis revealed the following: Building constructed between 1902-34 showed average EUI of 81.7; constructed 1969-79, average EUI of 87.9; constructed 1980-92, average EUI of 64.6; and constructed 2001-10, average EUI of 78.2.
So how did this come to be? An answer to this conundrum can be found by reviewing changes to the building code over time. Older buildings generally utilized heavy masonry walls and had limited punched window openings. Even without the amount of insulation layers that are currently required, these low window-to-wall ratios have assisted in keeping their building EUI at a moderate level given their age. Over time, and as technology has developed, glass openings have become larger and larger, and architects have incorporated more glass into their designs.
In the 1970s a new energy code was introduced, in part in response to the oil crisis and a desire to reduce dependence on foreign entities for fuel. For the first time, limits were imposed for window-to-wall ratio on building façades. Insulated wall cladding systems were also more proactively utilized in post-modern construction. In the early 2000s, energy codes typically saw a major shift from prescriptive-based design to performance-based design (i.e., a "performance rating method"), which generally allowed fully glazed buildings to meet the code so long as they balanced the design with improved mechanical system performance or other tradeoffs.
Pre-fabricated insulated superwall system installation (Photo: Island Exterior Fabricators)
While the performance-based approach to code compliance has allowed for greater design flexibility, it is a contributing factor to increased EUI values in present-day buildings. The design of a building's façade is one of the most efficient ways to passively reduce its energy usage. Glass curtainwalls typically achieve an R-value (measure of a material's capacity to resist heat flow, with a greater value being more insulative) of approximately R-3, whereas insulated wall systems can achieve R-values greater than R-15. These insulating values are especially important in northern climates where there are more cold days annually and keeping heat from escaping the building envelope is critical.
With the continuing evolution of technologies, it is an ideal time for building professionals to consider new opaque materials. Rather than cladding a building completely in glass, materials can be positioned to strategically highlight attractive views. In most dense cities, for instance, buildings have views that look straight into other buildings. Besides the obvious benefit of a reduction in energy use, improved exterior façade performance may even allow for a reconfiguration or elimination of existing perimeter baseboard heating systems, adding useable area to gross square footage.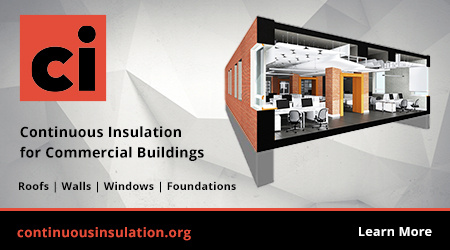 Present-day products in the market include materials such as unitized and insulated pre-fabricated "superwall" or modular wall systems that can be installed with the ease and efficiency of curtain wall systems. These systems not only increase performance and quality, but can also be more cost-effective to install than traditional cavity walls due to reduced labor costs.
Energy benchmarking allows for transparency when evaluating comparisons of building energy use and asking: are the buildings of today better than those of yesterday? Can we take some advantages of past designs and integrate them with modern technologies for high performing enclosures? As repositioning/reclad projects become more common, it is important to be aware of present-day challenges and to not only address the economics, but the climatic issues as well. This starts with a desire by the owners, developers, and facility managers, and is executed by designers, contractors, and manufacturers. As the industry continues to pioneer energy efficient façades, stakeholders will need to push the envelope further.