'Team Zero' Discusses Energy Efficiency Trends
Originally published by: Green Home Builder — December 13, 2019

The following article was produced and published by the source linked to above, who is solely responsible for its content. SBC Magazine is publishing this story to raise awareness of information publicly available online and does not verify the accuracy of the author's claims. As a consequence, SBC cannot vouch for the validity of any facts, claims or opinions made in the article.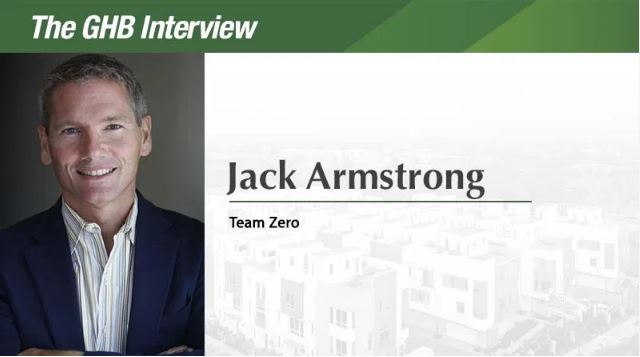 The GHB Interview: Jack Armstrong Director of Team Zero and President of ACUMEN, LLC
Jack Armstrong, Director of Team Zero and President of ACUMEN, LLC, speaks on trends in the green building industry
GHB: How do you think recent developments have been shaping the industry at large?
Jack Armstrong: Essentially, mutifamily is where it's at right now. In recent trends we see that urban population and urban centers are growing, the millennials don't tend to have a lot of money to buy single family homes, and they're more environmentally minded so multifamily has been that kind of bright stop in all markets moving forward. I think because the multifamily section has been growing just due to demographics – and financing reasons and things like that – it's also been a bright stop with the "smart money" if you say: going in to running these facilities in an economically judicious fashion. And hence, that's why we're seeing some of these sustainability attributes as well as the energy-saving, carbon-saving, and water-saving features start to crop up in multifamily because it appeals to the new younger demographic. But more importantly, typically the groups and developers that invest in multifamily are kind of "smart money" so to speak, and they understand building science; they understand the economics of why these green energy-efficient sustainable buildings cost less to operate. Many of the multifamily situations, sometimes rent includes electricity, sometimes it's not it just varies, but that's certainly one of those areas as an owner/operator that affects cost in some of these multifamily facilities. It goes right down to the bottom line, in addition to demographic. Millennials want to have energy efficient homes or be good to the environment
Incentives too, across the nation with codes that have been adopted now. The International Energy Conservation Codes (IECC) – 2012, 2015, 2018 – each of those three-year code cycles have ramped up the performance of what building in general need to do, and states have adopting things like continuous insulation on the outside of the building for helping them perform better as well as good indoor quality and the whole health movement
GHB: We see some developments even exceeding state energy codes like the ABC Green Home Project. Are seeing any similar industry trends?
JA: Without a doubt. If you take California; Title 24 has essentially increased by 50 percent the energy performance requirements starting in January. So they're 50 percent more restrictive and if you do the math the opposite way, essentially the 2016 California energy code is 100 percent less.
50 percent increase but those older buildings are going to perform at 100 percent less than the mandated level. That's pretty impressive. I think those are the market forces and when people pencil out the math it works.Say it's going to cost $40 more per month for the mortgage for an average green home, but they're going to save $80 per month, so cash flow positive right out of the shoot.
GHB: What other industry trends are you seeing this year, and what do you see as for the rest of 2019?
JA: The organization called The Net Zero Energy Coalition started publishing an inventory of net zero energy projects in the U.S. and Canada back in 2015. We just came out with the third version of it about two months ago. It started in the Pacific Northwest region in about 2010. It has been this mission of trying to illustrate through collection impact a hub or a local spot where people can come to get information on what is the right path to zero; regardless of how you want to get there. We felt like creating an inventory so that people can actually see the uptake in the marketplace. In 2015 there were about 408 projects we were able to find. A year later it went up about 80 percent to something like 740 projects, and then a year later in '17 it went up again to around 1,100 projects, and this last round we are up to around 1,800 projects. That is a combination of both single family and multifamily units, but what we've started to see is that it's mainly in multifamily and that's where the real swell in the number of units has come up. In this last round there were about 22,000 units.
We work with Sam Rashkin from the Department of Energy. Sam has been instrumental over the years in energy star homes and then later builder-challenge homes, and now the program that the DOE runs around construction of zero-energy ready homes. Sam has, through his program, encompassed a lot of things for these high-performance structures. They're energy efficient, they have great air quality – because a tighter home can have problems if you're not doing things right with the air – but also the need to be durable, and so in working with DOE's zero-energy ready home program as well as the passive house program, NAHB's green home program, we started to see there's a lot of confusion in the market place around green or zero homes. What does zero mean? And we thought the best role for the Net Zero Energy Coalition is to rebrand and call it Team Zero with this notion of getting all the stakeholders that are in this space – whether it's the HVAC people, the insulation people, individual product manufacturers. Also the different rating system programs, so whether it's USGBC, Living Building Challenge, local regional programs, cause there's all these people out there talking and there is what we think is confusion in the market place – you might say green fatigue. We had a think tank and brought over 30 stakeholders together in April of this year out in Golden Colorado in the Denver suburb at the National Renewable Energy Lab, and we invited all these different constituencies including New Building Institute, which has its own inventory of 650 commercial buildings and kind of overlaps with what were doing, and we wanted to not dilute resources. The notion of Team Zero is that it's a collective group with common messaging and a resource hub. We're wanting to launch a new Team Zero website and an outreach campaign next year, a consumer awareness campaign around zero to give people directions to show that no matter what level or flavor of zero you want to get to – whether its near zero, net-zero, positive; and also whether its with water or emissions – it can be done. Anyone who has zero in their charter we wanted them to be a part of this network and then the goal of team zero is to be able to direct them to the right resources, education, and paths.
GHB: What work do you personally do within the industry?
JA: Acumen, LLC, is my own consulting company. I spent 24 years with a company called BASF, a chemical company making the ingredients that go into building construction, left in 2013 and formed my own consulting company around sustainable construction and marketing initiatives for the built environment primarily. One of the things I do is run a trade association for panelized construction product – Structural Insulated Panels (SIP) – which are used a lot in energy efficient, sustainable construction just because it's easy to have really great insulated walls and roofs when you build with these foam/wood panels.
On the board of the Net Zero Energy Coalition are a variety of different people from different parts of manufacturing, government, media and outreach just to try and work together on getting the message out and adding some order and structure to defining what is zero in the market place and how to get there.
GHB: What advice do you give to homebuilder looking to go more green?
JA: The big news is that just in this past inventory that we did we see that there is 59 percent more zero energy ready homes at the end of 2019 than there were at the end of 2018.
The markets growing, it's big, and builders should get on board and what does that mean? Well it really means educating yourself about how to get there economically and to sell the benefits and attributes. What we are trying to do is show people both the economic and the value proposition of saying, 'Yeah you may spend a little extra money in the caulking, the ceiling, the insulation of these homes, but they perform well.' And you have to make sure you get them rated like the HERS rating, because that's the proof of performance. It's not just someone saying 'it's gonna do it;' a HERS rater actually went in there and did a blower door test, and we feel like that's really important because before you add on renewable energy, which is expensive, the more robust you can make the building envelope – the walls, the roof, the floor – the less solar power you need to get to zero, or approach zero. That's really the message is that there's a lot of good science, it's available, it doesn't have to cost you any more once you get past the learning curve.
California is a perfect example. Zero energy homes are increasing in demand, and your competitors are doing it, there are many products out there doing it so if you're not on board you're gonna kind of get left behind. California really shows it; the new law requires that homes perform 50 percent better than they did three years prior in California. That can be a scary notion for builders who aren't always on the cutting edge.
We like to start with the premise that meeting the current building code is not the path to success. The current building code is the worst building legally allowed by law; that's like the bottom floor of entry. If you want to future-proof your building and make sure that in three years the building you just built isn't obsolete according to building codes, you need to be a leader in your industry and be more proactive looking forward. Say like in MPG for a car, if the law says you have at least 15 miles to the gallon and you're at 16 that's not a lot to brag about versus being at 20, 30, 40 miles to the gallon. So we're trying to overlay that into the homeowner experience and the builder experience. Nobody wants to make the biggest investment of their lifetime in something that next year is going to be completely out-of-date, and in fact illegal to build again. There's a mantra that you hear often: "reduce before you produce." Reduce the demand or the energy burden of your building or structure before you decide to produce renewable energy. If you can have a really great, well-insulated, non-leaky building that can use 50 percent less energy just because you built it well, well then that's money that you don't have to pay into solar panels and you have a return on your investment much faster
GHB: What do you see in the future of green homebuilding?
JA: Team Zero is actually in a growth mode and we're looking for our sponsors to come on board to help fund this awareness campaign next year. We have a program now with Team Zero founding members and we're going to have the typical gold, silver, and bronze packaging where people can participate in the organization and really help underwrite the consumer awareness campaign that we hope to do next year in 2020. Then they can actually be Team Zero Founding Members and we actually have some organizations that are willing to do matching funding and things like that to raise our goal, which is about $500,000 per year for three years to fund and underwrite the consumer awareness campaign and really get a great website up and running. Working with our partners around zero energy awareness, we'll continue to expand the zero energy home inventory survey that we do every year to show people that it really is growing and where and show how people are getting there, what products are they using to get there to make it like an easy recipe for other people to follow. It's one thing to say that you want a zero energy ready house, but most of the builders and consumers aren't aware of how to do that so we want to show through this inventory of 22,000 units that exist what is the recipe, whose products are they putting in there to get them to zero so that there's this proven path of performance to success, and they don't have to idirate around experimentation they can just follow the path that these great successful builders and developers have already been doing for well over five year. There's a great website through the Department of Energy's Zero Energy Ready Home program, it's called the Tour of Zero, and you can actually go on the website and it has interviews with homeowners who live in zero energy homes, they have the cost of the homes, a year's worth of energy bills, and even the builder and designer of the home. And there's also one called the Zero Energy Project, which is really in the Pacific Northwest cataloguing products, partners, programs, and projects that have reached zero energy. The SIP association has also been cataloging projects across the country.
So there's a lot of resources out there to make it easy for people, but they just don't know about it, where to go, and there's so much noise in the marketplace. We want to make is easy and effective for people to follow the footsteps of what other people have already worked out so they don't have to have such a big learning curve. That's the role of Team Zero to be a helping hand to guide people to the quickest easiest resources to get hem to zero.