Do Trusses, Wall Panels and CLT Fit Together?
Originally published by the following source: SBC Magazine — August 12, 2019
by Jess Lohse with contributions from SBCA Staff
Cross Laminated Timber (CLT) has a variety of structural uses. It can be used to construct floor, wall, and roof structures with relatively little difference in manufacturing processes.  Given its solid form and relative strength, CLT is best suited to compete with traditional concrete and steel construction techniques found in large commercial or multifamily projects with multiple stories. CLT can be used for an entire structure or any combination of floor, wall, and roof applications or even combined with other materials to offer design flexibility. One such example is post and beam applications filled in with other nonbearing wall panels produced by component manufacturers (CMs).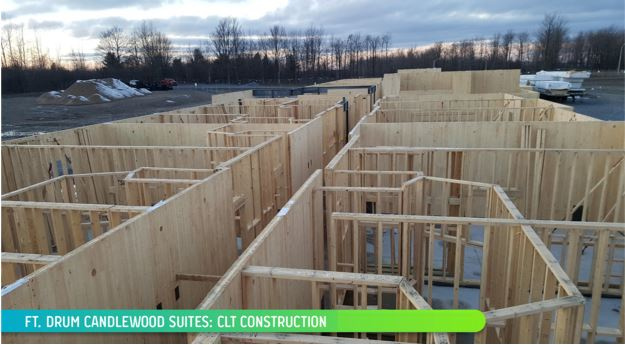 CLT's strength to weight ratio makes it a great choice when building designers are looking to minimize foundation costs when compared to steel and concrete mid and high rise buildings. The 2021 International Building Code, slated for release in late 2020, will allow CLT buildings up to 18 stories in height. However, CLT is not likely to find its way into residential construction in great degree any time soon. Glulam beams are a type of CLT that is commonly used as header and structural support systems. However, its wood fiber mass, cost per weight of wood fiber and relatively low thermal values without additional insulation applied don't appear to be competitive relative to current residential construction techniques.
As architectural and engineering communities embrace mass timber construction concepts in large commercial and multifamily structures, opportunities for secondary wood design elements emerge. Utilizing wood-based components in structures primarily constructed from steel and concrete is a difficult proposition. However, if the majority of the structural system is already constructed from wood based CLT, it can be argued that including wood-based wall panels, floor trusses, or even roof trusses is reasonable. CMs will have an opportunity to piggy-back on the adoption of CLT by specifiers and should look to engage them with educational opportunities and search out CLT collaboration opportunities where they exist in their local markets. CLT is often touted for its offsite construction techniques that yield quick on-site installation times, which falls directly in line with significant advantages of components. Add to this the on-site labor familiarity with wood construction techniques, installing CLT and wood components is natural.  
With greater market adoption, CLT will be subjected to increased scrutiny and attract the attention of competing industries such as concrete and steel, who will likely fight to maintain their current market share. Indeed, biased informational pieces have already been produced attacking the viability of mass timber. Regardless of the basis of arguments made by those attacking CLT, wood components stand to be caught in the crossfire given their raw material inputs. CMs will need to be aware of these potential claims that look to minimize the use of CLT based construction and be prepared to balance those arguments with sound, fact-based responses as required though your sales and marketing staff.