Be Prepared for OSHA: Making a Good Impression in an Inspection
A surprise inspection from an OSHA compliance officer (CO) is not an aspect of the framing business that many would cite (pun intended) as one of their favorite activities. Fostering a safety culture and ensuring your crew is properly trained is always the first and most important step in making sure inspections don't turn into headaches. However, there are also some best practices specific to site visits themselves that may help an inspection run even more smoothly, in addition to helping you foster good rapport with the CO.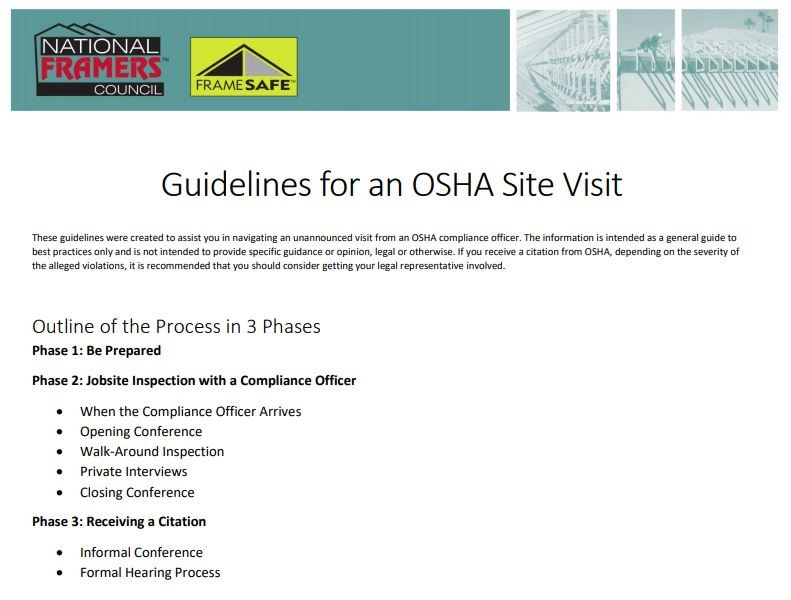 With respect to site visits themselves, Chris Tatge of Dynamic Construction in Madison, Wisconsin, follows the best practices laid out in the FrameSAFE program. He advises that "you want your guys to be aware of what your expectations are beforehand," specifically what they should do when a CO arrives. This helps to prevent a frenzied scene where employees are running about seeking to ensure everything is compliant just as a CO is entering the jobsite. Chris has his employees stop working, call him immediately, and ask the CO to wait for Chris to arrive before beginning the inspection.
After Chris arrives, he walks with the CO as he or she conducts the inspection, seeking to treat him or her respectfully throughout the process. Chris points out that the likelihood that you will see this CO again is high, so it makes sense to leave a good impression. The most important aspect of that, says Chris, is demonstrating that you know about safety, that you care about it, and that your actions reflect that knowledge and care. Chris says this is especially important for owners of smaller framing companies who do not have a safety manager.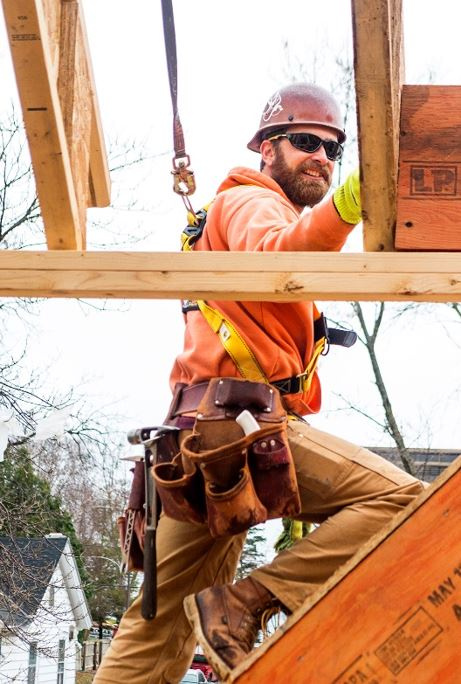 Chris Tatge practices what he preaches on a jobsite near Madison. This photo was subsequently used as part of OSHA's 2017 National Safety Stand Down campaign.
 "When a safety manager shows up and starts talking to a CO, there's really no question at all about whether or not that company cares about safety," Chris says. When the CO finds they are dealing with a company owner, "they immediately want to know if you are a responsible employer who cares about safety, and they can tell really quickly if you are," he says. As a result, Chris points out that it's important to act professionally and speak intelligently about the topic. He says that some framers tend to "start asking questions like 'Oh, I thought you could do this. Can't you?' That's a really bad idea," he says.
"Being prepared and engaged also makes a good impression and ensures you have all your bases covered," says Chris. "Along with having your jobsite safety manual and MSDS/SDS information ready to present to the officer, it's important to accompany them during the walk-around inspection." Best practices outlined in FrameSAFE includes taking detailed notes on locations visited, equipment checked, personnel interviewed, photos taken, as well as any noteworthy comments. Chris says he "takes pictures of everything that they take a picture of from the same angles."
Ready to welcome OSHA like a pro?
In addition to "Guidelines for an OSHA Site Visit," a training resource created to assist subscribers in navigating an unannounced visit from an OSHA compliance officer, FrameSAFE includes two Toolbox Talks to help prepare your employees for an OSHA visit. Get started with your FrameSAFE subscription today and enjoy easy access to your customized safety manual, an extensive Implementation Guide, and a vast library of safety resources through NFC's new searchable, online dashboard.
Related Articles: