Rigidply Rafters Reaches Out to Building Designers
Scope of work and the responsibility of a component manufacturer continues to be top of mind for Pennsylvania architects, design professionals, builders, and building officials, according to one component manufacturer.
Tim Riegel, Engineering Manager for Rigidply Rafters in Richland, Pennsylvania, fielded various questions during his presentation to a room of industry professionals focused on residential construction during the 27th annual Pennsylvania Housing Research Center Housing Conference on March 13 in State College, PA.
Riegels' presentation, "Introduction to the Structural Building Component Industry: A Metal Plate Connected Wood Truss Inspection Checklist," was created with the help of SBCA staff members. The group dove into reading truss design drawings and placement diagrams, using a seven-step truss inspection process and best practices for handling, installing and bracing metal plate connected wood trusses.
Riegel says it's important we get this information out because he continues to see misunderstandings which lead to misperceptions and poor communication between specifiers, builders, framers and building officials.
"There are truss installation problems that give the industry a black eye and cause some to question the value of using our products," he said. "It's critical to educate architects, builders, installers and building officials, that trusses are good, safe, reliable products that have many valuable applications."
It was a highly beneficial presentation, Riegel said, as he left knowing at least one architect now has a different and better opinion about our industry. She now understands that component manufacturers (CMs) are unable to address certain on-site issues, which she previously thought CMs were responsible for.
He said the seminar attendees were highly engaged and receptive to the entire presentation. Thanks to Riegel and others in the industry, truss knowledge and installation are becoming second nature because of the great job that is taking place educating local market on truss bracing and how to read design documents.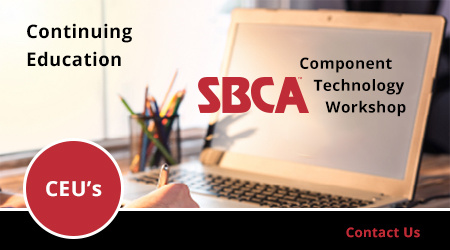 Posted on April 8, 2019 in