A Powerful Reminder of Why Eye Protection Is Important
According to the Centers for Disease Control and Prevention (CDC), 300,000 work-related eye injuries leading to an emergency room visit occur every year, costing an estimated $300 million per year in lost production time, medical expenses, and worker compensation. To keep your employees safe and to make sure your revenue doesn't end up as part of this estimate, getting employees to wear proper eye protection is critical.
A Hull Associates employee on a jobsite wearing PPE.
Illustrating the point, David Klatzkin, safety director of Hull Associates in Grand Prairie, Texas, relates a near-miss incident that happened to one of his company's employees. "One of our superintendents was walking through the jobsite and there was a framer up on the third floor who shot a nail and missed the wood," David says. After the nail hit the ground below the superintendent, it "bounced up and hit his glasses," he says. "How bizarre is that?" Thankfully, no one was injured.
"It just goes to show nails can fly anywhere. If you're on the jobsite, you need to have your safety glasses on," David adds. "But it's not just nails; it's sawdust, it's all kinds of stuff that can fly through the air."
David finds that when employees witness something like the incident he describes; it serves as a powerful reminder of the importance of PPE. "That's usually the reminder that, 'Oh, man. Maybe I ought to be doing this,'" he says.
However, with repeated training and reinforcement using resources from NFC's FrameSAFE program, for example, the goal is that it won't take witnessing a near-miss incident to press the importance of eye protection on your employees. "It's just one of the many things you have to continually remind them to wear," says David.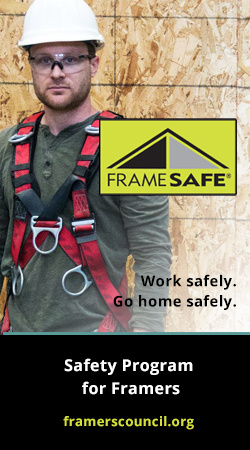 "To me, that's just part of coming to work," he says. "You've got glasses and a hard hat and work boots. It's the way life is and you should be doing it all the time."
NFC's FrameSAFE program contains resources to help in training employees on the importance of PPE. Visit framerscouncil.org for more information.