JM's Babineau Looks at Hybrid Insulation Approaches
Originally published by: Buildings.com — April 4, 2019

The following article was produced and published by the source linked to above, who is solely responsible for its content. SBC Magazine is publishing this story to raise awareness of information publicly available online and does not verify the accuracy of the author's claims. As a consequence, SBC cannot vouch for the validity of any facts, claims or opinions made in the article.
When building or renovating a structure, selecting insulation is a key step in achieving goals for energy efficiency and occupant comfort. During this process, it's important to consider the building's age, size, location, climate and current building codes.
Hybrid solutions can help meet these specific goals and considerations, working to the advantage of building owners and facility managers.
Two or more products create hybrid solutions aimed at creating a stronger building envelope and offering significant benefits, including thermal and moisture protection, maximized air-sealing and increased privacy throughout the space. The most common hybrid insulation solutions combine spray polyurethane foam and fiberglass, or mineral wool within a framing cavity.
Examples of hybrid solutions
Hybrid solution

Benefits

Spray foam + fiberglass or mineral wool batts or rolls

+ Cost savings

+ Air sealing

+ Fire-Resistant

+ Sound control

Spray foam + blow-in insulation

+ Air sealing

+ Reduces sounds

+ Thermal efficiency

+ Complete coverage
For example, a recent project pursued a hybrid solution to meet the defined project goals of delivering energy efficient results, maximizing budgets and reducing install time. A solution of combining spray foam as an air sealant with fiberglass batts installed in the interior wall cavities proved cost-effective and enabled a faster installation while helping the building owner reach energy efficiency goals within budget.
Hybrid solutions are beneficial because they allow each material to do what it does best, while avoiding or minimizing potential pitfalls and excessive costs.
In a hybrid solution, spray foam is usually installed to the minimum thickness needed to minimize cost. Spray foam thickness is best determined based on what's needed to achieve an air-barrier, any required water vapor or condensation control, and thermal performance targets. 
Typically, this is between one and two inches for all but the coldest climates. Then, the rest of the framing cavity is insulated with blow-in insulation or fiberglass or mineral wool batts. The spray foam effectively air-seals the cavity, eliminating air leakage that might degrade the performance of the system. Fiberglass or mineral wool are easily installed as a more cost-effective way to finish-out insulating the wall cavity and add excellent sound control.
Benefits and Challenges of Hybrid Solutions
Hybrid solution components

Benefits

Challenges

Closed-cell spray foam

+ High R-value

+ Air sealing

+ Vapor barrier

+ Install quality

+ Can be more expensive

+ Sound control

Fiberglass or Mineral wool batts, or Fiberglass blow-in

+ Cost-effective R-value

+ Excellent sound control

+ Quality install of batts takes skill

+ Air-permeable
Hybrid insulation solutions often deliver superior thermal performance versus a system with only fiberglass or mineral wool.
The R-value provided by closed-cell spray foam elevates the value of the system, even if batts must be slightly compressed to fit in the framing cavity. Additionally, the high thermal performance of a hybrid solution is often greater than what is required by code, and can reduce the amount of foam sheathing required in cold climates or on steel-framed walls.
| | | |
| --- | --- | --- |
| Hybrid solution examples | Cavity R-value | 2015 IECC Prescriptive Cavity R-value |
| 2x4 framing + 1" Johns Manville Corbond III® + R-13 fiberglass batt (compressed to R-10.2) | R-17.2 | R-13* |
| 2x6 framing + 1" JM Corbond III® + R-19 fiberglass batt (compressed to R-15.2) | R-22.2 | R-20* |
| 2x6 framing + 2" JM Corbond III® + R-13 fiberglass batt | R-27 | R-20* |
Hybrid solution examples *Most steel or wood-framed walls also require continuous insulation in most climates
Hybrid solutions also deliver excellent sound control. A wall only insulated with closed-cell spray foam doesn't perform well acoustically, even though the wall may be thoroughly air-sealed. Reason being, closed-cell spray foam is quite rigid, and the closed-cell structure doesn't allow sound to penetrate and be absorbed.
However, when paired with fiberglass or mineral wool in a hybrid system, testing at the Johns Manville Technical Center in Colorado has shown that the acoustical performance is equivalent to the same wall design with all fiberglass or mineral wool in the cavity.
The success of hybrid solutions also depends on system design. To control costs, the spray foam component of a hybrid solution should be the minimum thickness required to achieve the needs of the system. Sometimes, this is just air sealing, which only necessitates 1-inch or greater thickness. However, in colder climates (climate zones 4 and higher), there is also a requirement for condensation control.
Both the International Building Code (IBC) and International Residential Code (IRC) have sections describing the minimum R-value of spray foam needed to effectively manage condensation risk in walls and ceilings, as part of a hybrid system.
Code Climate Zones

Minimum Spray Foam R-value

Walls

Roofs/Ceilings

1-3

n/a

R-5

4C

R-2.5 (4-in. cavity)

R-3.75 (6-in. cavity)

R-10

4A, 4B

n/a

R-15

5

R-5 (4-in. cavity)

R-7.5 (6-in. cavity)

R-20

6

R-7.5 (4-in. cavity)

R-11.25 (6-in. cavity)

R-25

7

R-10 (4-in. cavity)

R-15 (6-in. cavity)

R-30
R-value requirements by climate zone
Building managers and their construction contractors shouldn't feel tied to a single insulation product in conquering challenges like thermal insulation, air-leakage, moisture management and sound control. By nature, using a hybrid solution is both an economical and effective method of ensuring a space is properly insulated and air sealed.
Hybrid solutions offer budget flexibility in allowing building owners to combine a product at a higher price point with a more economical product.
Lastly, remember the importance of proper installation. Consider consulting an insulation contractor for the job to ensure the install job is done right the first time, eliminating the need for future repairs.
While deciding on the right insulation type can be difficult, quality insulation is critical for the long-lasting comfort and cost incurred on a building. Hybrid solutions maintain quality and provide occupant comfort in all climate zones, making them an effective and economical way to air seal and insulate any building.  
Alternate thermal performance tables
| | | |
| --- | --- | --- |
| Hybrid solution examples | Cavity R-value | 2015 IECC Prescriptive R-value for same wall framing |
| 2x4 framing + 1" Johns Manville Corbond III® + R-13 fiberglass batt (compressed to R-10.2) | R-17.2 | R-13* |
| 2x6 framing + 1" JM Corbond III® + R-19 fiberglass batt (compressed to R-15.2) | R-22.2 | R-20* |
| 6" framing + 2.5" JM Corbond III® + R-13 fiberglass batt | R-30.5 | R-20 + CI |
| 6" framing + 2.5" JM Corbond III® + R-15 mineral wool batt | R-32.5 | R-20 + CI |
| 6" framing + 2" JM Corbond III® + JM Spider® PLUS (R-16) | R-33.5 | R-20 + CI |
| | | | |
| --- | --- | --- | --- |
| Hybrid solution examples | Hybrid Cavity R-value Range | Cavity R-value, fiberglass or mineral wool only | Cavity R-value, Closed-cell Spray Foam only |
| 2x4 wood or steel framing | ~R-17 | R-13 – R-16 | R-13 – R-25 |
| 2x6 wood framing | R-22 – R-29 | R-18 – R-24 | R-20 – R-35 |
| 2x6 steel framing | R-22 – R-33 | R-18 – R-25 | R-20 – R-35 |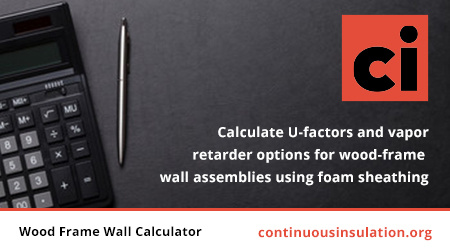 Related Information: