Get Ready! Safety Stand-Down to Prevent Falls Is May 6-10
Falls continue to be the leading cause of death for construction workers. OSHA's National Safety Stand-Down is May 6-10, 2019. Join safety-focused framers around the country to raise awareness about common fall hazards in construction, and how falls from ladders, scaffolds, and roofs can be prevented.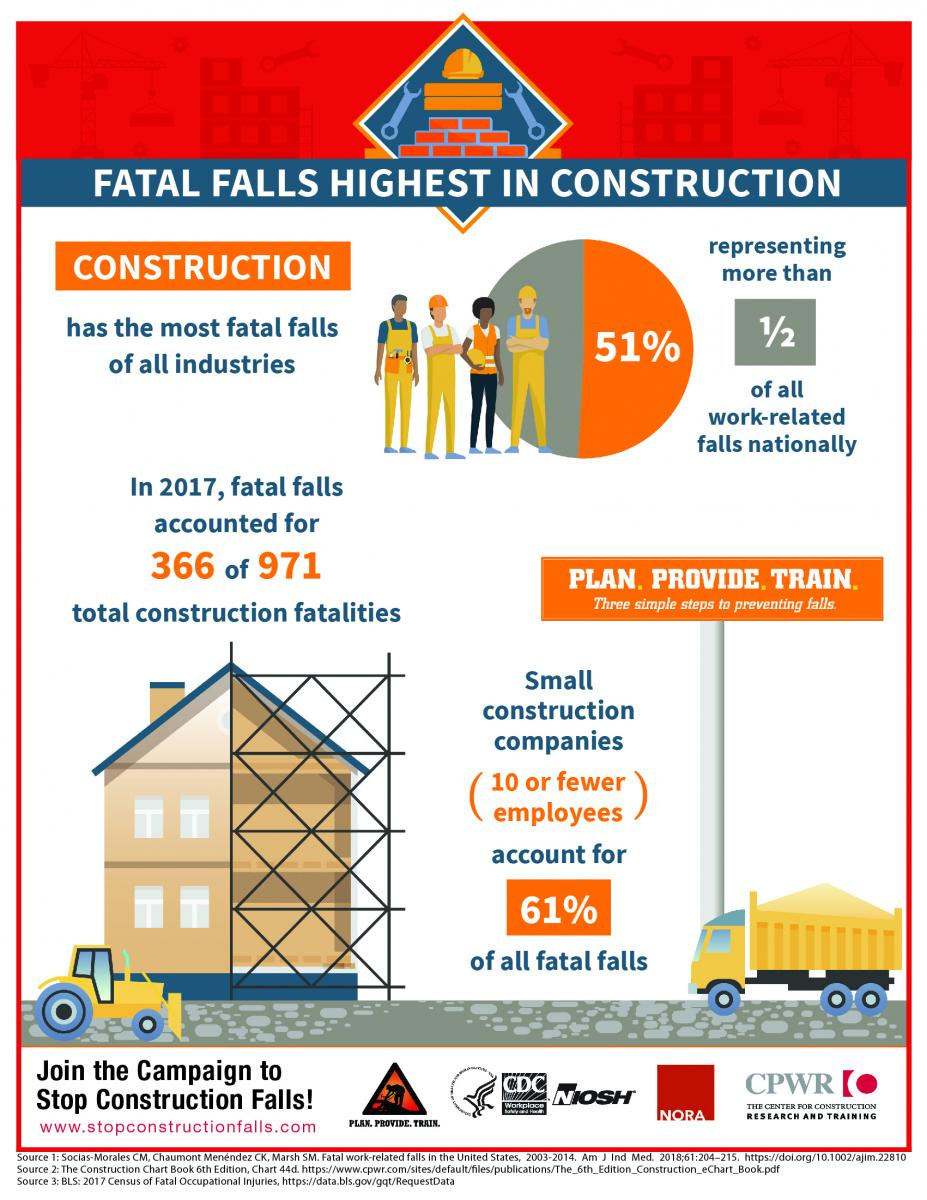 If you haven't already, now is the time to finalize your plans for your company's stand-down activities. There are many resources online regarding this initiative, many of which are highlighted on the NFC website. The following is a suggested 5-day outline, based on a resource from stopconstructionfalls.com and tailored to framers and FrameSAFE subscribers:
Day 1: Make the Case for Focusing on Falls – Use statistics and true stories to develop an understanding with your employees about why fall prevention is so important.

The mission of NFC's FrameSAFE program is to ensure that workers arrive safely and go home safely. It is everyone's responsibility to carry out this mission. Resources include:

Shared experiences: Tell your own fall safety story or share what you've seen on jobsites that raised your level of fall prevention awareness.
Fall Risk Infographics from CPWR-NIOSH
Fall Fatality Maps from CPWR

Day 2: Review Your Site-Specific Fall Protection Plan – In addition to providing your employees with comprehensive safety training regarding conventional fall protection, OSHA can also require a written fall protection plan. This is for employees engaged in specific types of work, where it can be demonstrated that it is infeasible or hazardous to use conventional fall protection equipment.

NFC's FrameSAFE program includes a Site-Specific Fall Protection Plan Template. Its goal is to get framers to think in detail about how they will mitigate fall risks on each jobsite. Read more about the evolution of the tools SBCA and NFC have developed to make this process easier. This is a guide to meet the framer's responsibility to actively assess each jobsite.
Take this opportunity to also review your rescue plan with workers. Hanging in a harness for too long can be deadly so having a plan is critical. See FrameSAFE's Toolbox Talk on Rescue Planning.

Day 3: Conduct a Fall Protection Demonstration – Engage one of your safety professionals or a guest expert to provide a presentation on how to properly fit, wear, and use fall protection. Review the safe use of ladders and other equipment. Resources include: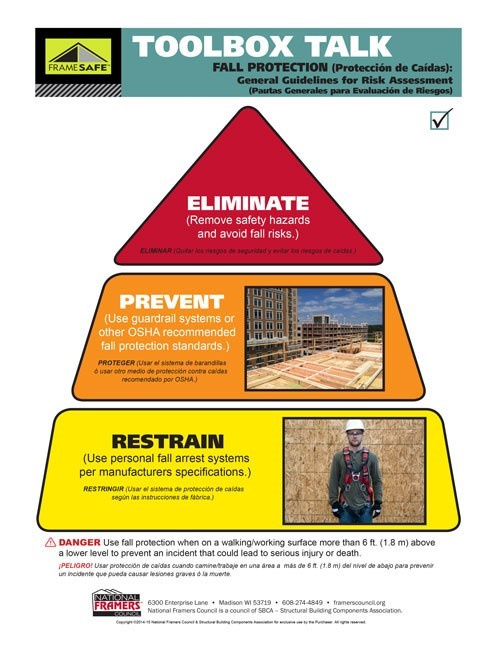 Day 4: Conduct a Toolbox Talk: Highlight the fall prevention topics you find to be most important for your employees to hear about. Encourage everyone to ask questions and facilitate a discussion on the topic to help ensure they remember the information.

NFC's FrameSAFE program includes 15 Fall Protection titles that are especially appropriate for your Stand-Down and provide a space for employee acknowledgement for easy record-keeping:

Constructing a Safe Job-Made Ladder
Covering Holes
Extension Ladders
General Guidelines for Risk Assessment
Guardrails – Examples
Guardrails – System Requirements
Horizontal Lifelines
PFAS Adequate Anchorage Point & Fall Distance
PFAS Proper Fit & Inspection
Protection from Falling Objects
Putting on a Body Harness
Rescue Planning
Safe Use of Job-Made Ladders
Scaffolding
Step Ladders

CPWR Toolbox Talk Resources and OSHA Focus Four Fall training can also be used to help start conversations.

Day 5: Reinforce Fall Safety Lessons – Help workers retain the information they received during the week of the Stand-Down. Here are some suggestions:
Keep in mind, there are many ways to hold a stand-down. This information is simply a suggestion. Be creative and use these ideas to develop a plan that works best for your company. Remember to take photos of your employees participating in stand-down activities to use in social media and share with NFC staff.
Finally, consider subscribing to FrameSAFE today and receive a whole library of Toolbox Talks, Safety Posters, and a site-specific fall protection plan template to compliment the full bilingual FrameSAFE safety manual. Contact staff for details.
Many thanks to NFC Sponsors for their support of this year's NFC Stand-Down Photo Contest:
GOLD: Snavely Forest Products/Typar, Trussway Manufacturing
SILVER: FastenMaster
BRONZE: Advanced Contractors Supply LLC, Lumbermen Associates, QuickTie Products Inc., Shelter Systems Limited