You're Invited: Framer 'Shaping Our Industry' Summit, Oct. 22-24
For a more detailed schedule and to register, visit www.framerscouncil.com/summit.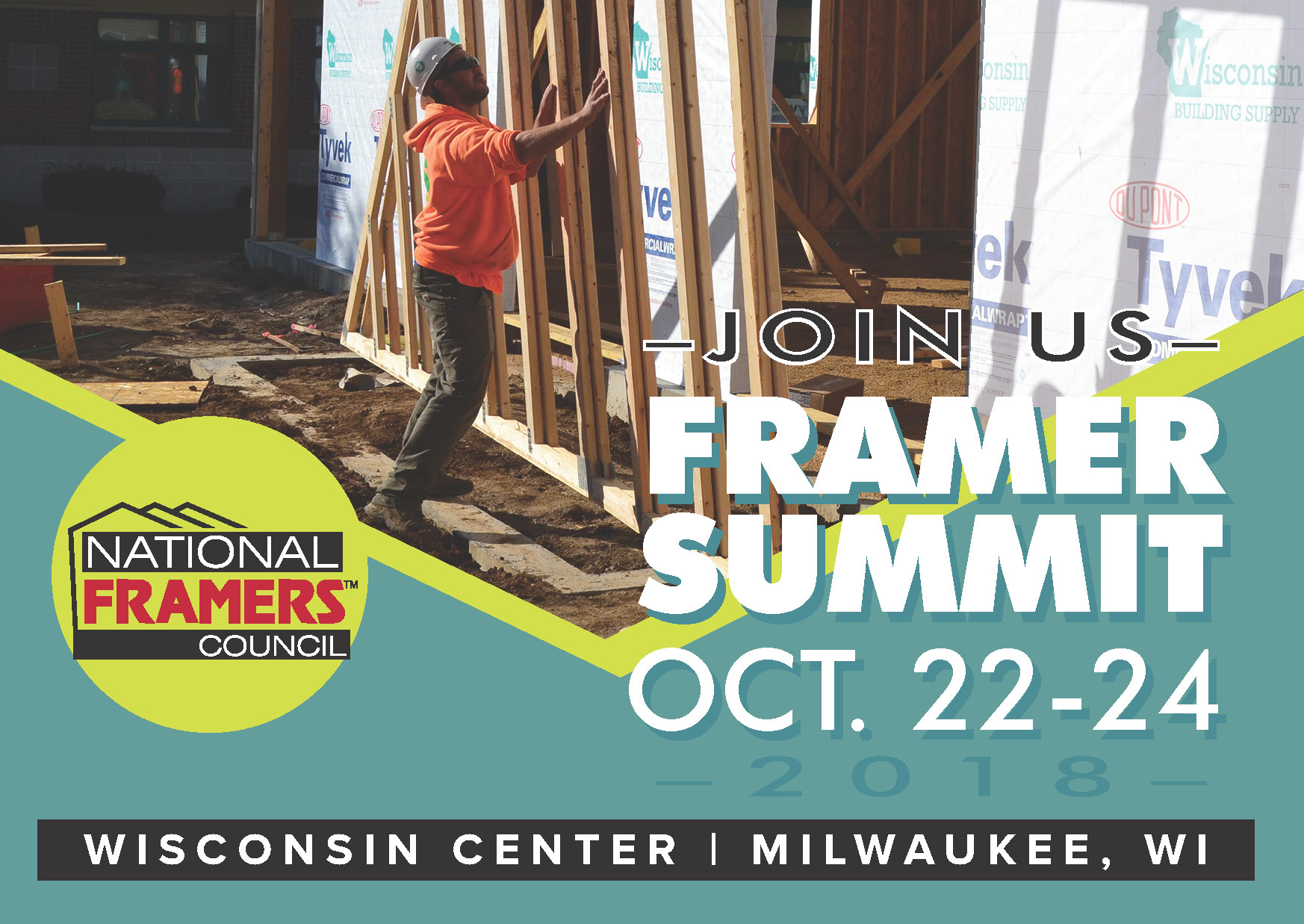 The National Framers Council (NFC) is excited to announce its inaugural Framer Summit to be held October 22 – 24 at the Wisconsin Center in Milwaukee in conjunction with the Building Component Manufacturers Conference (BCMC). The summit will begin with a reception on Monday evening, October 22 and run through Wednesday afternoon, October 24. Below is an overview of the event schedule:
Monday, October 22
7-9p    Meet & Greet Reception
Tuesday, October 23
8:30a   Opening Session
9a        FrameSAFE Version 4
10a      Legal Contracts
11a      Mitigating Risk
1-4p    BCMC Safety Summit*
Wednesday, October 24
7:30a-12p      BCMC Educational Sessions*
1-3p    Framer Roundtables
According to Chris Tatge of Dynamic Construction in Madison, Wisconsin, the summit is "an opportunity to network with some of the most successful framing contractors in the country as well as to influence the direction the National Framers Council moves to help shape our industry."
In addition to networking, the summit will provide a venue for framers to discuss topics that affect day-to-day operations and determine how as an industry to best make changes to improve business practices and safety on the jobsite. Along with the opportunity for roundtable discussion, educational topics will include:
FrameSAFE Version 4 and the NFC Mentoring Program
Legal Contracts
Mitigating Risk
Pedro Loureiro of Nomad Framing in Monroe, New Jersey, encourages every framer "who is tired of the status quo and interested in making an impact on our industry" to attend the summit this fall in Milwaukee. "The National Framers Council was established to develop and implement best practices to help ensure framers leave the jobsite each day in the same health as they arrived," he says. "The NFC has a voice that can make change happen and we need everyone to participate, join a committee and make your voice heard!"
*Please Note: While there is no cost to attend the Framer Summit sessions, you will need to register for BCMC to attend these sessions. Framer members of NFC receive the Component Manufacturer Member rate for BCMC. Registration includes access to exhibits during show floor hours.