Rising Material Prices Putting Large Projects on Hold
Originally published by: San Francisco Chronicle — August 27, 2018

The following article was produced and published by the source linked to above, who is solely responsible for its content. SBC Magazine is publishing this story to raise awareness of information publicly available online and does not verify the accuracy of the author's claims. As a consequence, SBC cannot vouch for the validity of any facts, claims or opinions made in the article.
Just 3 miles separate 2675 Folsom St., a vacant former restaurant equipment warehouse in the Mission District, and 160 Folsom St., a former parking lot near the Transbay Transit Center where a condo tower is under construction.
But in the current economic landscape of the San Francisco's housing development, the two properties are a world apart.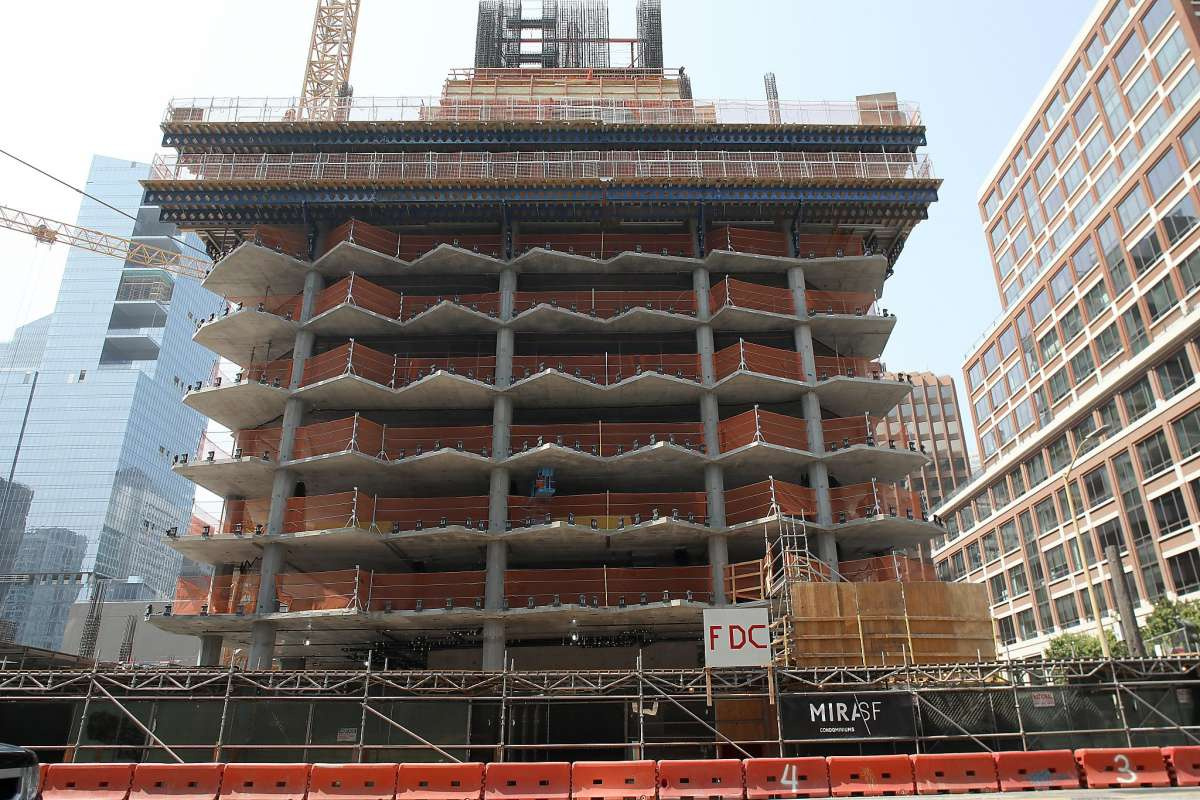 While the next crop of luxury condo towers like 160 Folsom, which developer Tishman Speyer has branded as Mira, continue to rise in the fast-growing eastern end of South of Market, other approved housing projects across the city, like 2675 Folsom St., are stalled and on the market because of soaring construction costs and fees, developers and other industry sources say.
The growing number of developers seeking to cash out rather than risk losing money on building is fueling concerns that residential production will start to decline even as the Bay Area's housing crisis worsens.
Last month Axis Development put 2675 Folsom up for sale. The 117-unit project was approved in 2017 after a contentious political battle but has not yet started construction. Other entitled projects that are languishing before work has even started include the 304-unit One Oak St., the 299-unit development at 1270 Mission St., the 186 units at 1028 Market St., and the 220-unit 1601 Mission St. Some are seeking new financial partners and some an outright sale.
"Most entitled projects in the city are for sale right now — either publicly or privately," said Bill Witte, president of developer Related California, which has 1,300 units under construction in the city. "We're at that point in the cycle."
There are 6,750 units under construction in the city, about 1,000 units more than a year ago. While that is well above the historic average, there are another 15,000 units that have been approved by planning officials but have not started construction. Projects containing 6,690 of those units have secured all the permits needed to start construction but have not broken ground, Planning Department documents show.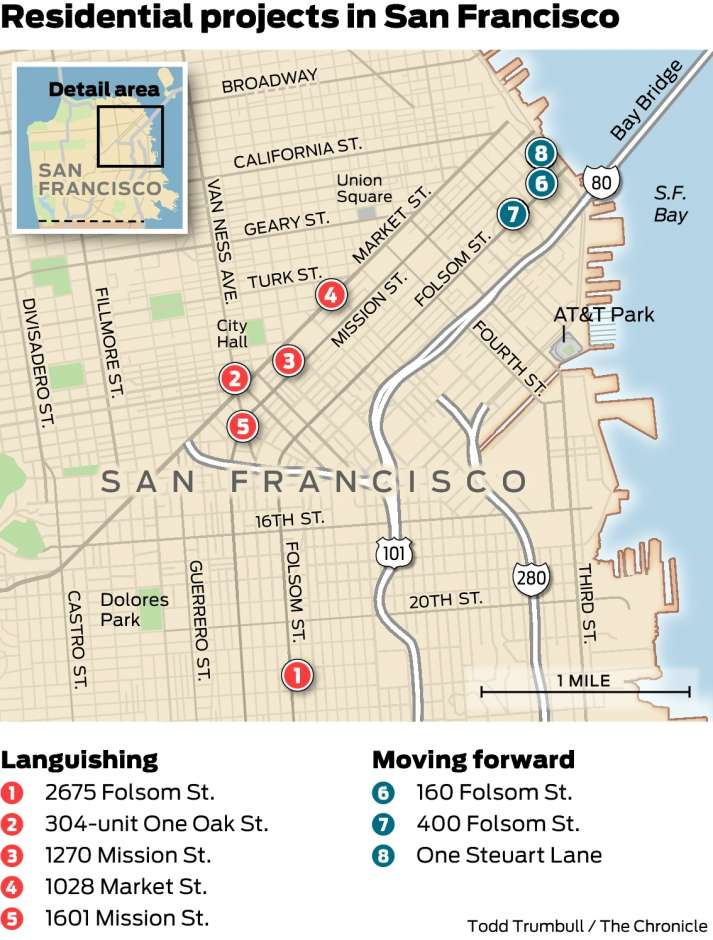 Developer Eric Tao of AGI, which has completed about 1,200 units in SoMa, the Mission and Dogpatch over the past decade, said construction cost increases of 10 to 15 percent annually over the past five years is mostly to blame for the delays. He said his company is re-evaluating aspects of 1270 Mission St.'s design, hoping to reduce costs enough to make it pencil out.
"We are trying to make it work — it's close but not quite there," Tao said. "When we got 1270 Mission approved, if everything else had been frozen in time, we would be building right now. But construction costs went up. Time is not your friend when you are a developer."
Chris Foley, a real estate investor and partner in brokerage firm Polaris Pacific, said that in the current construction environment a condominium developer needs to sell units for at least $1,400 a square foot for a wood-frame building and $1,800 a square for a taller, steel-frame midrise or high-rise. Even in a city where more than 80 percent of the population is priced out of the market, those numbers are a stretch, Foley said.
"The demand for condos is there, but construction costs are killing the industry," he said. "Above $1,400 a square foot is a tough sell unless it's an unusually good location."
That's the case with three buildings rising near the new Transbay Transit Center: Mira, the Avery at 400 Folsom St., and One Steuart Lane, which overlooks the Embarcadero at the foot of Howard Street. Unless there is a remarkable drop in the market, units in all three of those buildings will probably have an average sales price of more than $2,000 a square foot and penthouses could fetch $3,000 or even $4,000 a square foot. A 3,326-square-foot penthouse at 181 Fremont St., which opened last spring, recently sold for $15 million, or $4,500 a square foot.
Carl Shannon, managing director of Mira developer Tishman Speyer, said the project was "bought out" well before building started last year, meaning that the construction contracts were agreed to and materials purchased when costs were significantly lower than they are now. The project, a twisty tower designed by notable Chicago architect Jeanne Gang, includes 156 affordable units and 393 market rate condos.
"The job growth in San Francisco and the Bay Area is really strong, and we are building a fraction of the amount of housing that is needed," Shannon said. "So if you build nicely amenitized, quality projects in downtown San Francisco next to transit you should be in good shape."
As is often the case in San Francisco, the debate over the health of the housing development market is overshadowed by land-use politics. As the housing crisis has gotten more serious, lawmakers have moved to require private developers to include more "community benefits" — below-market units or inexpensive space for artists, nonprofits and manufacturing, all sectors that are being squeezed out in the city's roaring job market.
In the case of 2675 Folsom, Axis development agreed to make the building 27 percent affordable, with 23 on-site affordable units and eight off-site. The builders also agreed to lease 5,200 square feet of ground-floor space to a community nonprofit for 55 years, for $1 per year.
Combine those costs with higher-than-expected materials, and labor and the project might no longer pass muster with the pension fund or financial institution providing the capital to build it.
While the city currently requires that 18 percent of rental projects and 20 percent of condominium developments be below market rate, builders of projects that could arouse opposition often agree to make more units affordable to win community and political support.
Developer Oz Erickson of the Emerald Fund said it would be impossible for his company to get financing for any project with a requirement of more than 15 percent affordable units. The group's recently completed tower, 429 units at 150 Van Ness Ave., was approved when affordable housing requirements were 12 percent. It was financed by the International Brotherhood of Electrical Workers national pension fund, which mandates a certain return on investment, he said.
"It's their property, their project," Erickson said. "We are just the advisers, the experts in getting this done. They have a statutory requirements that they have to get a 6 percent return. If they don't, they can't pay their retirees.
"The combined increase in construction costs and extraordinary increases in affordable housing requirements makes building any project extremely difficult in San Francisco," he added.
Todd David of the San Francisco Housing Action Coalition, an industry group representing residential developers, said city elected officials are prone to "Christmas tree effect" — weighing projects down with so many extra fees and obligations that it doesn't get built. That's the case of 2675 Folsom St., he said.
"All of these things sound great, but now we are getting zero," he said. "When we demand all these community benefits we make housing economically infeasible. We end up with nothing."
In the long run, however, the challenges market rate developers are facing may benefit builders who focus on affordable housing, said Mission Housing Executive Director Sam Moss. Moss said that his group, which develops and manages affordable housing, is teaming up with Related to bid on 2675 Folsom, which they would turn into a 100 percent affordable family complex.
Mission Housing and Related would pay for the development with a mix of financing tools not available to market-rate builders: affordable housing tax credits, tax-exempt bonds, and other sources of state and city money.
"Really 100 percent affordable is the only type of project that pencils out there with current construction costs," Moss said. "It's a fully entitled, ready-to-go project on a corner lot right by Parque Ninos Unidos. This is an example of the stars aligning for us."