Resources Available for Dealing With Mold
Originally published by the following source: National Framers Council — September 25, 2018. Updated June 24, 2019.
by NFC Staff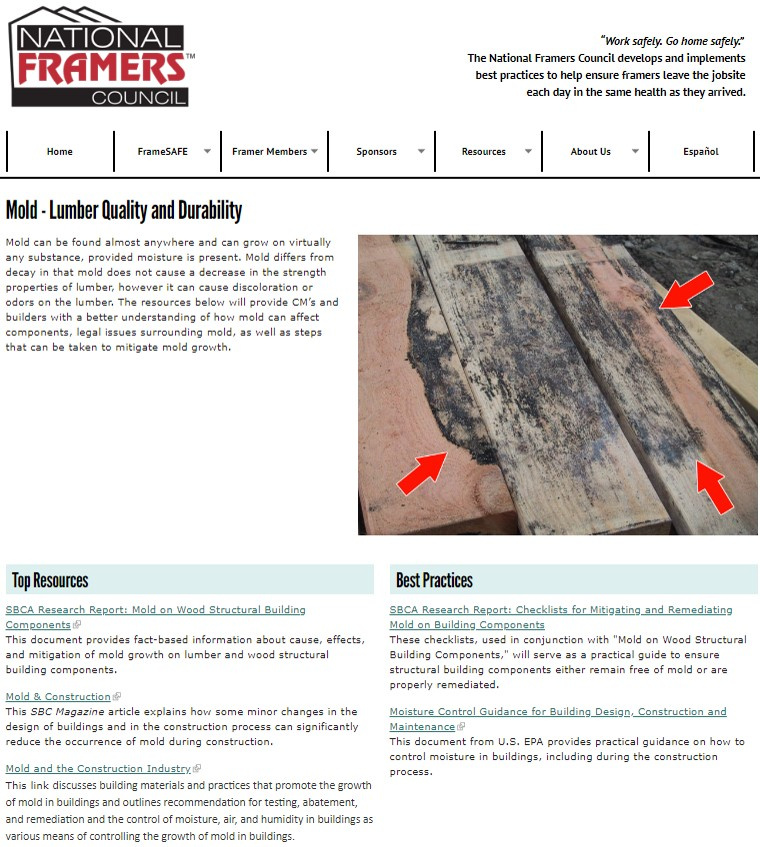 Framers, home builders, and homeowners can look to this topical library page for the most current facts on mold, lumber quality, and durability including best practices for mold mitigation and remediation. The resources include two recently-developed research reports created by the Structural Building Component Association (SBCA).
Mold can be found anywhere and can grow on virtually any substance from wood to plastic, provided there is a proper growth environment (i.e., moisture, ideal temperature, and a food source). It's important to note that mold differs from decay, in that mold does not cause a decrease in the strength properties of lumber. However, it can cause wood discoloration or become dust-like when dry.
NFC President Scott Stevens says that using lumber with mold can create perception problems and potentially harm relationships with customers. He therefore urges that staying on top of lumber-related mold is critical. Communication about mold issues is important, he says, as "it's important that you're on the same page with who is responsible and what are we going to do about it."
SBCA's research reports provide framers and builders with a better understanding of how mold can affect wood components, explore anecdotal and technical issues surrounding mold, and list steps that can be taken to mitigate and remediate mold growth. 
The first research report, "Mold on Wood Structural Building Components," digs into the science behind mold growth and provides fact-based information about cause, effects, and mitigation of mold on lumber and wood structural building components.
The second research report, "Checklists for Mitigating and Remediating Mold on Building Components," offers up checklists that, if followed, will serve as a practical guide on what to do when there are questions that arise about mold. Following the steps in the checklists will help ensure your components either are protected from the conditions that foster mold or are properly remediated.
If you have any additional questions on this topic, please contact NFC staff.