DuPont's Liquid-Applied Tyvek Simplifies Application
Originally published by: Dupont — August 27, 2018

The following article was produced and published by the source linked to above, who is solely responsible for its content. SBC Magazine is publishing this story to raise awareness of information publicly available online and does not verify the accuracy of the author's claims. As a consequence, SBC cannot vouch for the validity of any facts, claims or opinions made in the article.
Keep air and water out, and energy costs down, with DuPont Building Envelope systems for commercial construction.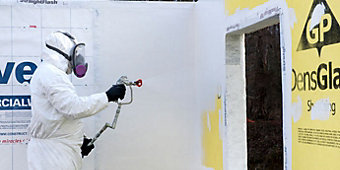 Commercial buildings are a long-term investment that demands short-term ROI. In the U.S., buildings use 40% of all energy consumed. So the right building envelope, including the water and air barrier, is essential.
DuPont Building Envelope systems help make buildings more durable, energy efficient and comfortable, by providing superior air and moisture management. They are rigorously tested and exceed air barrier standards, helping builders to meet and exceed building and energy codes for commercial buildings.  In addition, DuPontTM Tyvek® products are backed by a limited warranty.
DuPont invented the Tyvek® air barrier category over 30 years ago. Since then, ongoing building science and research have continued to drive innovation. Today, unique offerings, like the Tyvek® Fluid Applied System, are helping office buildings, warehouses and big-box stores weather the elements over the long haul.