Building Code & Adopted Law Definitions -- Building Official
Originally published by the following source: SBC Magazine — September 26, 2018
by Sean Shields and Kirk Grundahl, P.E.
How is the role and authority of a building official defined in the building code? The place to begin to address these kinds of key definitions, which are used all the time in building construction, is from source documents where definitions are found and adoption into law then occurs.
The 2015 International Building Codes (IBC)  provides the following definitions:


Many use the term "authority having jurisdiction." This is not a term defined in the International Code Council's (ICC) Model Codes.
So what does this term mean, or for that matter any undefined term in the building code? The 2015 IBC Chapter 2 Definitions section provides these parameters: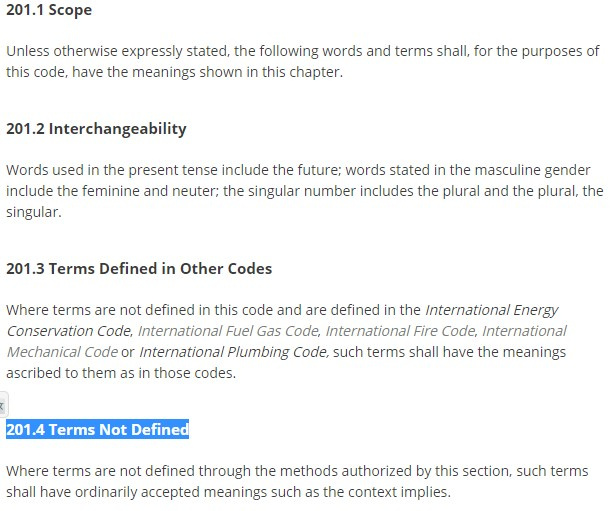 Since it isn't defined specifically by the code, "authority having jurisdiction" will then have an accepted dictionary meaning. Fortunately, the Building Code 2015 of New York State or the Uniform Code (UC)  helps by providing a definition as follows:


This then sets a foundation that begs the question, what is the specific role of the building official? Based on the definitions provided, their role will be to fulfill the scope of work defined in the code, which follows:










To summarize:
A building official's role is to administer and enforce the adopted building code, nothing more and nothing less.
The building official shall examine all aspects of the construction project for compliance with the specific charging language and scope of the section of the code being evaluated.
If anything about the construction project does not conform to the requirements of pertinent laws, the building official shall, if there are any non-conforming issues, reject it in writing, stating the reasons therefor.
Implied here is that the written rejection shall provide:
Specific evidence of non-conformance, and
Enough information for the owner of the building to be able to cure the non-conformance based on the evidence provided, and
A clear and easy-to-understand pathway to cure the deficiency.
Related articles: