Framer Summit: Impact Our Industry, Oct. 22-24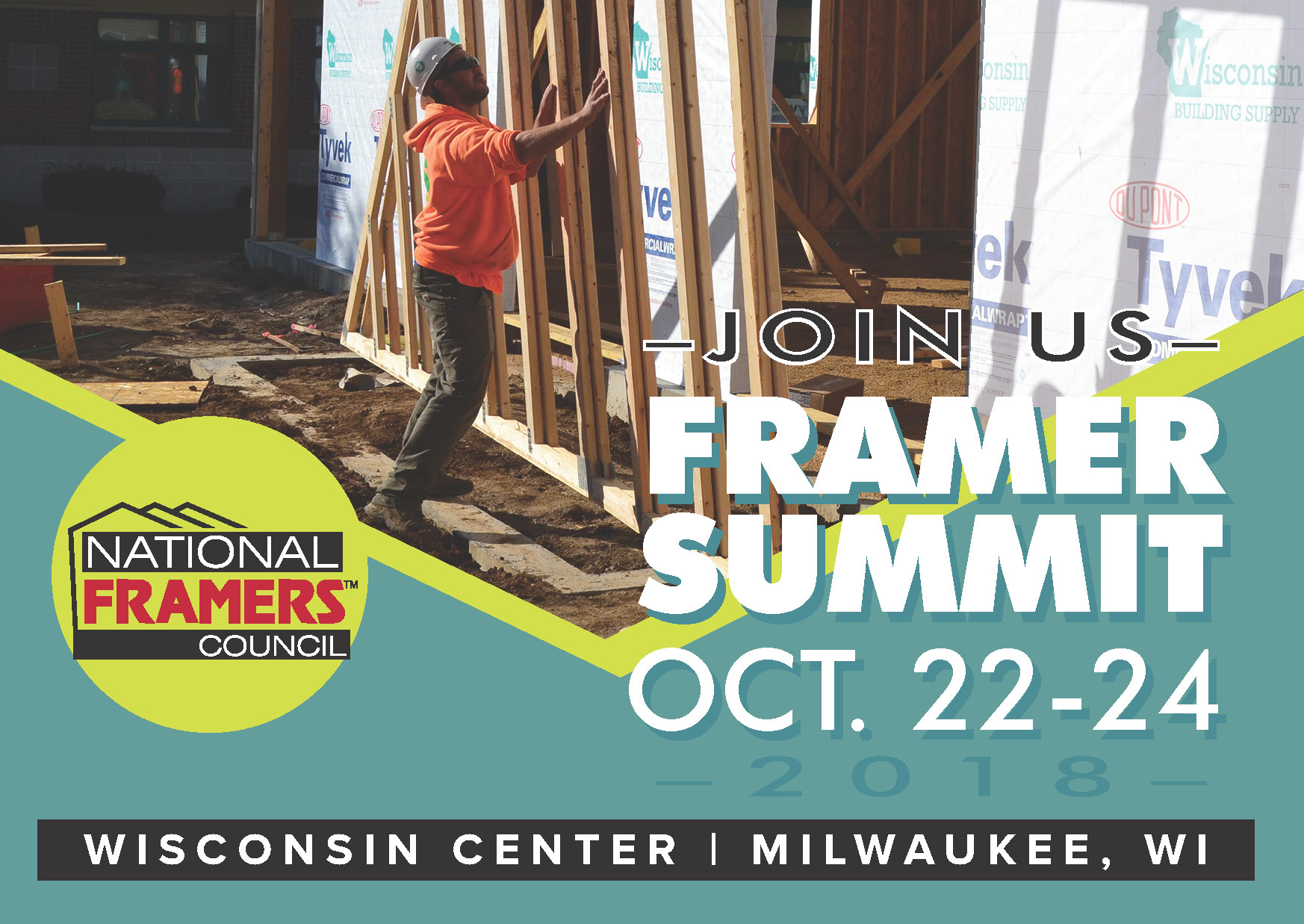 Pedro Loureiro of Nomad Framing in Monroe, New Jersey, encourages every framer "who is tired of the status quo and interested in making an impact on our industry" to attend the NFC's Framer Summit on October 22-24 in Milwaukee. "The National Framers Council was established to develop and implement best practices to help ensure framers leave the jobsite each day in the same health as they arrived," he says. "The NFC has a voice that can make change happen and we need everyone to participate, join a committee and make your voice heard!"
The summit will provide a venue for framers to discuss topics that affect day-to-day operations and determine how as an industry to best make changes to improve business practices and safety on the jobsite. Along with the opportunity for roundtable discussion, educational topics will include:
FrameSAFE Version 4 &the NFC Mentoring Program: Chris Tatge of Dynamic Construction will walk attendees through FrameSAFE's new implementation guide, highlighting the important steps every framer should take to roll out the program in a way that can ensure all parties work safely and go home safely. The session will also include an overview of FrameSAFE's new online dashboard.
Legal Contracts: Kent Pagel of Pagel, Davis & Hill will cover contract risk assessment and recommendations regarding upstream builder and general contractor agreements, supplier agreements, and lower tier subcontractor agreements.
Mitigating Risk: Lock Curtis of IronRisk Strategies will provide an overview of "Risk Management" for contractors, the importance of properly managing the subcontractors you hire, and emerging insurance trends and requirements that framers should be aware of. This session will also include a discussion on the opportunity and value of exploring the benefits of an exclusive insurance program for the members of NFC.
According to Chris, this inaugural summit is "an opportunity to network with some of the most successful framing contractors in the country as well as to influence the direction the National Framers Council moves to help shape our industry." Scheduled in conjunction with the Building Component Manufacturers Conference (BCMC), the summit will begin with a reception on Monday evening, October 22 and run through Wednesday afternoon, October 24.
Many thanks to our Platinum Sponsors: Shelter Systems Limited, Simpson Strong-Tie, and Trussway Manufacturing, LLC.