Framer Safety Promoted Through Huber Training Program
Huber Engineered Woods, LLC, an NFC title sponsor, recently initiated a mobile training program offering ZIP System instruction to Huber's customers on multifamily jobsites. The program, called Building Envelope Specialist Training (BEST), is designed to be an adaptive training platform that can be offered in a classroom setting or taken to the jobsite itself with a van designed specifically for the purpose.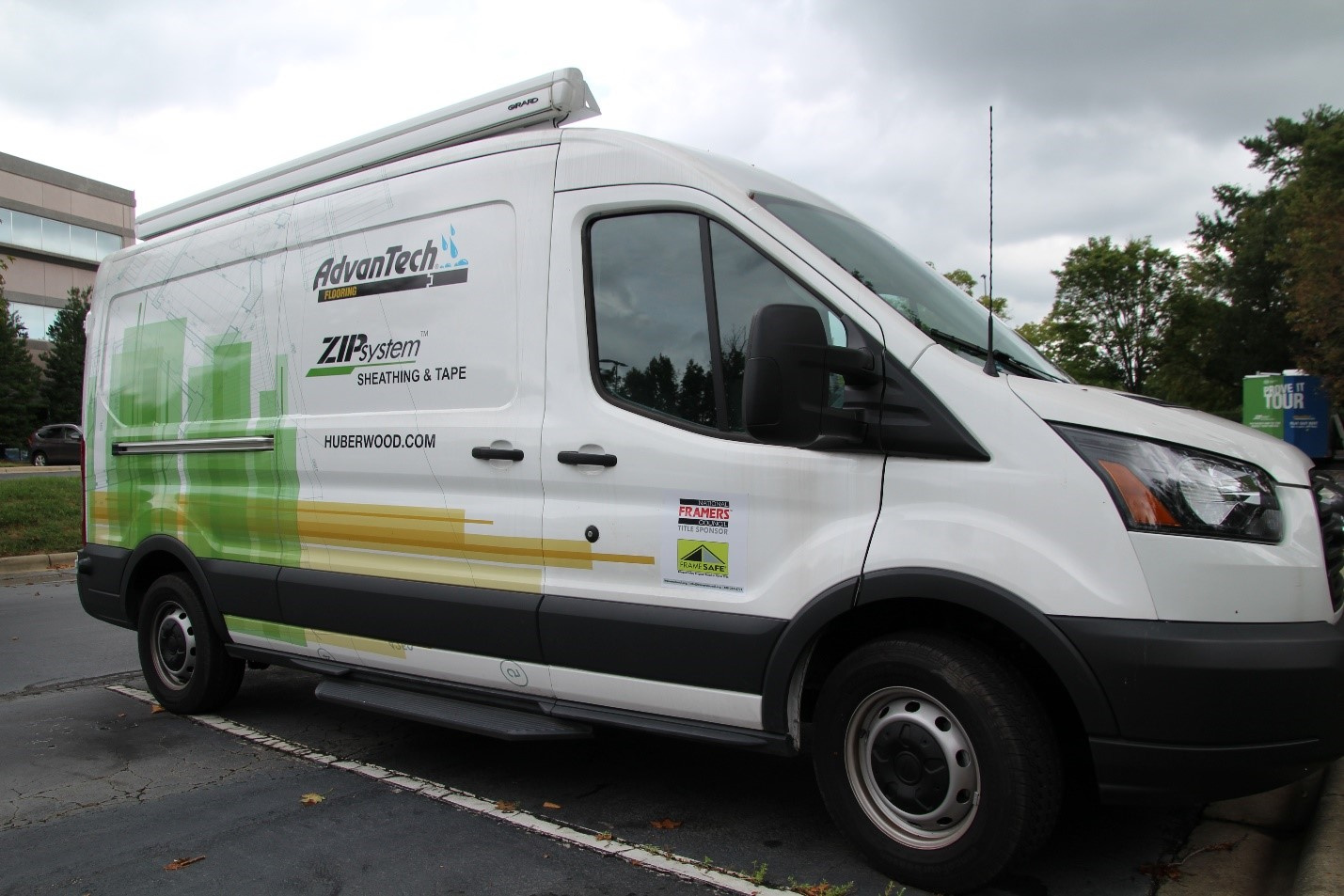 Huber's BEST Training Van
Bringing instruction directly to framers, Mark Oberlender, Huber's national multifamily/light commercial technical manager, says a nice feature of the van "is the door slides open on the side and a TV comes out," which allows Huber to use video, audio, and PowerPoints in their training. It also carries materials for live demonstration as well. 
Kristin Michael, Huber brand manager, says the program is "a piece of a larger puzzle of our service" offered to support customers "all the way through installation and observation."
Through the program, Huber has found opportunity to promote NFC and FrameSAFE as well. Not only does the van include an NFC and FrameSAFE logo sticker, but Huber also distributes NFC brochures. Regarding FrameSAFE specifically, Mark says, "We try to promote it and say, 'Hey, you guys need a safety program. If you don't have one, this is an opportunity that's out there. You might want to look into it.'"
Kristin points out that there is a natural alignment between Huber's work and NFC because "we're all in this to reduce risk together," as Huber manufactures products like ZIP System sheathing and tape that are designed "specifically to reduce installation steps, which in hand reduces risk of mis-installation." She adds, "Because we are creating these innovative products that reduce risk, we also want to carry that through to the installation practice itself, and that is naturally aligned with what NFC seeks to do, which is really to reduce risk and promote safety as well."
Kristin encourages NFC members to follow Huber on Instagram at @huberwood and to visit huberwood.com or ziprevolution.com where they can find technical information about Huber's products, including installation guides and best practices.
ZIP System Demo Setup (at right)
Read more about HEW's commitment to NFC as the council's first Title Sponsor. For details about NFC's FrameSAFE program, visit framerscouncil.org/framesafe.