Code Conforming Design – NFPA 285 & Section 2603.9
Originally published by the following source: SBC Magazine — October 24, 2018
by Sean Shields and Kirk Grundahl, P.E.
A question has arisen regarding the use of NFPA 285 and ASTM E84 in the context of IBC Section 2603.9, Special Approval. Specifically, there is difference between the 2012 and the 2015 versions of the International Building Code (IBC) due to a change in language during the 2015 code development cycle.
The 2012 version of Special Approval is found in section 2603.10 and states: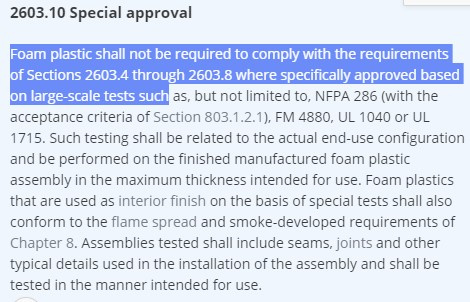 Under this version of the code, the various products that make up a exterior wall assembly are not required to meet the provisions of sections 2603.4, 2603.5, 2603.6, and 2603.7, because it was approved, "based on large-scale tests." The key terminology is "such as, but not limited to, NFPA 286 (with the acceptance criteria of Section 803.2), FM 4880, UL 1040 or UL 1715." Other large-scale assembly fire performance tests that could have been listed here include NFPA 285, ASTM E119, etc. Any large-scale test method is appropriate as long as the test is representative of "the manner intended for use".
The 2015 version of section 2603.9 Special Approval states: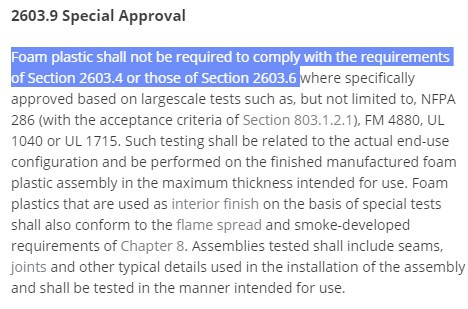 This version of the code only exempts sections 2603.4 and 2603.6, This change inadvertently causes confusion because now there is an ASTM E84 test requirement via 2603.5.4, which was not required in the past due to the more rigorous and application definitive NFPA 285 assembly test being required, which was "manner intended for use" specific. The large-scale test that is appropriate to use for this specific application is NFPA 285, because this is the only large-scale test available whose scope is to evaluate this exact exterior wall assembly application:
"This standard provides a standardized fire test procedure for evaluating the suitability of exterior, non-load bearing wall assemblies and panels used as components of curtain wall assemblies that are constructed using combustible materials or that incorporate combustible components for installation on buildings where the exterior walls are required to be non-combustible."
Therefore, a key question is why did this language change from the 2012 code to the 2015 code. The answer is that there was no reason not to retain the 2603.5 exemption language, because the intent of the code change proposal was to fix an NFPA 285 bypass, not add ASTM E84 flame spread testing to the requirements. The code change proposal that was made follows and provides this context: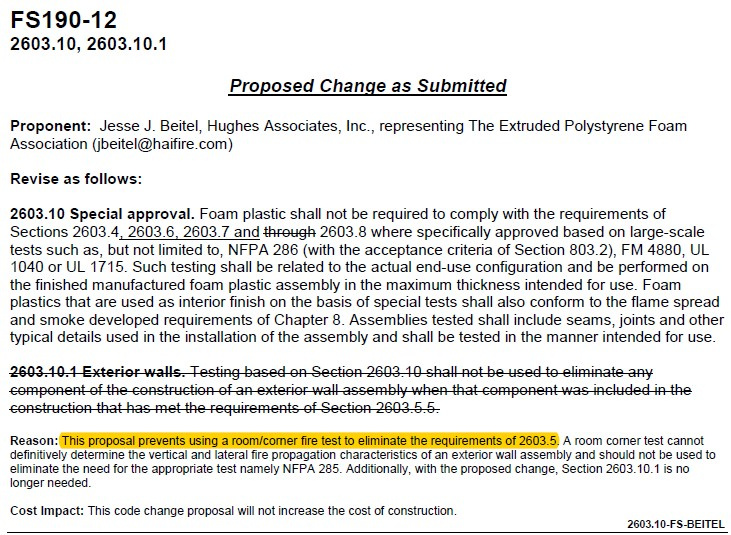 It is easy to see that this code change had an unintended consequence. It has caused confusion regarding the purpose of NFPA 285, NFPA 286, ASTM E119, etc. testing, which is to evaluate the fire performance of the end-use configuration of the exterior wall assembly as a whole. The NFPA 285test then, per the historical use of Section 2306.9, supersedes all individual material testing, such as ASTM E84 for the plastic component. The fire engineering reason for this is that the NFPA 285 test is a much more rigorous and application-appropriate test method.
Why? ASTM E84 is a very simple flame spread test that places an individual product horizontally in a tunnel and provides flame impingement. There are foam plastic products that have passed the horizontal ASTM E84, which would never pass the vertical NFPA 285, vertical placement being the key. In other words, NFPA 285 performance is well known in the fire engineering community to supersede the need for small scale testing of any of the assembly parts and pieces. It is simply the best test to use for this application and has more than 30 years of good performance history. Our fire engineering logic is that testing of any assembly, as it is built in its final application, is the best possible predictor of future behavior, which is precisely why Section 2309 exists. 
Given this, the accepted fire engineering practice assessment has been and should continue to be that wall assemblies should be approved based on using large-scale NFPA 285 testing and associated accepted fire engineering practice. The confusion over the application of NFPA 285 as building code compliance issue for exterior wall assemblies is moot in that it is certain that an entire wall assembly test under vertical flame and chimney effect conditions is the most appropriate evaluator of the ultimate performance of any "Exterior Non-Load-Bearing Wall Assembly Containing Combustible Components."
For additional information, please review the following articles:
Posted on October 22, 2018 in