SYP Log Market Slumping Despite High Lumber Prices
Originally published by the following source: SBC Magazine — November 5, 2018
by Kevin Kutschenreuter, Sean Shields and Kirk Grundahl
This has not been a good year for CMs with regard to lumber.  The cost of lumber skyrocketed throughout the country, then plummeted, then rose again. In the midst of this rollercoaster, however, southern pine (SP) log prices have seen prices slide. The Wall Street Journal (WSJ) recently wrote about the causes and effects of enlarging SP forests.  
In the article "Thousands of Southerners Planted Trees for Retirement. It Didn't Work," the WSJ points out that a federal program added to the 1985 farm bill, the Conservation Reserve Program, paid farmers to plant trees on cropland. Many Southern farmers took the government up on the offer, thinking that doing so would provide a lucrative source of retirement income when the trees were ready to harvest in 30 years. The incentive created by the program, however, lead to the unintended consequence of creating a vast oversupply of SYP that started to reach maturity around 2010 when demand was historically low. As Illustrations 1, 2 and 3 show, current SYP populations will continue to expand through 2020.
The WSJ reports (click here to read the full text) that an architect of the 1985 program has called it his biggest regret, saying it "turned into a boondoggle." The WSJ writes,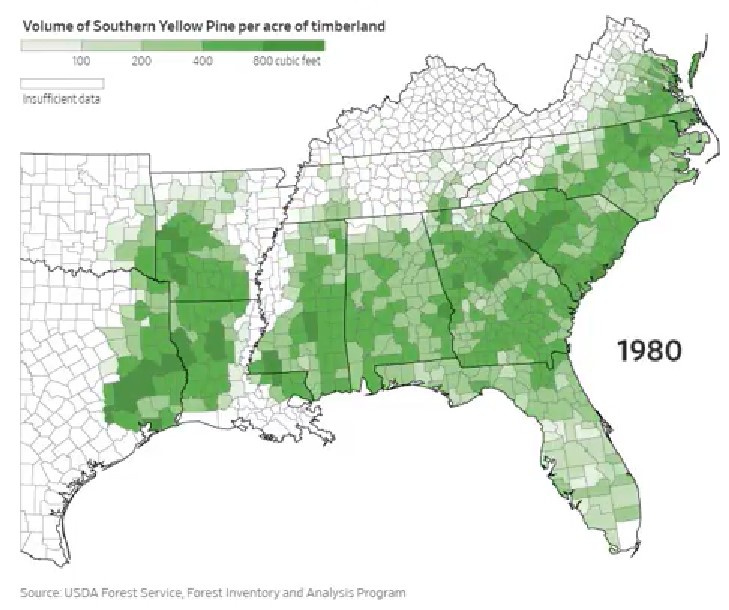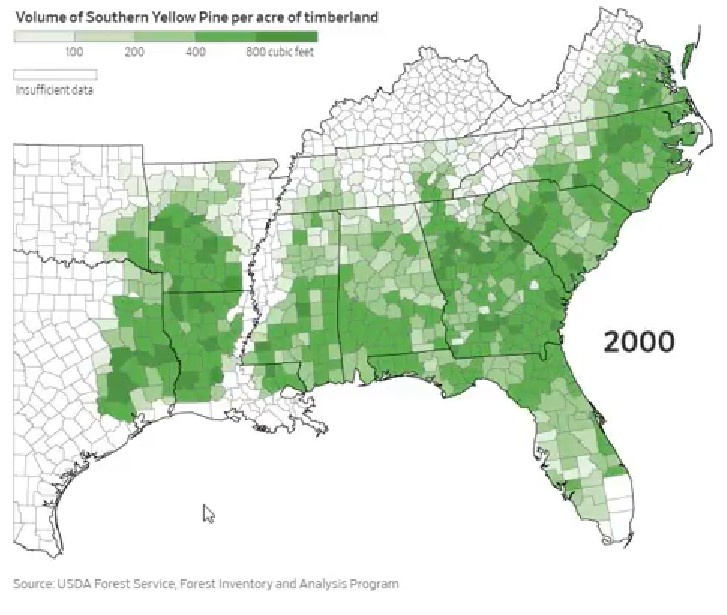 The housing crash 10 years ago worsened the developing timber glut by depressing lumber demand and prompting woodland owners to postpone harvests. Mills closed.
The article continues,
Housing has come back in much of the country, pushing prices for finished forest products such as two-by-fours and plywood to historic highs during the spring and summer building season. Prices for logs, as well, have moved up in the U.S.'s other big timber-producing region, the Pacific Northwest, where supply is kept in check by wood-boring beetles and periodic wildfires.
In the South, timber prices haven't stopped sliding. Adjusted for inflation, the price of Southern pine is down about 45% since 2007, according to Daowei Zhang, an Auburn University professor of forest economics. So-called saw timber, for making lumber, is at a 50-year low, adjusted for inflation.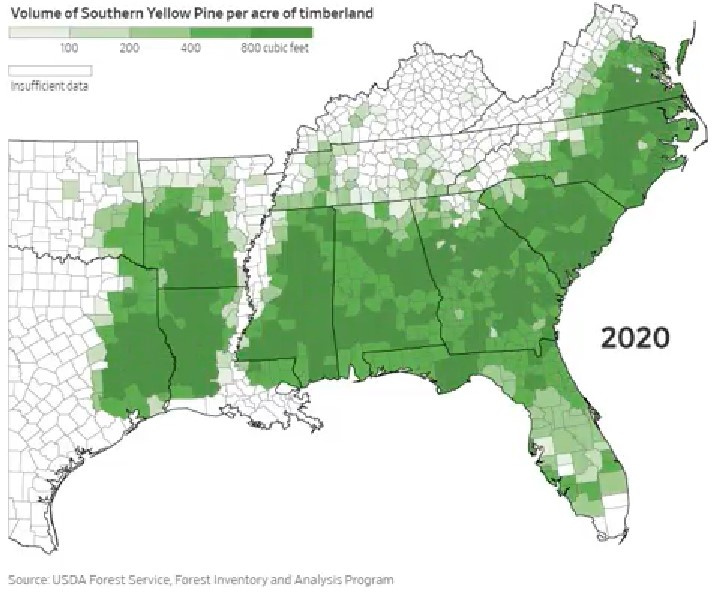 WSJ charts illustrating the past and projected volume of SYP
Depressed prices leave the owners of the timber with a difficult decision, since the SYP market is built on harvesting lumber from a certain diameter tree. If left to grow larger, the trees may need to chipped for less valuable products such as OSB.
The article adds another consideration,
Waiting for better prices carries its own risks, because after a certain age, trees, like people, become more susceptible to disease. Hurricanes can lay down entire tracts. The Southern pine beetle can alter financial plans in days.
In a tragic coincidence, hurricane Michael recently did lay down entire tracts of SYP, harming the bottom line of the timber owners but putting little to no dent in the SYP glut.
CMs know intimately the challenge of lumber price volatility, where non-stable prices can translate into great financial success or tragic failure. Lumber price volatility is a CM pain point that SBCA has previously addressed with numerous original and shared resources. See here, here, and here. The best business model for lumber suppliers and lumber buyers would end with a consistent lumber supply and price. Why? Every business would have a chance to make consistent margins and plan for reliable professional growth or their business.