Spreading a Broad Net to Find Quality Employees
Originally published by the following source: SBC Magazine — November 26, 2018
by Kevin Kutschenreuter and Sean Shields
A Small Business Growth Partners™ (SBGP) article advises employers to not always "fish in the same pond" when it comes to finding employees. Given the industry-wide labor shortage, several component manufacturers (CMs) have been keeping their options open and exploring additional venues for finding quality candidates. Here are some examples SBC Magazine has written about recently.
This CM has maintained a good relationship with his alma mater with goal of being one of the first to hear about quality candidates and remain top of mind when the school recommends places of employment to students. Many CMs have also striven to build relationships with schools in their area to get students interested in the truss industry and consider working for their company if they do.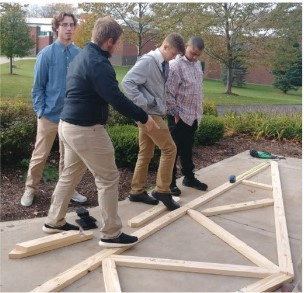 Bic C Lumber of Dowagiac, Michigan addresses students at Southwest Michigan College (SMC)
In addition to reaching out to schools, other CMs have forged relationships with STEM or manufacturing related groups and student camps. Seeking the talent of students yet to enter the industry is a longer term investment, of course. Another option some have pursued is to find talent more immediately is to become involved in local correction facility programs.
When interviewing employees, the SBCP article suggests always asking for references so you can evaluate if a potential hire is a good fit. A proactive and perhaps more effective way of achieving the same thing is to create an incentive program for employee referrals. Employees often better understand your needs and company culture, so they are potentially in a better position to evaluate the fitness of a candidate and will have a personal investment in making sure the candidate they recommend succeeds.