Inaugural Framer Summit Sets Course for NFC's Future
"The presence in the room shows that the concept that many have had over the years has finally come together," said National Framers Council (NFC) founder George Hull in kicking off the first annual Framer Summit. The Summit was held October 23-24 in Milwaukee, Wisconsin.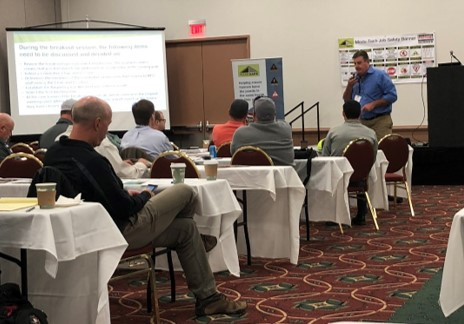 Genial networking, lively discussion, and a palpable drive to build NFC into an influential, standard-setting organization characterized the event. In welcoming attendees, NFC President Scott Stevens (pictured at right) noted that turnout far exceeded expectations. In fact, day one's events saw 72 attendees from 45 companies located throughout the country. The discussions and presentation attendess took part in helped lay the groundwork for the future of the organization.
George Hull helped set the focus and tone of the entire Summit. "We're all dealing with the same issues," he said, encouraging attendees to collaboratively determine the destiny of the framing industry by developing common standards and solving common problems. He said that what he saw in the gathering for the Summit was an indication that NFC is becoming a sizeable force ready to influence the industry.
Past president Ken Shifflett offered hard data demonstrating the strong growth NFC has seen over the last few years. Ken discussed that not only has NFC grown in membership, but it has grown in influence such that it is poised to begin work on his idea of a vertical framing safety plan that would become an OSHA standard, similar to how ironworkers contributed to OSHA standard Subpart R. Ken related that there has been movement on the project, including some positive overtures from OSHA. Ken is encouraged by the progress, stating that it's "pretty cool that we're actually getting OSHA's attention."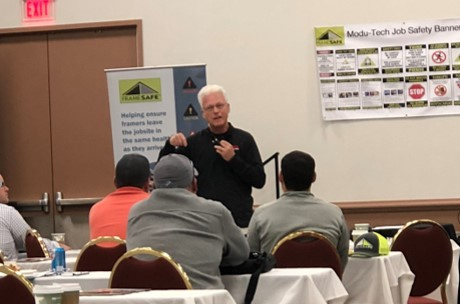 Kirk Grundahl (pictured at left), executive Director of the Structural Building Components Association (SBCA), discussed the relationship of SBCA to NFC, and stressed the value of collaboration between framers and component manufacturers (CMs). As an example, Kirk pointed to BCSI, the truss bracing standard developed by SBCA. Kirk voiced his understanding that the current version of BCSI is, according to at least many framers, impractical in the field, and said that the solution would be greater input and collaboration between the two groups as new bracing standards are developed.
After Kirk's remarks, Ken pointed to SBCA as an example of what he would like to see NFC become. He noted that SBCA has been successful in creating standards for their industry and has even become an organization from which OSHA and building officials seek information. Ken expressed a desire to see NFC members exert similar control over their own destiny and said that the beginning of that work would take place at the summit.
In the end, many agreed that simply having the opportunity to converse with fellow framers from around the country made the summit invaluable. In describing the value he found in this conversation, Matt Grossman, foreman of American Pride Builders in Ridgeland, South Carolina said the summit "was probably the most productive and best use of our time so far at any NFC event there's been, and I think a lot of people there felt the same way about it."
During the summit, additional concepts were discussed, committees formed, and goals were put into place for future action that will be addressed in forthcoming articles. For more information about how to get involved, visit framerscouncil.org or contact NFC staff.