IgCC 2018 Designed to Align with LEED
Originally published by: Building Green — November 15, 2018

The following article was produced and published by the source linked to above, who is solely responsible for its content. SBC Magazine is publishing this story to raise awareness of information publicly available online and does not verify the accuracy of the author's claims. As a consequence, SBC cannot vouch for the validity of any facts, claims or opinions made in the article.
The 2018 version of the International Green Construction Code (IgCC) is designed to align seamlessly with LEED.
The code is developed by a coalition of partners, including the U.S. Green Building Council (USGBC), The American Institute of Architects (AIA), and ASHRAE.
Resilience, EV charging, and required renewables
What's different about the 2018 code?
First, it looks a bit different because there are two numbering systems. That's because the code has been completely harmonized with ASHRAE 189.1, Standard for the Design of High-Performance Green Buildings Except Low-Rise Residential Buildings. "This version has basically combined the two documents into one," explained Wes Sullens, director of codes technical development at USGBC. "The standard will exist on its own in markets" internationally, he said, but for all practical purposes, in the U.S. and Canada, the IgCC and ASHRAE 189.1 are one and the same.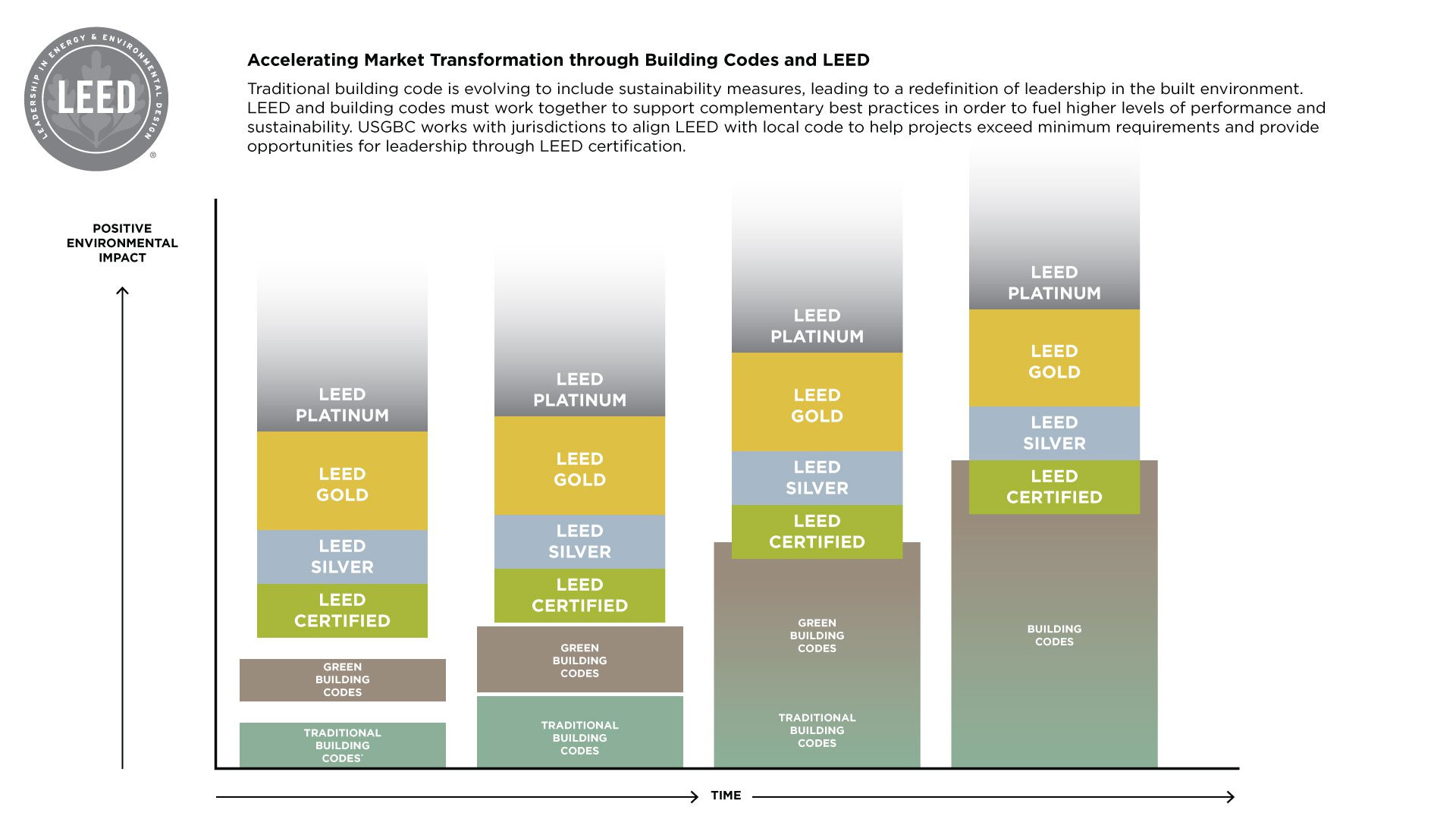 USGBC envisions a time when widespread green codes are the foundation of voluntary LEED certification.
As for substantive changes, there are a few of those as well, many designed to align the code more closely with LEED.
"Resilience is now added to the scope as a discrete desire or goal for the code," said Sullens, who pointed to things like building controls, site design for passive energy strategies, and certain aspects of commissioning "that hopefully allow for better use of buildings in case of interruption." He added, "There's not a chapter on resilience" that anyone could point to, but "we spent a lot of time on the committee talking about what does that mean to be a resilient space."
Other new requirements include:
either electric-vehicle charging or preferred parking for green vehicles
pre-plumbing for dual-flush bathroom fixtures
a new definition of alternative sources of water, with recycled water no longer recognized ("You have to find that water through storage or other means," Sullens said)
real-time displays of energy use for building managers
post-occupancy planning for an indoor air quality survey
a small amount of onsite renewable energy (although there is an alternative path that does not require this)
Barriers to adoption
"The ultimate goal is to get adoptions," pointed out Dave Walls, executive director of sustainability programs at the International Code Council, speaking at a reception at Greenbuild 2018 in Chicago. Although many jurisdictions have adopted some version of the IgCC, he said, "a lot of jurisdictions were struggling with how to adopt it and how to comply with it."
One issue that hinders adoption is the sense that codes should focus on life-safety issues, but Walls disagreed with the notion that the IgCC doesn't address life safety. By helping buildings avoid contributing greenhouse gas emissions, the code directly affects health and safety, he argued, pointing to heat waves, drought, fires, and floods as examples of life-safety issues that stem from climate change. "Green codes work hand-in-hand with the safety codes," he said.
Another issue that hinders adoption is confusion about how the code relates to LEED certification, which some jurisdictions require already. That's why USGBC has released a chart showing how closely the new IgCC aligns with LEED, with all the LEED prerequisites and 20 points' worth of credits being easily achievable with the code, making LEED certification easier after that.
LEED will also use alternative compliance paths to align with the code, much like what's happened with CalGreen, the green construction code in California, according to Sullens.
We can get there from here
Sullens emphasized USGBC's mission of green buildings for all and said that's why the organization participates in green code development. "LEED really needs the codes to pick up the core strategies in order for us to keep innovating at the top," he said. "Otherwise, we're going to lose the market."
He said that the coalition working together on development "sends a powerful message," adding, "It's all part of a spectrum that we're all promoting."