Framer Contracts 101: Understanding Indemnity Provisions
One of the presentations that sparked the most conversation and interest during the first annual Framer Summit (held October 23-24 in Milwaukee, Wisconsin) was NFC legal counsel Kent Pagel's (speaking in photo at right) discussion of the major areas of risk framing subcontractors face.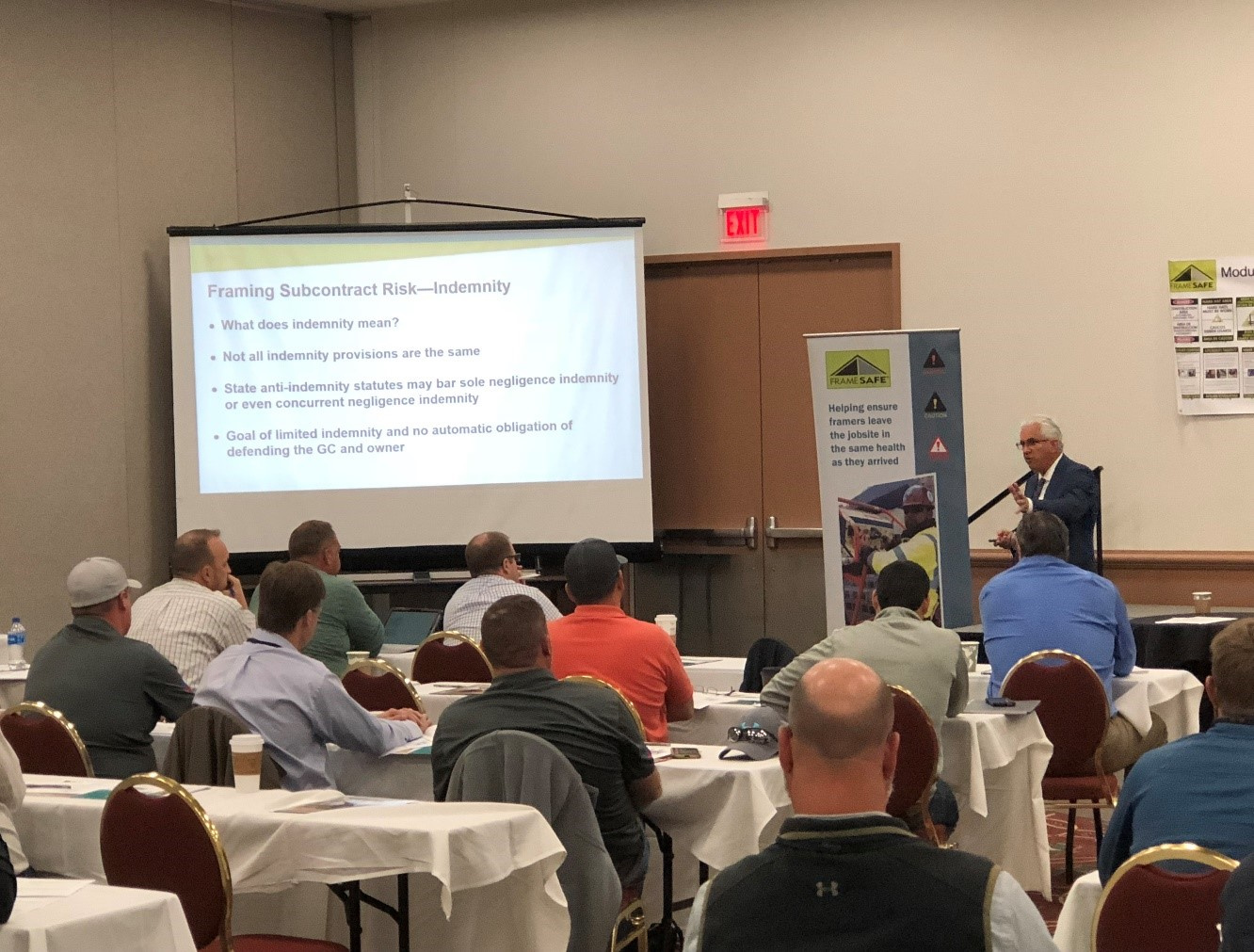 Kent, a partner at Pagel, Davis, and Hill, P.C., helped attendees understand the consequences of certain types of contract provisions and suggested ways to work toward more favorable contracts.
One area of particular interest was Kent's discussion of indemnity. Kent contends that this is the "most important issue for framers on the subject of contracts." He encourages framers to carefully consider the amount risk these provisions can often pass on to them. "Framers need to be mindful of agreeing to indemnity provisions that the general contractors and builders [include] in the contracts that they sign," he says. Kent cautions, "I think most framers don't appreciate the risk that they are undertaking when they agree to an indemnity provision."
In his presentation, Kent suggested that framers should try to negotiate a limited indemnity with GCs such that the framer (1) has no automatic obligation to legally defend the GC or owner in the event of a potential issue with the project and (2) does not end up indemnifying the GC or owner from anything other than his own fault. On the other side of the equation, Kent says that too often "framers don't deal with the issue of indemnity in the contracts that they have with their lower tier framers who actually perform the work." In the end, framers are caught needing to balance indemnity risk on two fronts: on one hand carefully assessing the risk being placed on them by GC indemnity provisions and, on the other, being sure to add appropriate indemnity provisions into their contracts with lower tier subs.
One goal of the NFC, discussed during the summit, is to work with Kent to develop contract best practices and suggested language that framers can use during contract negotiations.