DuPont Develops New Dispenser for Great Stuff Spray Foam
Originally published by: Business Wire — November 16, 2018

The following article was produced and published by the source linked to above, who is solely responsible for its content. SBC Magazine is publishing this story to raise awareness of information publicly available online and does not verify the accuracy of the author's claims. As a consequence, SBC cannot vouch for the validity of any facts, claims or opinions made in the article.
Today, Performance Building Solutions, a business of DowDuPont Specialty Products Division, announces the new, patent-pending GREAT STUFF™ SMART DISPENSER™, an innovative solution to make air sealing easier, more precise and with less product waste. The SMART DISPENSER™ is changing the game, with a dispenser that is reusable for up to 30 days, provides no drip, less mess and greater control.
The new SMART DISPENSER™ will help end-users fill gaps and cracks efficiently and quickly, with precision application. Consumers can worry less about wasting a nearly full can of GREAT STUFF™ after one use. This new technology and design of the dispenser will give contractors and DIYers alike the flexibility to move from project to project seamlessly, with the option to come back to their air sealing job at a later time.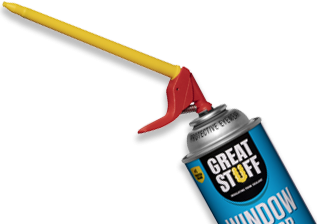 "We listened to our customers and went back to the drawing board to design a new, patent-pending GREAT STUFF™ dispenser that answers the two biggest complaints, messiness and the lack of reuse," said Dan Schroer, R&D Program Leader, Performance Building Solutions. "From concept ideation, to 3D printed working prototypes, to ultimately the final design, we worked with our customers to develop this new best-in-class dispenser. We're extremely proud of what has been accomplished. With this game-changing innovation, GREAT STUFF™ just got greater!"
Each GREAT STUFF™ Insulating Foam Sealant is specially formulated to seal gaps and cracks to help block air, moisture and pests. This new dispenser will be applied to all GREAT STUFF™ Insulating Foam Sealants, including: GREAT STUFF™ Big Gap Filler, GREAT STUFF™ Pestblock, GREAT STUFF™ Gaps & Cracks, GREAT STUFF™ Multipurpose Black, GREAT STUFF™ Fireblock, GREAT STUFF™ Window & Door and GREAT STUFF™ Pond & Stone.
"The GREAT STUFF™ SMART DISPENSER™ is representative of Performance Building Solutions' continued commitment to bringing innovation to the market grounded in consumer feedback and addressing end-user needs," said Amy Radka, Consumer Market Leader, Performance Building Solutions. "Utilizing market listening exercises and deep market intelligence, the team worked to develop a game-changing solution for dispensing one component can foam sealants. GREAT STUFF™ provides a simple, cost-effective solution to improve energy efficiency, indoor air quality and ultimately, a more comfortable home, and now dispenses easier than ever before."
The average home has a half-mile of gaps and cracks where air and moisture can enter1 and air leaks account for 25-40 percent of the energy used for heating and cooling a typical home. According to the Residential Energy Services Network (RESNET), proper insulating and air sealing can help lower heating and cooling costs by up to 30 percent.2 By filling gaps and cracks with GREAT STUFF™ Insulating Foam Sealants, homeowners can see immediate savings while making the home more comfortable and environmentally friendly for the long term.