Well-Insulated House to Be Given Away by Utility Company
Originally published by: Rutland Herald — April 27, 2018

The following article was produced and published by the source linked to above, who is solely responsible for its content. SBC Magazine is publishing this story to raise awareness of information publicly available online and does not verify the accuracy of the author's claims. As a consequence, SBC cannot vouch for the validity of any facts, claims or opinions made in the article.
A house Green Mountain Power is building in Rutland looks like it will be finished early, so the utility is pushing back the deadline on the contest to give contestants more opportunity to see the finished product.
The city bought the property at 60 Cleveland Ave. at a tax sale and sold it to GMP for $1. GMP demolished the house and began building a new one — three bedrooms and roughly 1,500 square feet with modern energy efficiency measures — that it plans to give away to the winner of an essay contest.
Work began in February, and GMP said they are expecting the house will be done at the end of May.
"We're running, probably, close to a month ahead of schedule," Project Manager Bill Jakubowski said Friday. "The only thing left will be landscaping and yard work."
The contest is open to legal U.S. residents age 18 or older. To win the house, entrants must submit a 500-word essay about why they want to live in Rutland. The essays, which will be judged by a nine-person panel drawn from several groups in the city, were originally due May 18. The utility announced this week it was pushing the deadline to June 18.
Steve Costello, GMP's vice president of customer care and "Ambassador of Rutland," said the deadline shift was definitely not because of a lack of applications — he said they have received "several dozen."
"I think, with stuff like this, several will come in toward the deadline," he said. "We have some good ones. There's some young couples … there's some locals … Probably 10 percent are local and the rest are from across Vermont and as far away as California. We've gotten some from New York, Maine, New Hampshire, Colorado. They're all over the map, age-wise. … At least half have some connection here — either they grew up here or went to college here or have family here."
Costello said the utility wants the extra time to be able to show off the finished product to prospective contestants before turning it over to one of them, and also use it to "highlight local jobs, the region and energy innovation."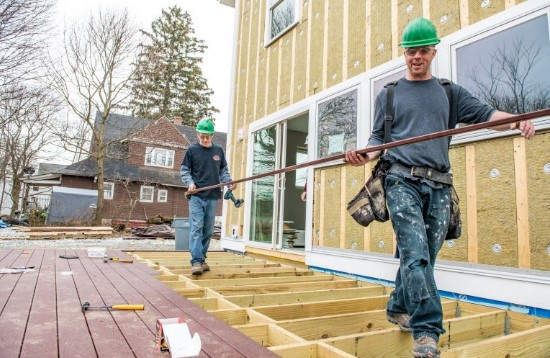 A crew of students from Stafford Technical Center worked on the house Friday morning, supervised by their teacher, Jeff Fowler.
"It's super-insulated," Jakubowski said. "R.K. Miles supplied us with some special walls. … That and the attic, it should cut your heating more than in half from an average home."
Jakubowski said the walls have a double layer of insulation, and the attic has 16 inches of blown-in cellulose atop a layer of spray-foam insulation — 30 to 40 percent more insulation than found in the attic of a typical home.
"We've wired everything for television," he said. "It's turn-key. Whoever moves in here, all they have to bring is their furniture."
The home will also come with a security system donated by Royal Glass.
"It's been great because pretty much everybody we've asked something of has given it to us," Jakubowski said.
Information on entering the contest for the house can be found at greenmountainpower.com