Tips to Tackle Jobsite Sun Safety this Summer
Originally published by: National Framers Council — May 23, 2018
by Mindy Caldwell
The following article was produced and published by the source linked to above, who is solely responsible for its content. SBC Magazine is publishing this story to raise awareness of information publicly available online and does not verify the accuracy of the author's claims. As a consequence, SBC cannot vouch for the validity of any facts, claims or opinions made in the article.
OSHA reports that more than 40 percent of heat-related worker deaths occur in the construction industry. With summer's official start less than a month away, the prevention of heat illnesses on the jobsite is an important training topic to cover with your employees. The bottom line in heat safety is simple: Water. Rest. Shade. Hydration is often overlooked, yet a vital safety measure. Without proper hydration and rest in the shade, one's body temperature can rise to unsafe levels and cause heat exhaustion or even heat stroke.
However, while widely known that prolonged activities without hydration (sports or yard work, for example) in high temperatures and humidity can lead to serious illness and even death, there are many less commonly discussed facts that are important to understand with regard to heat safety. For example:
The National Weather Service heat index indicates that the likelihood of heat disorders with prolonged exposure or strenuous activity begins with a combined outdoor temperature of 80°F and a relative humidity of 40%.
Working in direct sunlight adds up to 15 degrees to the heat index.
Antihistamines and certain types of blood pressure medication can impair the ability to sweat.
Individuals with diabetes are at increased risk of heat illness.
A lack of recent exposure to hot activity or working conditions can increase one's risk of heat illness.
Remind workers to drink water frequently, avoid caffeinated beverages and take breaks in shaded areas. Outline the symptoms of heat exhaustion and heat stroke and be sure everyone understands the protocol for dealing with heat illness on your jobsite.
Safety in the sun should also include reminders to employees about proper skin protection and the use of sunscreen. According to the CDC, Americans lose more than $100 million in productivity per year because of restricted activity or absence from work due to skin cancer. Furthermore, construction workers are 6 times more likely to develop skin cancer than the general population. A recent EHS Today article suggests practicing the five S's:
Slip on sun protective clothing
Slop on sunscreen
Slap on a hat (keep in mind that hardhats can have a flap or extra brim fitted to them)
Slide on safety glasses that filter out UV rays
Shade from sun whenever possible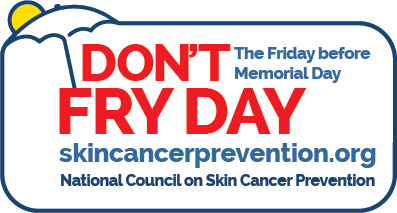 To help reduce rising rates of skin cancer from overexposure to the ultraviolet (UV) rays of the sun, the National Council on Skin Cancer Prevention has designated Friday, May 25 "Don't Fry Day" to encourage sun safety awareness and remind everyone to protect their skin while enjoying the outdoors. Consider taking a few minutes this week to reminder your employees of the best practices for sun safety both on and off the job.
As with all safety issues, proper training is key to avoiding unwanted incidents. The following resources are available to assist in training efforts and provide additional information about safe work practices in the heat and sun this summer:
To foster a culture of safety on your jobsites, check out NFC's FrameSAFE program, a bilingual safety manual template developed by NFC to help framers comply with OSHA's jobsite requirements.