How Do Framers and CMs Think Differently?
In an effort to continue building relationships between members of the National Framers Council (NFC) and the Structural Building Components Association (SBCA), NFC president Ken Shifflett and NFC executive director Chris Tatge gave presentations during the SBCA Carolinas Chapter meeting held in Raleigh, North Carolina on April 18. Dave Green, SBCA Carolinas chapter president, invited Ken to present after they had come to know each other through their mutual SBCA membership. Ken agreed to give a presentation discussing the work of NFC, the new TPI-3 standard on temporary bracing, and other issues of shared interest. "I talked about NFC, the safety program, all the different initiatives that we're working on," says Ken.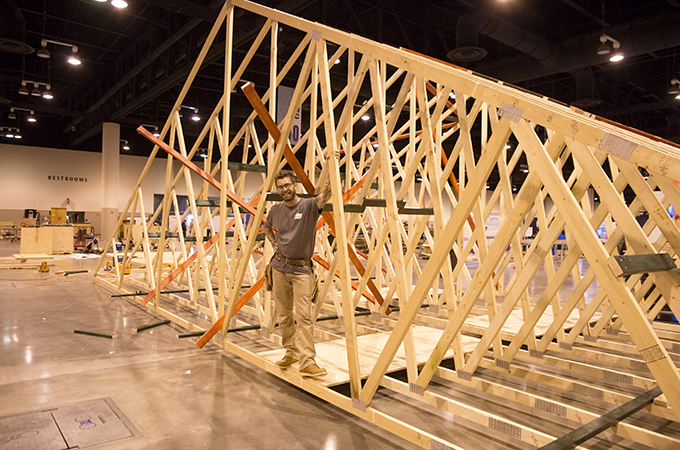 Chris was also asked to speak about a bracing demonstration he gave at the 2017 Building Component Manufacturers Conference (BCMC), during which he led a crew in bracing trusses using the BCSI-prescribed method and then bracing a different set of trusses using a more "framer-friendly" method that uses lateral restraint and diagonal bracing within the web-member plane only. Laying the groundwork for his discussion of the BCMC demonstration, Chris's talk was first geared toward helping SBCA members "understand temporary truss bracing from a framer's perspective," he says. This involved going over the challenges that current BCSI bracing recommendations can pose to framers. "I talked about how top chord temporary bracing exposes our workers to greater heights and greater hazards," says Chris. He offered his perspective that BCSI "temporary bracing is too labor intensive to do it properly," and posed a concern that perhaps "there [is] so much permanent bracing going into trusses these days…that framers are going to start saying, 'You know what? I have to do so much…on the backside with these trusses that the upfront time I save bringing in trusses…[isn't] worth it anymore.'"
Chris sees his presentation at the chapter meeting as the next step in collaboration between NFC and SBCA in developing solutions to these issues and thought it helped further the goal of giving component manufacturers a look into the experience of framers. "We want as many CMs as possible to be educated on the problems that the framers face," says Chris. After the presentations were over, Chris points out that "there was a lot of discussion…they were definitely talking about it."
Dave, Ken, and Chris agree that the interaction between the NFC and SBCA at the meeting was beneficial and look forward to seeing more in the future. "It was a very informative meeting," says Dave.
NFC was created in July of 2012 as a council of the Structural Building Components Association. SBCA was formed 35 years ago to represent manufacturers of engineered floor, wall, and roof structural components. For more information about SBCA, visit sbcindustry.com.