EPA Proposes Rule to Require Transparent Science Use
Originally published by: Associated Press — April 24, 2018
by Michael Biesecker
The following article was produced and published by the source linked to above, who is solely responsible for its content. SBC Magazine is publishing this story to raise awareness of information publicly available online and does not verify the accuracy of the author's claims. As a consequence, SBC cannot vouch for the validity of any facts, claims or opinions made in the article.
 Environmental Protection Agency Administrator Scott Pruitt signed a proposed rule Tuesday that seeks to restrict the types of scientific studies that regulators can use to determine the impact of pesticide and pollution exposure on human health.
Pruitt said the change, long sought by chemical manufacturers and fossil fuel companies, would increase transparency in the agency's decision-making by requiring all underlying data used in scientific studies to be made publicly available.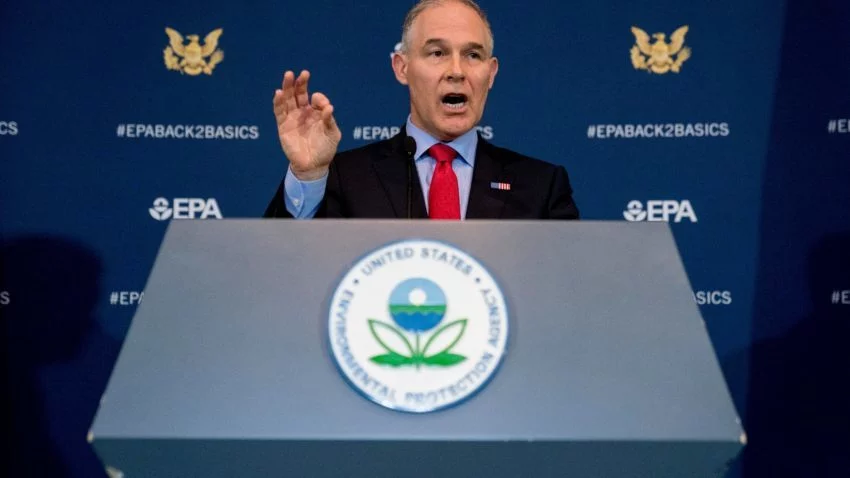 "The era of secret science at EPA is coming to an end," Pruitt said. "The ability to test, authenticate and reproduce scientific findings is vital for the integrity of the rule-making process. Americans deserve to assess the legitimacy of the science underpinning EPA decisions that may impact their lives."
Facing a swarm of ethical questions about his use of taxpayer money for personal perks, Pruitt signed the proposed order at EPA headquarters in an event livestreamed on the agency's website but not open to the press.
Critics that include former EPA administrators and scientists said the policy shift is designed to restrict the agency from citing peer-reviewed public-health studies that use patient medical records that must be kept confidential under patient privacy laws.
Such studies include the Harvard School of Public Health's landmark Six Cities study of 1993, which established links between death rates and dirty air in major U.S. cities. That study was used by EPA to justify tighter air-quality rules opposed by industrial polluters.
"This policy converts transparency from a principle for improving science into a weapon that undermines it," said Brian Nosek, a psychologist who directs and co-founded the Center for Open Science, which advocates for open data and transparency in research.
If finalized after a 30-day public comment period, the new policy would follow other moves by Pruitt that have included replacing academic scientists on EPA advisory committee with those either directly employed by industry or who accept research funding from corporate interests.
In adopting the "secret science" ban, Pruitt is implementing restrictions that conservative lawmakers have sought for years but been unable to pass, even with Republican majorities in both the House and Senate.
"For too long, the EPA has issued rules and regulations based on data that has been withheld from the American people," said Rep. Lamar Smith of Texas, a Republican who chairs the House Science, Space, and Technology Committee. "It's likely that in the past the data did not justify all regulations. Today, Administrator Pruitt rightfully is changing business as usual and putting a stop to hidden agendas."
Smith also took the opportunity to lend his support to the embattled EPA chief.
"I know of no other administration official who goes on the offensive, who isn't intimidated, and who does what he thinks is the right thing regardless," Smith said.
Top scientists and experts in the environment slammed Pruitt's new policy, saying it will pit public health research against privacy and the public will lose out.
"I think the underlying motivation here is pernicious," said Carnegie Mellon University engineering professor M. Granger Morgan, who chaired EPA's Science Advisory Board under Republican President George W. Bush. He said the policy is an attempt by people who aren't interested in using science to find the truth "to raise doubts about what at this stage is very clearly established and well-reviewed science."
Scientists say when they do epidemiological studies — which look at what's happening in the real world and comparing it to illness and deaths, such as cancer clusters — they have to abide by health privacy rules.
This rule would say research results that don't post such private data couldn't be used by EPA "unless subjects have surrendered their right to privacy," William K. Reilly, who was EPA chief during the George H.W. Bush presidency, said in an email.
Pruitt cited two closed access journals — Science and Nature — as positive examples of transparency. But those journals have strict programs that allow outside experts to review private data, checking it for accuracy yet not making it public.
Tom Burke, EPA science chief during the Barack Obama administration, called the new policy "an invitation to endless delay."
He said it could "tangle up public health actions" when dealing with people and cancer-causing substances in water and air. "When something has spilled and is coming down the river, you need to set a number for when to shut the water off," said Burke, an epidemiologist who now heads the Risk Sciences Institute at Johns Hopkins University.
Editor's Note: Sixty-four House Democrats signed a letter to Pruitt calling for a 90-day comment period instead of the 30 day period that was allocated. The Union of Concerned Scientists sent a letter requesting a 60 day comment period while a group of scientific journals released a joint-statement on the rule saying "excluding relevant studies simply because they do not meet rigid transparency standards will adversely affect decision-making processes." The Office of Management and Budget completed its review of EPA's proposed "secret science" rule on Tuesday, April 23. Pruitt signed it that day. On May 7, eight Democratic attorneys general sent a letter asking Pruitt to now withdraw the rule and "consult with the National Academy of Sciences and other independent scientists and science organizations.