DuPont Brings FlexWrap EZ Adhesive Tape to U.S.
Originally published by: DuPont — May 8, 2018

The following article was produced and published by the source linked to above, who is solely responsible for its content. SBC Magazine is publishing this story to raise awareness of information publicly available online and does not verify the accuracy of the author's claims. As a consequence, SBC cannot vouch for the validity of any facts, claims or opinions made in the article.
DuPont Safety & Construction today introduced DuPont FlexWrap EZ to its full line of 100 percent butyl-backed DuPont™ Flashing Systems that help to create an air- and water-tight protective envelope.
DuPont FlexWrap EZ is a flexible and versatile self-adhered flashing tape designed to seal around small exterior penetrations of all different shapes and sizes. It is ideal for flashing around the many smaller electrical, HVAC, and plumbing penetrations as a fast and easy solution to help improve energy
Uniquely designed in a 2¾ inches wide by 15 feet length roll, DuPont FlexWrap EZ can be applied to maneuver around small penetrations to reduce the opportunity for air leakage throughout the building envelope. The split release liner aids in a quick and easy installation, with accompanying guidelines and videos found at www.FlexWrapEZ.dupont.com.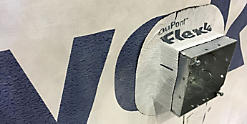 "Our latest innovation is unique and different from competitive solutions because of its flexibility, and versatility, for use on such a wide variety of wall penetrations typically found on a home or building," said Residential Market Manager Alan Hubbell. "Multiple trades can use this single product on various types of penetrations for sealing the building envelope; no longer needing multiple products for different applications." Hubbell elaborates, "It helps reduce complexity for builders and contractors. One roll is enough to seal around all the typical penetrations in an average-sized home. Plus, DuPont FlexWrap EZ is designed to withstand extreme temperatures and 270 days of UV exposure, making it suitable for use in residential and commercial applications."
DuPont FlexWrap EZ is a part of a complete DuPont Tyvek Building Envelope Solutions portfolio to protect the entire building against air and water intrusion. All DuPont Flashing Systems products are available nationwide wherever DuPont Tyvek Building Envelope products are sold: www.weatherization.tyvek.com.
DuPont FlexWrap EZ was first introduced to the European market and will be coming soon to the Canada marketplace.