Fall Prevention Classes Drive Home Mission of NFC
by Matt Tanger
T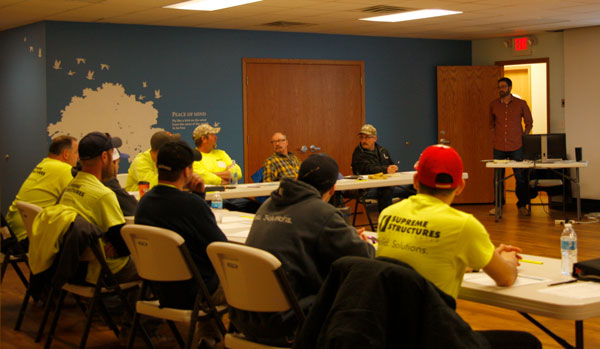 he first month of fall protection classes hosted by the Structural Building Components Association (SBCA) and its National Framers Council (NFC) are in the rear-view mirror with more to come. Students' reactions of the course, which is made possible by the Susan Harwood Training Grant through the U.S. Department of Labor's Occupational Safety and Health Administration (OSHA), are very positive. From back-and-forth discussion between framers to the sharing of real-life stories, students said the format was engaging and useful.
"The real-world knowledge of Chris helps," Lee Rowley of the March 8 class said. "If nothing else, this class is a great reminder that there are always ways to be safe."
Chris (at right) leads a discussion in the classroom portion of the four-hour training during the March 1 class.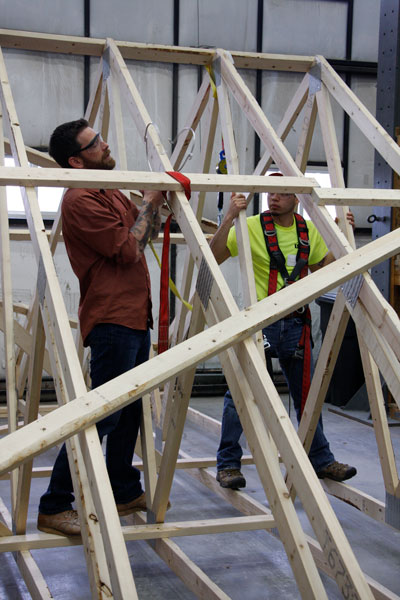 Chris Tatge, Executive Director of the NFC and lead instructor of the training, said he is pleased with the participation of the students. "It's not always easy to get framers to talk about what they do or admit areas they need to improve on," Tatge said. "These classes have a good mix of experience and background in practicing safety."
The biggest draw continues to be the full-scale roof assembly in the lab. It's a tool that has already set this training apart from others, giving framers the opportunity to have a real-world replica to talk through and learn from.
"These classes are proving we have the ability to reach guys and drive home the point of NFC," Chris said. "Work Safely. Go Home Safely."
​Chris (at left) walks through proper anchor points when setting trusses with Alex Bermea at the March 1 class.
For more information on upcoming classes and to register, visit the NFC website.
Posted on March 13, 2018 in