NFC Members Team Up to Build Habitat Home
On June 4-6, the National Framers Council (NFC) took part in Habitat for Humanity's Home Builders Blitz. The Blitz is an annual event during one week of the year when builders, framers, and material suppliers volunteer to help build homes across the country for families in need of affordable housing.
This year, NFC members provided materials and framing labor for a duplex in Hagerstown, Maryland. Participating members included:
Scott Stevens, incoming NFC President and owner of Modu Tech, says "in the course of three days, we furnished and installed all the lumber and trusses" for the duplex. He adds that a typical Habitat for Humanity project "normally would take three or four months." Scott says partaking in the event "ended up being so fulfilling because the people up there were so grateful, and so I think everybody that participated felt really good about making the effort."
Weyerhaeuser, who provided some of their Diamond and 7/16 OSB products, also provided a number of volunteers for the build itself. Sales Representative CJ Roberts and five others from Weyerhaeuser's sales department showed up to help move building materials, do jobsite cleanup, and provide other assistance to the framers as needed. CJ says the event was a great opportunity to "enhance our relationship with NFC" and to take part in "a very good cause for some worthy folks."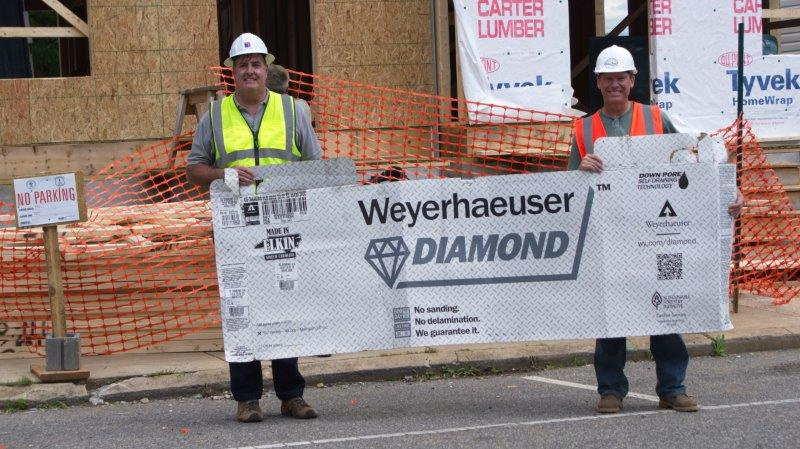 CJ was impressed with the level of framing expertise he saw from the NFC framer members. On the jobsite, he says, there were "a lot of really good professional people, and the framing intelligence was off the charts. I mean, they had some of their best guys, and it was, for me, fascinating to see those guys work together." CJ also says that it was great experience for the Weyerhaeuser employees to see framing in action, pointing out that they normally would not get to see "buildings constructed, and particularly our products get installed, so it was a really good experience for them."
Pedro Loureiro, NFC Director of Recruitment, who originally promoted and organized NFC involvement with this year's Home Builders Blitz, enjoyed working together with his fellow NFC members. "We got to work with each other a little bit there, so it was a lot of fun," he says. The opportunity to "get together and get our hands dirty and frame this duplex for a family in need was definitely very, very rewarding."
While the Hagerstown duplex was the only building NFC worked on this year, Pedro hopes to see NFC's involvement in the Home Builders Blitz grow in upcoming years. He says he would like to "see this as an annual partnership, an annual event, for the National Framers Council, and I would love to see this grow." With the help of volunteers and sponsors, Habitat for Humanity built, renovated, and repaired more than 250 homes in 31 states over the course of the week. Pedro says that he would like to "see the National Framers Council partake in a big percentage of the homes" that Habitat for Humanity builds during the Blitz, "even if it's just donating labor."
Sue Henderson, Habitat for Humanity International's vice president for the United States and Canada, said, "Home Builders Blitz is a testament to the commitment of local builders to invest in their communities. We are so grateful for their skills, time and support."
NFC thanks all of this year's participating members! Your work for this worthy cause is very much appreciated and it strongly and positively represents the NFC.