NFC Member Profile: One Framer's Journey into Custom Homebuilding
Jim Hallada's journey into the framing industry begins when he was a welder living in Fon du Lac, Wisconsin. He says, "I used to work in a factory as a welder, and every day I was driving home I would see this new construction going up where I lived. So I see these homes going up and I told myself, I said, "You know what? Someday I'd like to be able to know how to build a home." He notes that in contrast to working in the factory, working in the open air appealed to him. "I didn't like being inside," he says.
His interest in the industry was piqued, and so, Jim says, "I started applying for construction jobs, and I landed a job that turned out to be constructing pole barns. I said, 'Well, that's all right, I'll start in the pole barn industry and get some basic construction skills and see where I can go with that.'" It didn't take Jim very long before he found work as a foreman for a company specializing in pole barns based in Sun Prairie, Wisconsin. However, working in residential framing was really what appealed to him. "I kept with the goal of being in residential construction, so I kept applying." Jim did eventually find a position working in residential framing at another Sun Prairie company, where he worked for nearly five years before founding his own residential framing company in 2006, Hallada Custom Builders of Wisconsin, which he based in Lake Mills.
From Too Little Work, to More than Enough
Unfortunately, Jim recalls, "We had the housing market crash right shortly thereafter, so I started with about eight employees and one person in the office, and we were doing real well, and then we lost a whole lot of work in a short amount of time, so everyone pretty much dispersed." However, Jim, along with one other employee who remained with him, found a way to ride out the rough times of the recession as best they could. "We stuck to it doing smaller projects, some remodeling, decks, and if we framed a home we would side it as well." With the recession over, business has picked up for Jim, who now has five employees. "Things have turned around and we're real busy. Currently I'm rebuilding the crew."
However, finding enough framers to employ has proven a challenge. "The hardest part about this time is, when the recession happened, a lot of the labor force in this industry left, so what we're dealing with now is we have [an] enormous workload and we don't have the labor to put it all together. I could have 50 guys going currently and keep them all busy."
To address the labor shortage, Jim remains selective in choosing his projects. "I only take first-come, first-served projects. I deal with a small group of clientele." In addition, Jim devotes his whole workforce to one project at a time to maximize efficiency. "I have myself plus five guys and we just all build the same house together. I don't want to split them up yet because then we'd just get a little too thin."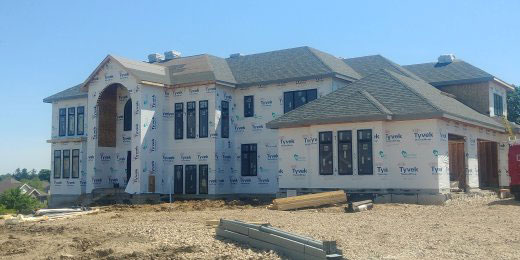 A single family home built in Madison, Wisconsin by Hallada Custom Builders of Wisconsin. About 12,000 finished square feet, this home took Jim's crew of four employees just under four months to construct.
Jim's projects are exclusively residential, and he prefers to work on large, single-family homes. "We build everything from the more tract-style homes, all the way up. Currently, we're building a 7,800 square foot home on Lake Mendota, and then we're going to another home that's like 8,600 square feet, hence why we don't want to split our team up," Jim says. "Two to three guys on one job of this size is not effective at all, especially not for the customer."Jim's passion for the residential framing industry stems from his recognition of the impact he gets to have on the lives of so many individuals and families. "The biggest thing that I absolutely love about this industry is we get to be a part of the biggest purchase of most people's lives," he says. "That there's going to be Christmas trees and birthdays in the houses we build is what I love about residential construction," he adds. "We build your home."
Joining NFC
After founding his company, Jim remembers having conversations with his colleague, Chris Tatge, co-owner of Dynamic Construction based in nearby Madison, Wisconsin. Chris, who is also executive director of the National Framers Council (NFC), spoke to Jim about the benefits of membership, specifically NFC's safety program, FrameSAFE. Jim recalls, "I wanted to implement a more stringent safety policy, and the FrameSAFE handbooks that he had really had a good outline to everything." Jim joined NFC because of the value he saw in FrameSAFE for his company. "It was good to implement a lot of that stuff from a basis where I could physically show guys, give them a book, give them stuff to read, etc," says Jim. "I think it's a good basis for safety."
Jim has also found value in attending NFC's Wisconsin regional meetings. After first learning about them at meetings, he has taken advantage of new truss setting tools and improved liability insurance. "All of that stuff I've implemented so far, and it's been helpful," he says. He encourages other company owners considering attending regional meetings to bring their crews. "It's really about getting the guys to those meetings," he says. "I thought they were valuable."