Homestead Announces $2.4M Truss Plant Expansion
Originally published by: Culpepper Star-Exponent (Virginia) — May 30, 2018

The following article was produced and published by the source linked to above, who is solely responsible for its content. SBC Magazine is publishing this story to raise awareness of information publicly available online and does not verify the accuracy of the author's claims. As a consequence, SBC cannot vouch for the validity of any facts, claims or opinions made in the article.
The owner of an Orange County factory that builds structural building components has announced a $2.4 million expansion that also will add 60 full-time jobs.
Homestead Building Systems designs, engineers and manufactures roof and floor trusses and wall panels for new homes. CEO David Baird opened the business after visiting the remains of its predecessor, Timber Truss, to buy a saw for a company he owned in Manassas.
"I found out when I came to look at the equipment that the owner had just filed bankruptcy, and so I immediately made an offer, negotiated it and we were successful in getting it — we got really lucky," Baird said during Tuesday's announcement.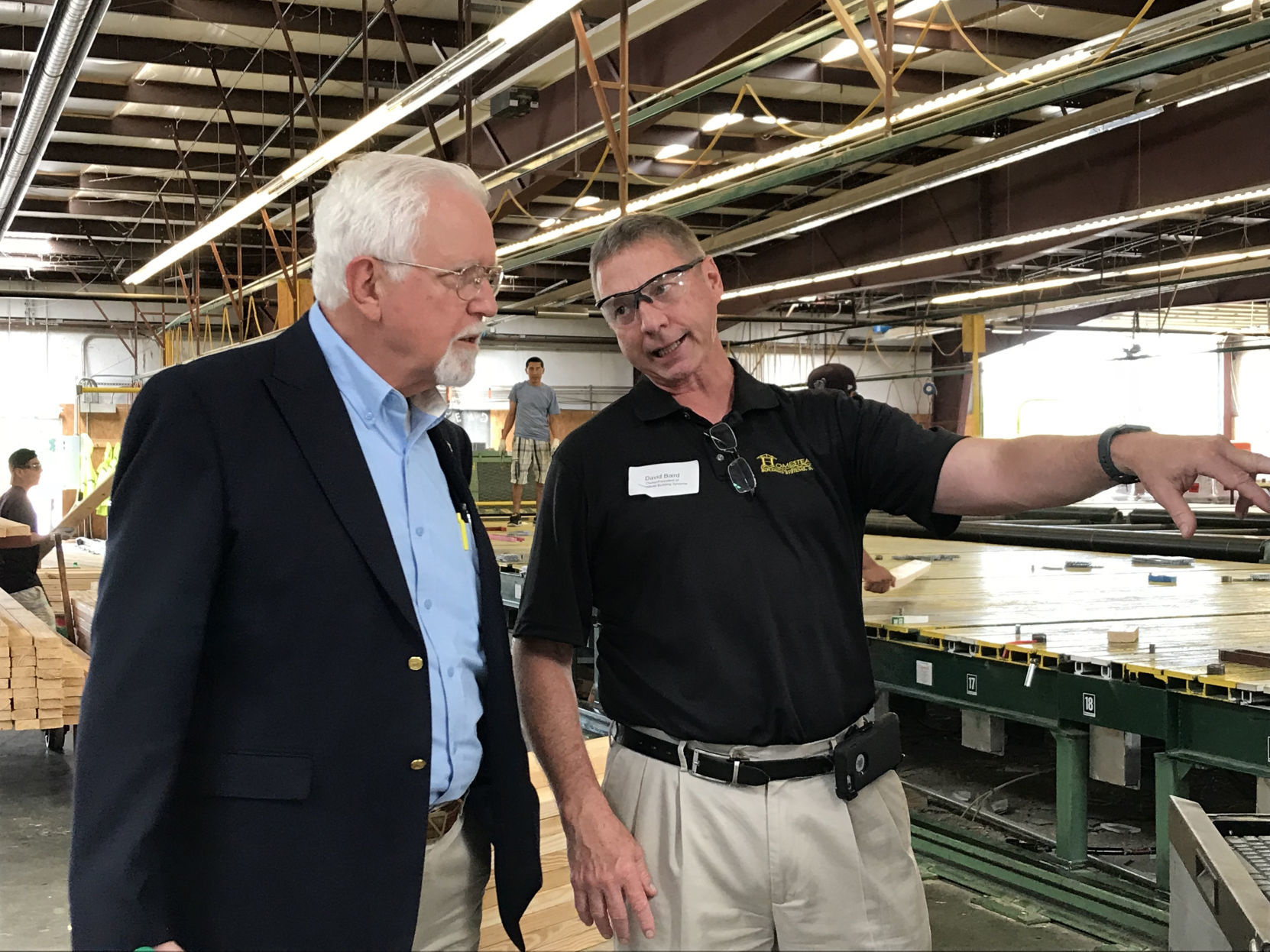 Caption: Homestead Building Systems CEO David Baird (right) speaks with Orange County Supervisor Lee Frame during a tour Tuesday of the building components plant.
The nearly 72,000-square-foot facility opened in 2005 to great fanfare, but when the housing market faded, so did business. Baird currently employs 130 employees at his Manassas location and the former Timber Truss building.
"Since the downturn in 2007, it's been a gradual climb back up," he said. "Our facility in Manassas did not have the physical capability to do something of this scale, so we were blessed to come here at the right time."
Homestead's expansion will triple the plant's timber-cutting capacity and add a new production line that will increase overall output, state Secretary of Agriculture and Forestry Bettina Ring said. It will also increase the company's purchase of Virginia-grown lumber by more than $4.5 million over the next three years, Ring said.
The majority of the southern pine used at Homestead comes from Virginia or the Carolinas, a Baird said.
Forestry is the Virginia's third-largest industry, generating $21.5 billion annually while supporting more than 108,000 jobs, Ring said.
"Virginia has 16 million acres of forest land … and here in Orange County, 141,000 forested acres. Our landowners depend on the forest industry to provide markets for their timber," she said.
In Orange, forestry contributes more than $141 million yearly to the economy, accounting for more than 860 jobs through sawmills and the production of furniture, cabinets and building components, Ring said.
Funding for Homestead's expansion project includes a $78,000 state grant the Orange Economic Development Authority is matching as part of an initiative coordinated through the Governor's Agriculture and Forestry Industries Development Fund.
Baird said the majority of the new jobs would be in Orange, offering full healthcare benefits in a range of positions to include design, engineering, forklift operators, laborers, and maintenance.