Is European Lumber a Viable Source of Supply?
In an MSR Workshop Session, "The Impact of Euro-wood on U.S. Markets," Frank Turnbull of Mercer Timber Products discussed his company's German imports to the US, tying the work of his company into a discussion of the opportunity for European lumber imports to compete in U.S. markets.
Mercer, a Canadian-based company that trades on the U.S. stock exchange, also owns three German lumber mills that produce a wide variety of lumber products. Since August of 2017, these mills have been producing spruce and pine US dimension lumber and importing them to the East Coast. Key imported products include 2x4 – 2x12 lumber, which Mercer primarily directs to new home construction, repair, and remodeling markets.
High lumber prices and inexpensive shipping costs were the catalysts for Mercer's entrance into the US market. From one of its German plants, break bulk to the U.S. is approximately 4,500 miles, yet Mercer is able to ship their lumber that distance for under 100 dollars per thousand board feet. Frank said that high prices and inexpensive shipping are leading to an increase in European imports generally, especially since 2017, as Frank illustrated in the following chart.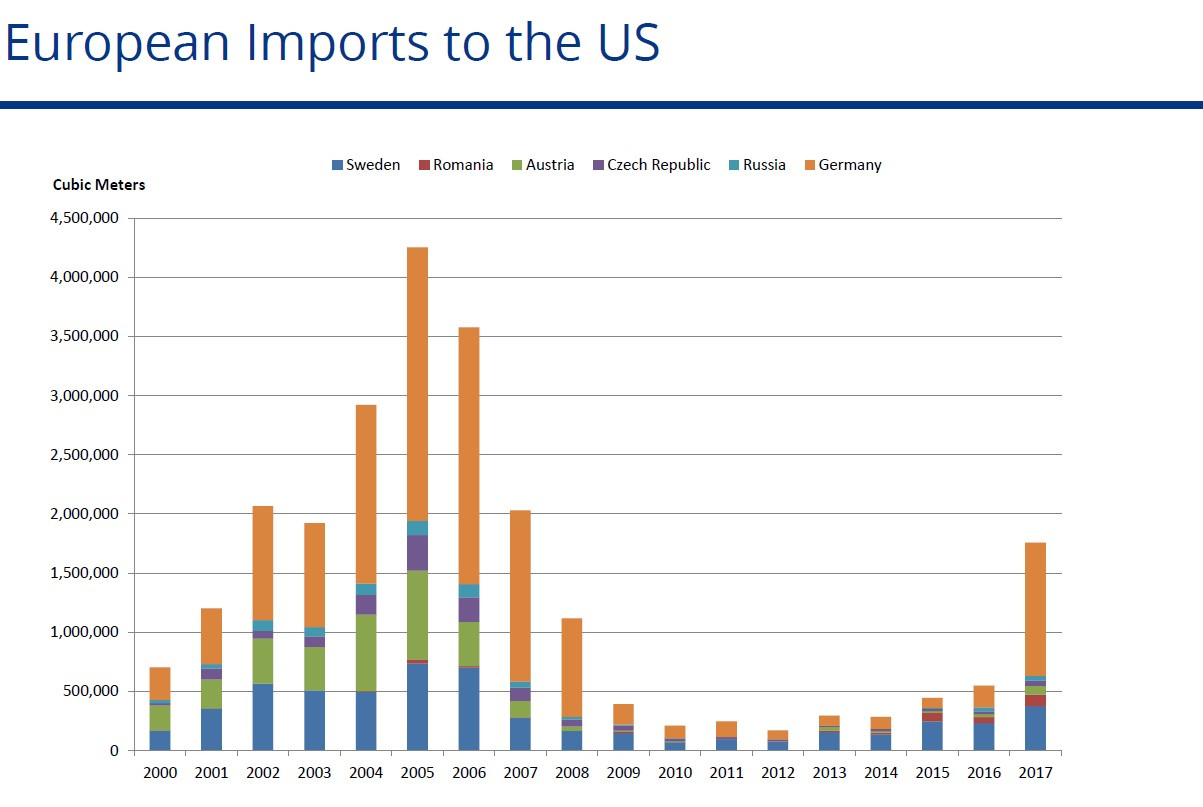 Frank was careful to point out that the significance of European imports should not be overstated, however. He discussed the fact that U.S. softwood lumber consumption in the US in 2017 was 48 billion board feet and European imports made up under 2% of that supply. In addition, Frank said that total German softwood lumber production amounted to 12-13 billion board feet, and Germany only exported about 300 million board feet to the U.S. Again, this means that under 2% of Germany's total production found its way to U.S. markets.
While in the larger picture of U.S. consumption European imports remain minimally significant at present, Frank also said this depends on the specific U.S. market in question, pointing out that European imports are indeed statistically significant and meaningful in markets such as Florida and the Carolinas.
Given the fact that lumber prices would not be as high as they are if demand were not correspondingly high, Frank asserted that European lumber imports are needed in the US, even if they are only a significant source of lumber for localized markets that are able to be shipped to easily.
Frank also discussed a number of factors that could derail continued European efforts to import lumber to the US. He said that while the Euro has gained on the dollar recently, it could become a tougher decision for companies to send lumber to the U.S. if the dollar and the Euro get too far apart, making the idea less profitable. He added that lumber's current high prices, however, mitigate this currency effect. Second, Frank mentioned that increased labor costs in terms of ocean carriers and fuel costs could also reduce imports. The last potentially derailing factor that Frank mentioned is actually a testament to the strength of the lumber market worldwide. He said that the biggest challenge is that demand in many markets around the world is high, so companies like his must regularly reevaluate their decisions about which market makes the most sense for them to sell into. Mercer ships to a number of regions around the world, such as Asia and the Middle East, in addition to North America.  
Frank also addressed concerns over the quality of European lumber imports, specifically in reference to recent grading challenges. He admitted that such concerns were justified, even with, to a certain degree, his own company. He described that the European manufacturing process, different in certain ways from the North American process, can make it difficult to grade lumber in accord with North American guidelines. While there have been areas of concern, Frank insisted that these disconnects and quality issues are being resolved already. He detailed reasons why he is confident that the quality issues have and will continue to improve, mentioning a new QC program his company has implemented that is already seeing good results.
Frank concluded by saying that he sees European imports as a "meaningful supply response for the northern market," especially considering the growing demand for lumber in the U.S. Acknowledging that the imports will likely not penetrate the U.S. beyond the Mississippi River, he asserted that the supply will be meaningful in some parts of the country, and encouraged U.S. builders and CMs to develop relationships with companies that have European plants in anticipation of the growing importance European imports.
What does all this mean for CMs? The fact that increases in lumber prices give opportunity for other companies to be competitive in the U.S. can only mean increased options for CMs. It would seem to make sense to seek out the opportunity that new players in the U.S. lumber market could provide for our industry.