Congresswoman Tours Fabco's Plant, Talks Small Business
Originally published by: Watertown Daily-Times (New York) — May 31, 2018

The following article was produced and published by the source linked to above, who is solely responsible for its content. SBC Magazine is publishing this story to raise awareness of information publicly available online and does not verify the accuracy of the author's claims. As a consequence, SBC cannot vouch for the validity of any facts, claims or opinions made in the article.
Standing close together to hear over the noise of saws and nail guns, U.S. Rep. Elise M. Stefanik, R-Willsboro and Daniel C. Tontarski, co-owner of Fabco Roof and Floor Trusses manufacturing, discussed the benefits and challenges of running a small manufacturing operation in Watertown.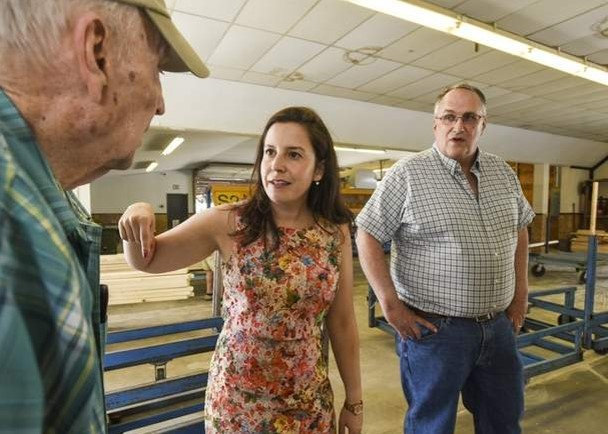 On one side of the workshop, workers ran a computer controlled saw that picked up lumber and spat out truss spans. On the other, workers laid the trusses out and tacked them together with metal plates before an enormous roller pressed everything home. As Terry L. Tontarski, Daniel's brother and co-owner, told Ms. Stefanik, the business was very different from when their father, Frederick C. Tontarski, started it in 1978.
"It's been absolutely exciting," Terry Tontarski told the congresswoman, after demonstrating the company's three dimensional design software. "If it wasn't for the toys, it wouldn't be as much fun."
Fabco was just one stop on Ms. Stefanik's trip through St. Lawrence and Jefferson counties, visiting hospitals, stores and manufacturers.
"I tried to visit businesses to try to highlight the success stories of small business owners who are taking those risks," Ms. Stefanik said. "I want to hear first hand what some of the challenges they face are."
For Dan Tontarski, these challenges include hiring enough people, paying rising health insurance costs and dealing with a recent increase in lumber prices.
"Young people — it seems like they're not interested in hands-on jobs," he said. He employs about 50 people each year at peak employment.
Ms. Stefanik asked about regulations.
"I don't think it's awful, it's annoying, some of it," Dan Tontarski said.
It is health insurance that is really hurting the company, he said, with costs rising steadily.
"It's staggering for small businesses," Daniel Tontarski told the Times. He wants to get costs under control, although he said he did not have specific policies he wanted to see enacted.
Ms. Stefanik told the Times she has several proposals for healthcare that she put forward or voted on, and mentioned small businesses pooling in associated health plans in particular. She also discussed the importance of workforce training programs.
Transportation has been an issue, and Ms. Stefanik said that the aging trucker population is making it harder for businesses like Fabco, with high transportation needs, to keep costs down. She proposed reversing some regulations on truck drivers and allowing people with military experience driving trucks to get commercial drivers license when they are discharged.
One of the most recent challenges to Fabco, however, is the cost of lumber.
"It's been skyrocketing the last six months, the last year," Dan Tontarski told the Times. Most of the lumber for the company's trusses comes from Canada. Only about 20 percent is from the U.S., and tariff disagreements between the two countries have increased costs. In addition, he said the increase in building and the reduction in lumber mills is compounding the problem.
"The tariff issue is an issue where I disagree with the President," Ms. Stefanik said.
While some of the tariff policies have been popular in the district — the aluminum tariff has been supported by Alcoa unions — Ms. Stefanik said any trade policy needs to be focused on those who cheat the system.
"If the president wants to target Chinese dumping, he should specifically target China," she said. "My problem with the president's position on the aluminum tariffs is it didn't take into consideration the important economic partnerships with China ... when we're looking at trade issues, it has to be targeted, instead of broad tariffs, which are a form of taxes."
Ms. Stefanik's office reached out later to clarify that she meant partnerships with Canada, not China.
Most of the work Fabco does is for residential buildings, but the company also does some work on agricultural buildings, and Dan Tontarski and Ms. Stefanik discussed the struggling dairy industry in their conversation.
"We're trying to fix it through the Farm Bill," Ms. Stefanik said. The Farm Bill failed in the House on May 18, but Ms. Stefanik said she expected a new vote on it in June or July.
Despite these challenges, Dan Tontarski told Ms. Stefanik the business did well right through the housing crises.
"Our nearest competitor is probably 70 miles away," he said.
The business has remained a family affair. Dan Tontarski's daughter Julia, who is in third grade, showed Ms. Stefanik her drawings in the main office during the visit. Fred Tontarski, now 87, accompanied his son and the congresswoman on the tour of the factory.
"He still comes down every day," Daniel Tontarski said of his father. "He always has some kind of project."
After 40 years, most of Fabco's business comes from word of mouth.
"It's a small town," Dan Tontarski said.
"You've been here a long time," Ms. Stefanik said.
"We've been here a long time," Dan Tontarski confirmed.